Hansel and Gretel is a well-known German fairy tale recorded by the brothers Grimm and published in 1812. In it, a young brother and sister are abandoned by their parents because they are too poor to feed them, and end up kidnapped by a cannibalistic witch living in a forest in a house made of gingerbread, cake, chocolate and candy. The two children escape with their lives by outwitting her.
As a kid, I found this tale scary and unsettling, I couldn't understand what would lead parents to abandon their own children, and the idea of a flesh eating cannibal witch made the hairs on the back of my neck stand. Years later, I read that the story may have originated in the medieval period of the Great Famine (1315–1317), which caused desperate people to abandon young children to fend for themselves or even resort to cannibalism.
The fairy tale enjoyed a multitude of adaptations for the stage, among them the opera Hänsel und Gretel by Engelbert Humperdinck—one of today's most performed operas. The most recent adaption of the fairy tale is Gretel & Hansel, a 2020 American dark fantasy horror film directed by Oz Perkins, who explains the change in the title because the story focuses so much on Gretel: "it's awfully faithful to the original story. It's got really only three principal characters: Hansel, Gretel, and the Witch. We tried to find a way to make it more of a coming of age story. I wanted Gretel to be somewhat older than Hansel, so it didn't feel like two 12-year-olds – rather a 16-year-old and an 8-year-old. There was more of a feeling like Gretel having to take Hansel around everywhere she goes, and how that can impede one's own evolution, how our attachments and the things that we love can sometimes get in the way of our growth."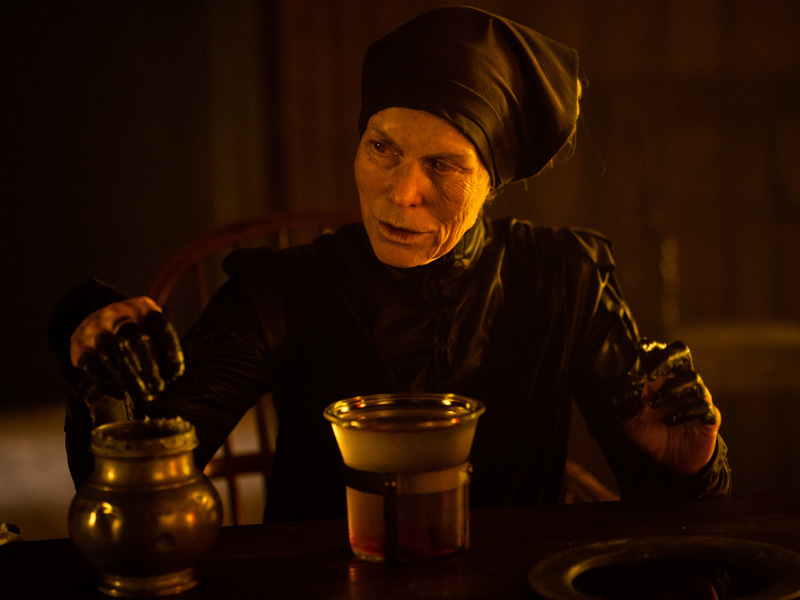 In this iteration of the classic children's folklore story, an older Gretel (played by Sophia Lillis) leads her much younger brother Hansel (Sam Leakey) into a dark wood in desperate search of food and work to assist their poor parents, only to stumble upon a nexus of terrifying evil, the cannibal witch Holda.
Our Editor Julia Pasarón had the chance to interview the two actors playing Holda, legendary Alice Krige and raising star Jessica de Gouw, who explained how this original version of the German fairy tale explores who the witch is and how she came to be, "The story of Gretel and Hansel doesn't typically look at the person behind this great villainous character, so hopefully audiences will enjoy exploring that side of this classic story. I certainly enjoyed it. There's often a feeling of responsibility with famous characters or stories, but I just had a lot of fun playing Holda."
It is never easy to share a character with another actor, but of doing so with Alice, Jessica said, "Alice and I really only observed each other in the read through, and I did my best to watch her and listen to her on set on days when I was there. Our crossover was quite minimal, and her creation of Holda is truly unique, but I did my best to match her accent in particular."
Alice explained that Oz thought of Holda as an addict, "she was addicted to eating children and Oz takes you back to discover why. Holda is horrifying but by the end, you have understood her compulsion, her grief and her shame." For what Jessica saw on set, Alice "did a beautiful job of humanizing Holda, of creating this incredibly flawed, dangerous character. What Holda does is unforgivable, but the film gives a history to the characters that is really fascinating to observe."
The movie also explores the complexity of relationships, one side between brother and sister, and on the other, maybe even more poignantly, between Gretel and Holda. "This story is told from Gretel's point of view and it unravels how they all got there, taking you into the witch's back story, how she arrives at this place," explained Alice, "you also see this young woman, Gretel, discovering her own power, because she has similar powers to Holda but at the end, she's poised on the cusp of choice as to how she will use it."
One could say this is a kind of horror version of a coming of age movie. In Jessica's view, "through the course of the film, we watch brother and sister, particularly Gretel, navigate this unknown world entirely on their own, learning who to trust or not, learning the value of family and to listen to your gut and instinct." About Gretel specifically, she added, "I think as a young woman, as Gretel is, you do learn to trust your instinct when navigating the world of adults, often the world of men. There is incredible power as a woman, understanding that you have that power within you and you must learn to listen to it and embrace it. Female intuition is an incredible thing."
Gretel & Hansel: A Grim Fairy Tale, directed by Oz Perkins, produced by Fred Berger, Brian Kavanaugh-Jones, and Dan Kagan, and the screenplay is written by Perkins and Rob Hayes. Sophia Lillis and Sam Leakey portray the main characters respectively, alongside Charles Babalola as The Hunter and Jessica De Gouw and Alice Krige, both playing Holda.