GoCycle is a company going places and so are the people buying their, quick folding electric bikes. The latest model from the British brand is the GX which can be folded in ten seconds. Cycling has been the transport of the masses for over a hundred years and its popularity grew through necessity. People needed a way to commute which was cheap and easy. Nothing has changed in the 21st century when again, masses of people need an inexpensive and easy way to get to work and back home.
Public means of transport like buses, trains, taxis, or even Uber, as well as their private counterparts, – cars and motorcycles- are expensive: Train fares are forever increasing and mile for mile Britain's Rail prices are the highest in the world. Every time you jump on a bus it costs nearly £2 a trip, not to mention the barriers to using a car for commuting. Going into London a car driver faces congestion charge, ULEZ charge, the fuel to get there and back, the headache of looking for extortionate parking, plus the actual stress of driving in the city. Other cities and towns are becoming just the same, making driving to work almost a thing of the past.
These issues have brought about a resurgence in cycling to our streets. Technology has improved to help cyclists with lighter bikes, better gearing and now electric batteries powering motors to provide additional power to supplement the riders' pedalling. Gocycle is leading the way with its electric bikes that fold in seconds, enabling ease of riding and carrying, or wheeling when required to transport or store away. The GX model I rode made me smile, taking me back to my childhood, to the days of riding my BMX for pure pleasure. The small but wide wheels of the GX allow for great all weather tyres that handle all types of surfaces. I took the GX on mud, grass, shingle and of course tarmac to fully test it; it did not disappoint.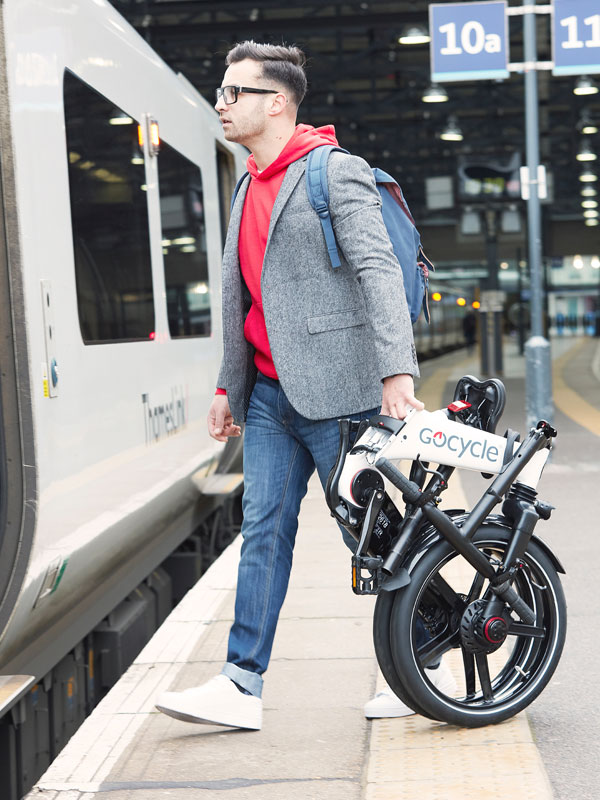 This latest model by GoCycle capitalises on the company's 10 years in production, featuring the Pitstopwheel which allow for super quick tyre changes if you need to, without having to move the wheel. Its 300Wh battery can be removed easily from within the aluminium frame where it is hidden away, but can be charged whilst on the bike giving a range of 40 miles (65Km) after seven hours. The GX has three gears engaged via a mechanical twist shifter. All cabling is hidden away within the frame and the level of the battery is indicated on an LED display on the handlebars. Gocycle have an App which links your smartphone to the bike allowing for customised (riding) modes, health statistics and more.
The designer of Gocycle Richard Thorpe states
"Our new GX model compliments our current range, remaining true to our Gocycle DNA of stylish, lightweight, no compromises design, and fun, in a package that has been carefully designed to enhance the lives of urban commuters."
The two other models Gocycle produce are the GS and the top of the range G3. £2,500 and £3,500 respectively. All this technology and lightness comes at a cost. At nearly £3,000 the GX is not cheap at all, but when you consider the costs of Railway season tickets or the running costs of a car you can soon justify the price and see the many benefits of riding a Gocycle: Not only it is clean to run, but regular riding will also help you improve your health and it is a lot of fun. I want one.