A legend of watchmaking in the heart of Saxony
Words: Lavinia Dickson-Robinson
Once upon a time, as time goes by, old father time… There are innumerable expressions to describe the elusive character of time, a most sought after commodity in our fast paced world. Very few companies in the watch industry have known how to keep the magic of craftmanship alive, even after 50 year behind the Iron Curtain.
I have just had the great privilege to visit The Glashütte Original factory, on the outskirts of Dresden, a beautiful historic town, surrounded by fairy tale castles and pine forests, twinkling in a gentle dusting of snow.
So, let's go back to once upon a time… In this enchanting, picturesque town, we find a temple of German watch making dating back to 1845, Glashütte Original. Without a doubt, they are one of the finest examples of haute horlogerie that there is; its manufactury, a place where watch dreams really come true. In an era where we let computers, robots and machines do most of the work, at Glashütte Original, I found true passion and skill from a team of dedicated watch makers; to them, this is not a trade, it is a true calling.
I have always loved watches. I love to hear them gently ticking away, I love to watch their perfect mechanisms working together. To me, a truly hand-crafted watch is not a status symbol, it is a friend to rely on, to give you comfort, a kind of gentle reassurance.
I had no idea that it takes 450 separate pieces -all hand crafted- to create one of Glashütte Original timeless works of art. In a consumer world of here today, gone tomorrow, it's worth to invest in a piece that will pass the test of time. In my book, a Glashütte Original watch is a perfect example of something that will grow to be part of your family legacy.
This year, Glashütte Original have already launched three sublime watches.
The first is the Lady Serenade. This elegant limited edition of only 50 pieces perfectly combines the high precision of Glashütte Original watchmaking, with sparkling jewels and luminous red accents reminiscent of love. When it comes to fine mechanical watches, it is usually the movement jewels that are ruby-red. With the Lady Serenade, a grand total of 52 radiant rubies – one for every week in the year – frame the bezel of its 36mm stainless steel case. They are complemented by a sparkling cabochon ruby set atop the refined structure of the crown. The deep red colour stands in splendid contrast to the natural white mother-of-pearl dial.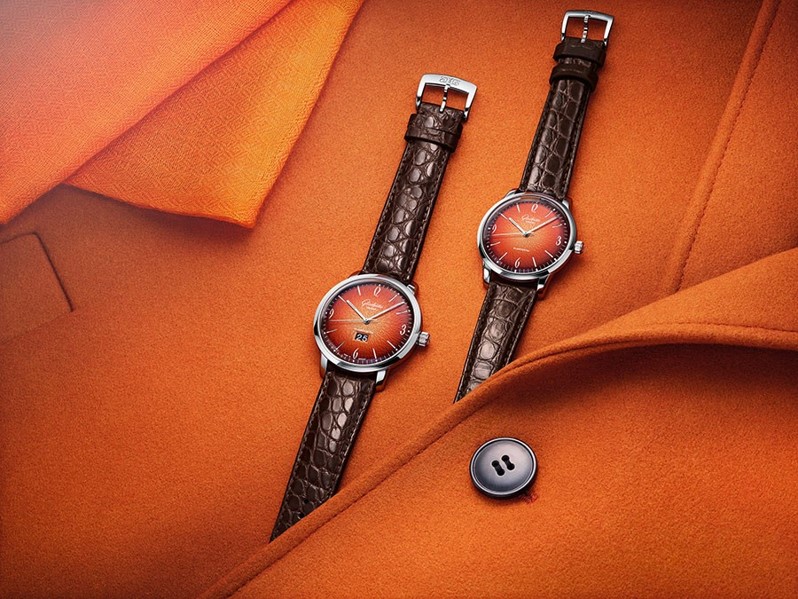 The other two are the new Sixties and Sixties Panorama Date, in a stunning fiery burnt colour.
The new models feature unusual dégradé dials, as radiant as the eventful decade that gives them their name. In the 1960s the world was changing at breakneck speed, inspired by bold visionaries, unprecedented freedom and courageous ideas in art, culture, politics and society. This dynamic decade continues to inspire artists, designers, musicians and the watchmakers at Glashütte Original.
The watch face presents its signature curvature, from the dial and the hands to the sapphire crystal, anti-reflective on both sides. Arabic numerals, diamond-cut indexes, manually applied hour markers and hands highlighted with Super-LumiNova.
After a galvanic bath gives the dial its golden yellow hue, the dial makers carefully apply a series of layers in red and black lacquer. The result of this filigreed craftsmanship is an individual colour gradient that renders each dial unique. In a final step, the dials are heated in a kiln in order to burn in the colours. The low-relief pattern is produced using the original tools and methods from the 1960s. These new timepieces are powered by the manufactory's 39-52 (Sixties) and 39-47 (Sixties Panorama Date) automatic movements. Developed in-house, they are mounted in polished stainless steel cases, 39 mm in diameter for the three-hand Sixties, 42 mm for the Panorama Date model.  A brown Louisiana alligator leather strap with pin-buckle closure rounds off the vintage design.