Awning designer Markilux, internationally renown for their timeless designs and top quality products, have launched a new cassette awning to rev up summer, the MX-3.
With its casual round shape, Markilux emulates the soft curves and diversity of colour found in nature, and combines them with the best technology to develop this gracefully curved, colourful design.
Before, awnings often were broadly striped fabric panels that received little attention while hanging across the patio. Today, on the other hand, quality awnings bring high-tech and design to your home. The components remind of the shapes of curved and A. Just as in the case of the MX-3. The new slim cassette awning shows how components can merge in a playful way. The side profiles of the model flow with soft curves into the elongated profile that closes the awning housing at the front.
Design for shape enthusiasts
The awning received a colourful front profile to turn the sweeping ensemble of round and square an even greater eye-catcher. As continuous ribbon, it picks up the arched shaped of the side caps with great skill. You can choose from eight accent colours and match them to the pattern of the awning cover. The frame is also available in different colours. Thus, the awning presents itself as an exciting mix of shape and colour lending the facade casual chic. It provides shade not only for patios but also for balconies. With a height of just twelve centimetres, the housing of the awning fits well below a balcony roof.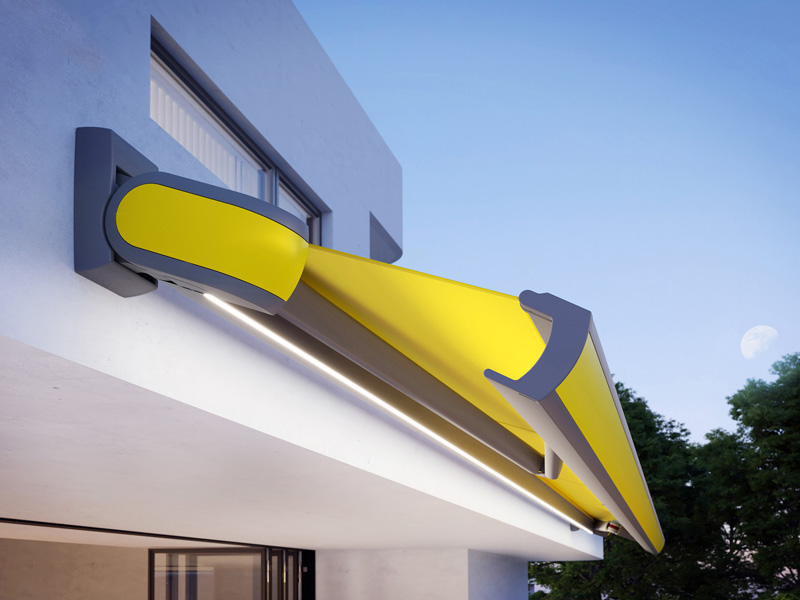 High-tech at its finest
In addition to the curved design, the MX-3 also offers a new light option. Below the awning, you can attach an LED-Line or LED-Spots. They illuminate the cassette and the façade in the evening, with an accentuated band of light or with light beams. I personally love this feature, that solves the common problem of appropriate outdoors lightening, not to mention the fact that you can add dimmable infrared heathers and weather sensors.
The high-tech mechanism extends and retracts the awning cover smoothly. The brackets for wall and ceiling are hardly noticeable since they are covered by sealing caps. To operate the awning, you can choose from manual or radio-controlled motor operation. The integration in a home automation system is also possible. The small awning with a maximum width of six metres and three metres of depth provides a wide area with shade. According to Markilux, the MX-3 unites highest standards from the in-house development centre and shows itself at its best for summer.
For further information, please visit: www.markilux.com