The Genesis GV80 is a new luxury SUV competitively matched against established rivals such as the BMW X5 and Volvo XC90. Can it steal an edge for the family buyer in need of the practical elements of an SUV but, still wanting a comfortable and stylish interior?
Genesis is a fairly new brand to the UK shores. Already established in the US and Asian markets, this is Hyundai's foray into the up-market segment for which they've launched a selection of saloons and SUVs, with the GV80 being their flagship.
Sitting on my driveway, the GV80 looks every bit like a front runner. It's a large, imposing car with a massive grille and winged logo evoking thoughts of the Bentley Bentayga (Genesis's Chief Creative Officer, Luc Donckerwolke, worked at Bentley for a while). Down the side, inspiration is drawn from the logo with dual strips of headlights that carry on around the car through dual side indicator lights and the same in the taillights. Chrome touches are carefully positioned to give a real quality look, with the top-spec luxury line model boasting huge 22-inch alloy wheels.
The stylish design of the GV80 wheels and large tires complete the proportionate look of this sporty SUV.
Sitting inside, the sumptuous Napa leather seats are both comfortable and practical with a full range of adjustments and massage functions. A mix of leather and ash across the dashboard oozes quality as does everything else you touch, being soft or engineered with embellishment around dials and switches. The fully digital instrument cluster features a 3D effect interface complementing an impressive 14.5" touchscreen that sits atop the dashboard but doesn't feel like a stuck-on iPad, which is quite common in other cars.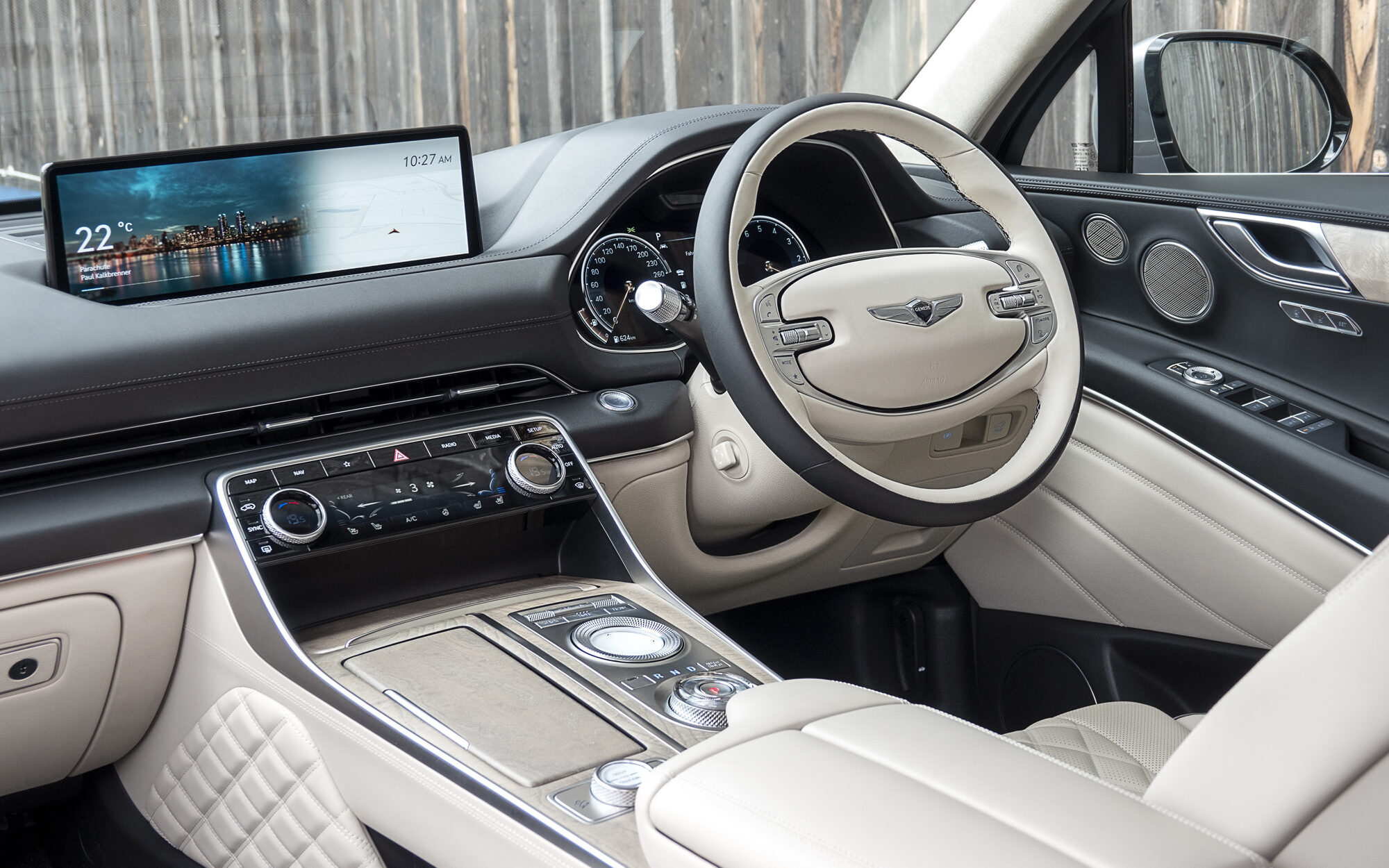 The application of intricate materials and colours stresses the luxurious feel of the GV80.
All this luxuriousness in the front carries on into the back. The GV80 has a blissfully high roofline and is wide enough to manoeuvre your little nippers or accommodate three adults comfortably, and its fairly modest transmission tunnel means the middle seat is fully usable
The outer seats have ISOFIX ports and fitting a child seat is easy thanks to how wide the doors open. Rear occupants are well looked after with their own climate control, heated seats and the ability to recline or slide them back for even more legroom.
If you're looking to ferry around a small army of kids, the GV80 has an option to add an extra row of seats taking it up to seven in total. You do lose some boot space and can't fit a child seat but is pretty handy.
You can opt for the third row of seats in the GV80, which is ideal to taxi around your kids and their friends.
Staying with the boot, its size and completely flat loading floor make it easy to get large items in and out… may that be suitcases, cases of wine, golf bags or dogs. Under it, there is further storage space and a place to conveniently tuck away the luggage cover. Whilst this cover is in use though, it's important that nothing, literally nothing, goes on top of it as a heavy brake will send even the lightest of objects flying forward and down a gap between it and the back of the seats that aren't accessible from the boot.
The driving experience is pretty good and the 3.0 diesel I tested was plenty powerful enough for normal driving but the engine options on offer feel a touch old. The steering is not overly responsive so I am not sure it would be my car of choice for off-roading. That said, the GV80 is perfectly suitable to whizz around anywhere but if I were you, I'd avoid potholes, the suspension doesn't handle them all that well.
The Genesis GV80 has a very large and accessible boot with extra storage space under the floor.
The driving tech on offer is brilliant. Active cruise control makes motorway driving even easier, and it'll parallel or reverse park with you in or out of the car. A party trick you'll be sure to show everyone, even the postman!
If you're looking for something with an abundance of practicality as well as refinement, together with highly competitive prices, you should seriously consider this car.
Genesis GV80 Luxury Line, including options: £69,785
To learn more about the Genesis GV80, click HERE