We all want to look our best at Christmas but we can't make it happen overnight. We recommend to dial up your beauty regime and add some extras to ensure you get to the Christmas festivities looking your very best.
For starters, we suggest you give your hair a bit of TLC. Product build-up is a very common cause of hair dullness and it also affects the health of our scalp, which in turn, influences the hair growing cycle. Avant's Serene Scalp Recovery Exfoliating treatment (£72) thoroughly cleans your scalp, balances oils and fights flakes to keep your hair follicles healthy.
Avant's Serene Scalp Recovery Exfoliating treatment combines key ingredients that work together to deeply clean the scalp and promote hair growth and strength.
The secret is the combination of ingredients in it. For example, kaolin works to remove grime, excess oil and dead skin cells. Sarcosine also helps to remove oil and dirt but its main job is to enhance the feel and appearance of damaged hair, helping to improve its body, sheen and suppleness. Macadamia seed oil is rich in antioxidants and fatty acids, which contribute to leave hair stronger and healthier, whilst helping it to recover from environmental stressors. Buy it HERE.
Another hair wonder, also by Avant, is the Beautifying Phytoactive Hair Bonding Elixir (£69). This is a leave-in hair oil that works to beautify the appearance of dull hair, aiming to leave your hair shiny and strong.
Beautifying Phytoactive Hair Bonding Elixir has deep moisturising properties that contribute to a healthier scalp and thicker, glossier hair.
The two key ingredients here are Argan oil, which works to moisturise your hair and scalp and protect from everyday damage. A healthier scalp prevents hair loss and less breakage and split ends contribute to thicker, fuller hair. Carrot oil works to make the roots stronger at the scalp and to improve hair texture, making it shinier, smoother and softer to the touch. Buy it HERE.
Time to have a look at what we can do from the inside. In the last 10 weeks, I have been taking daily Totally Derma (£105), a nutraceutical collagen drink supplement that has really surprised me with its effect. Collagen is the most abundant protein in your body and responsible for the structure of our skin. As we get older, we produce less of it and our skin starts to sag.
Totally Derma boasts a combination of Type I, II and III collagen, hyaluronic acid and other compounds vital for collagen production and skin health.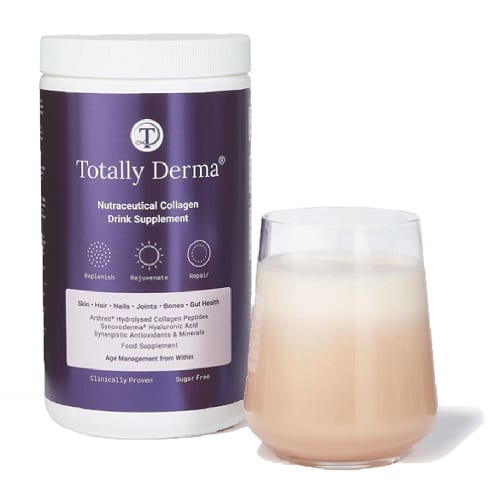 Totally Derma contains a very high concentration of collagen and hyaluronic acid, with a 95 percent absorption rate. These two compounds stimulate the production of each other and together with the anti-inflammatories and antioxidants in the formula are distributed via the blood vessels to into the deeper layers of the dermis. You can buy it HERE.
Time now to look at what we can apply directly to our skin that would show results within weeks. I will start with the Bioeffect Firming Favourites Gift Set (£169). It contains three key products for an anti-ageing routine for face and eyes with visible results quite quickly. The first is their bestselling EGF Serum, which boost hydration and moisture retention, thus helping to reduce the appearance of fine lines and wrinkles and increases firmness and elasticity. You just need to apply a few drops to your face, neck and décolleté morning and evening. I wait for a few minutes before applying the rest of my skin routine so the serum can be properly absorbed by my skin.
These Bioeffect kit will introduce you to an anti-ageing EGF routine for face and eyes delivering impressive results.
The EGF Eye Serum targets the eye contour with a higher concentration of Barley EGF, visibly reducing fine lines, wrinkles and under-eye puffiness. Apply the cooling roller ball to clean skin above and below the eye. Massage gently with fingertips for even penetration and like with the face serum, wait a few minutes before applying your sunscreen and moisturiser. The cooling and soothing Imprinting Eye Mask was developed to maximise the efficacy of Barley EGF in the EGF Eye Serum while nourishing, firming and rejuvenating the delicate eye area. You should peel off the transparent film before putting on your skin, then remove the white outer layers. Leave it on for 15 minutes and after you remove it, massage the excess serum into your skin. The final result is a visibly smoother, plumper and firmer skin. You can buy it HERE.
The run up to Christmas is party season on steroids so I would recommend you get yourself Dr Yannis Hero Edit 2022 by 111 Skin (£530), a combination of the internationally acclaimed products by Dr Yannis Alexandrides MD FACS. Selected from their powerful Reparative and Intensive ranges, the set includes star products like the Y Theorem Repair Light Serum NAC Y²™ and Celestial Black Diamond Eye Masks among others.
Dr Yannis Hero Edit includes one Y Theorem Repair Light Serum NAC Y²™, one Space Defence Bright Eye Lift Gel NAC Y²™, one Celestial Black Diamond Retinol Oil, one Vitamin C Brightening Booster, three Celestial Black Diamond Eye Masks and three Y Theorem Bio cellulose Facial Masks.
Star ingredients in this Hero set are Retinol, NAC Y²™and Glutathione. Retinol is a powerful form of Vitamin A that speeds up cell-turnover, hence its anti-ageing properties. It also helps to resurface the skin, so it reduces texture issues associated with scarring, open pores, acne and even pigmentation. Retinol can be quite harsh on the skin but this formula is really soft on the skin. Mine is very sensitive and it didn't cause any irritation on it. NAC Y²™ is a derived amino acid complex that provides cellular immunity, promote antioxidant activity and balances the skin against environmental aggressors that lead to premature cellular decline. Glutathione is the body's naturally occurring antioxidant that works to boost the production of collagen, hyaluronic acid and elastin in the dermis. You can buy this set HERE.
To give your skin the ultimate luxurious experience,look no further than La Prairie's White Caviar Festive Ritual (£1,624), focused on working on skin texture and brightness. The coffret includes two sizes each of White Caviar Illuminating Pearl Infusion serum; White Caviar Crème Extraordinaire, infused with Lumidose, the most potent illuminating molecule; and a full-sized White Caviar Eye Extraordinaire, for a luminous eye area. I tested it over a period of four weeks, and I must say that I could see a significant improvement in the smoothness and brightness of my skin.
Enriched with potent illuminating molecules and the firming power of caviar, this ritual helps to diminish the appearance of age spots and provides skin with extraordinary luminosity.
This five-piece set includes full and replica sizes of the essential White Caviar Collection creations. First, I apply the White Caviar Illuminating Pearl Infusion, then White Caviar Eye Extraordinaire and to finish, the White Caviar Crème Extraordinaire. My skin looked so luminous and even that when I was using this ritual, I didn't feel the need to apply a primer under my foundation. Buy it HERE.
Last… the definitive home device to get rid of unwanted hair forever, Sensilight PRO by Sensica (£379). I spent years and thousands of pounds in electric, photo and laser epilation and although it has mostly been very effective, there are still stubborn patches here and there. Sensilight PRO is clinically proven and not only works for permanent hair reduction but it also helps to fight signs of ageing and firms up sagging skin.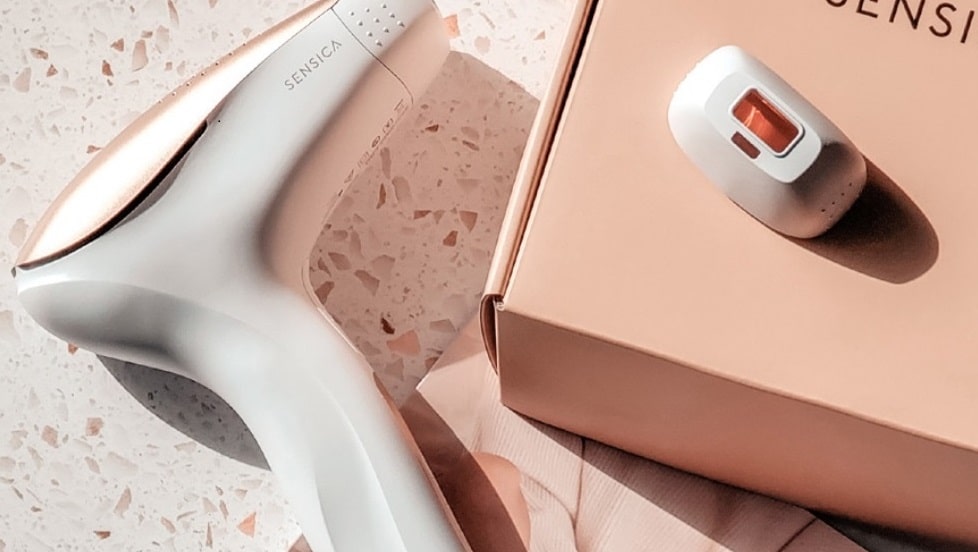 Sensilight Pro is very easy to use and I noticed real results after just four sessions.
Apart from being very easy and safe to use, the device is equipped with RPL™ technology – the most advanced for home use based on the ones professionals use – and comes with two heads, one with a 4.5cm2 window for large areas such as legs and arms and a 2cm2 window for small areas such as the upper lip, chin and jawline. The results are as good as you'd get in a beauty salon. You can buy it HERE.
Opening picture by Roy Clarke for Pixabay