A simple, yet ambitious philosophy is behind the making of Firetree chocolate: To produce the best superior premium chocolate in the world. On a visit to Firetree in Peterborough, I-M Intelligent Magazine got to see how pure chocolate is produced and more importantly, sample some.
Although the Firetre factory is not like Willy Wonka's it did hold plenty of delights. Martyn O'Dare is Mr Wonka, the master chocolatier and our guide for the visit, which he made thoroughly enjoyable. The passion he has for chocolate and Firetree products is palpable in every word he said.
The Cocoa is sourced from small independent growers on islands in the South Pacific, who are paid twice as much as the going rate because their produce is of outstanding quality and because Firetree believes in supporting growers and their families. On remote volcanic islands, the cacao tree or "firetree" is immediately identifiable by its flame-hued pods, bright yellow, orange, and red, symbolic of nature's flames.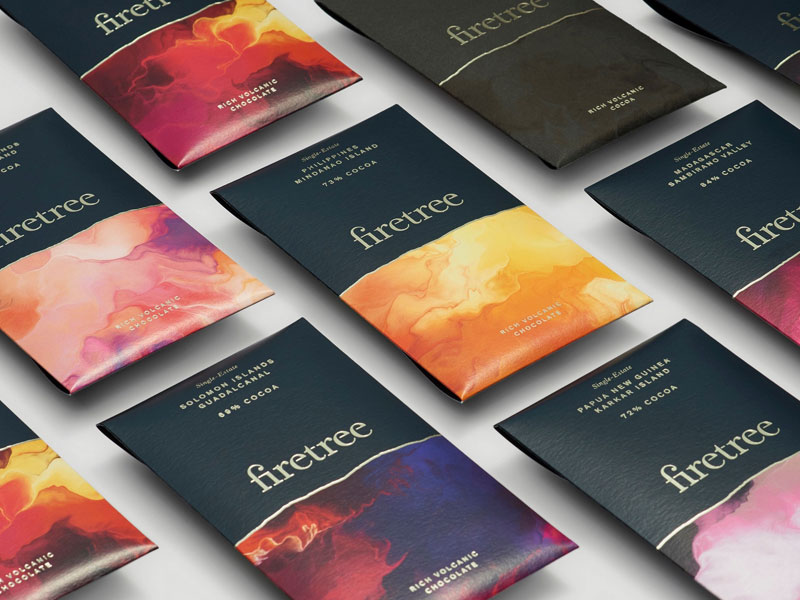 It is in this uniquely rich, porous volcanic soil that the firetree thrives and produces beans of the highest calibre. The cocoa beans are expertly selected by Firetree farmers and masterfully crafted by skillful chocolatiers to enhance, develop, and blend the taste to create a smooth, rich chocolate, which is distinct in its depth and complexity, whilst also being dairy-free and vegan-friendly. The good farming practices and craft manufacturing process followed by Firetree include fermentation, the drying process in the tropical sun, the whole beans roasting in the shell to lock in the flavour and slow conching.
Martyn is very proud that he discovered these small scale growers and that Firetree can support them through purchasing their entire crops. The process FireTree uses is very simple because they don't add any extra ingredients, they simply grind the beans and heat the paste until it becomes liquid. At this stage, it can be molded into bars. Literally "bean to bar."
Firetree was founded in 2017 by David Zulman, Martyn O'Dare and Aidan Bishop, who have unique experience and pedigree in the chocolate market. Their chocolate knowledge and passion and their wealth of experience in cocoa processing and manufacture, lead them to their ambition of creating depth to the tasting experience of chocolate, by educating their audience, building their knowledge and appreciation of this wonderful product. They are committed to producing first-class tasting chocolate with the best inherent flavours and aromas on the market, as well as bringing a sense of wonder and discovery back into chocolate.
Founder and Managing Director, David Zulman said:
"We are delighted to be launching our range of exceptional and one-of-a-kind volcanic, single-estate chocolate. The cocoa beans are from far-flung Pacific islands and Madagascar, and the chocolate is dairy free and vegan friendly. We've put great effort into redefining, enhancing, and bending the conventional taste as we know it, and creating a smooth, rich and unique tasting experience, which is distinct in its depth and complexity."
The natural range is made up of seven 65g bars and contains no additives or flavourings. They are dairy free, suitable for vegans and lactose intolerant people, as well as being halal and kosher certified. The chocolate is produced in a nut-free factory using only cocoa beans, cocoa butter,
un-refined cane sugar and sunflower lecithin.
The packaging is distinctive with seven unique artworks by Berlin based artist Andreas Fischer to differentiate and represent each of the flavour profiles, such as plum, citrus, truffle and honey. Each artwork represents the taste nuances of each profile using colour, texture and semiotics.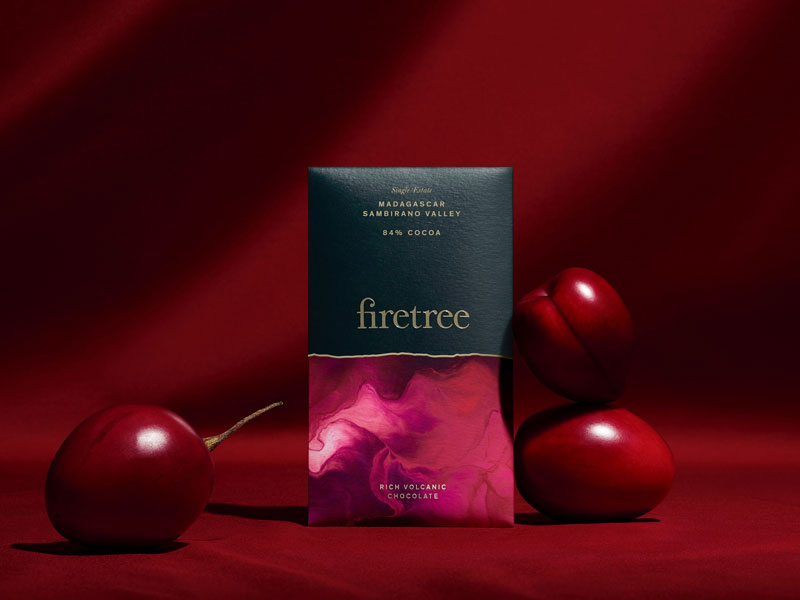 Our visit ended with a tasting during which Martyn talked us through the complexities that each one of their bars has, according to the cocoa content, which goes from 69% to 100% cocoa, the latter being so rich a tiny piece is enough to satisfy. Its taste hugs the mouth and lingers in the palate like a Château Margaux 1982 would do.
We learnt more about the growers and their islands. The Firetree single-estate islands are Solomon Islands, Vanuatu, Papua New Guinea, Philippines and Madagascar. Firetree has proven product excellence having recently received six Academy of Chocolate Awards, and three Great Taste Awards.