Considered one of the most important art fairs in the global calendar, Frieze London and Frieze Masters bring together galleries from 42 countries, presenting art across the ages, from ancient and old masters to modern classics and the contemporary. Featuring some of the most exciting artists working today, as well as expertly curated selections from art history, both shows this year will celebrate the depth and breadth of London's creative community. The event is supported by global lead partner Deustche Bank and by luxury Swiss watchmaker, Breguet, a company historically linked to art and artisan crafts.
Eva Langret, Director of Frieze London said, "So many of our participating galleries are planning ambitious solo presentations and curated shows that really promise to stimulate, delight and challenge – and I am so excited to see such a diversity of talent all under one roof. Frieze Week also promises to be a major draw, with truly unmissable exhibitions across the city in both galleries and museums. This year's fairs really reflect our commitment to celebrating the creative life of London."
Nathan Clements-Gillespie, Director of Frieze Masters added, "Following the stellar launch of Frieze Masters in Seoul, we can't wait to be back in London to celebrate our 10th anniversary. Once again, we will see Frieze Masters' signature formula of showcasing the very best art throughout the ages. In addition, I am so looking forward to the discoveries that the fair provides each year – particularly in our Spotlight section, curated in 2022 by Camille Morineau and the AWARE team. Beyond the fair, Frieze Masters' presence will be felt throughout the city – with our talks programme taking place in galleries and museums throughout London for everyone to enjoy."
Frieze London will present the world's leading galleries, showcasing ambitious solo, group and themed shows that offer an opportunity to discover up-and-coming talent and engage with work by some of today's most celebrated names. Highlights include:
James Cohan, with a solo exhibition of Elias Sime's 'Tightrope' series, which weaves repurposed materials – computer keyboards, motherboards, and electrical wires – into abstract compositions.
Sadie Coles HQ will show a solo presentation of Ugo Rondinone's "Mattituck" series of paintings that was first first initiated in 2020.
Pilar Corrias will stage a solo show of work by Hayv Kahraman that continues her exploration of embodied experiences of "Otherness", particularly in relation to the female body.
Thomas Dane Gallery has invited Anthea Hamilton to curate the gallery's booth which will include recent works by Hamilton, alongside major pieces by artists including Hurvin Anderson, Lynda Benglis, Abraham Cruzvillegas, Barbara Kasten, Phillip King, Ella Kruglyanskaya, Jean-Luc Moulène, Dana Schutz, Amy Sillman and Caragh Thuring.
Stephen Friedman Gallery will present the first solo survey of Jeffrey Gibson in the UK, whose mixed-media paintings and sculptures combine indigenous artisanal handcraft with narratives of contemporary resistance, drawing on protest slogans and song lyrics.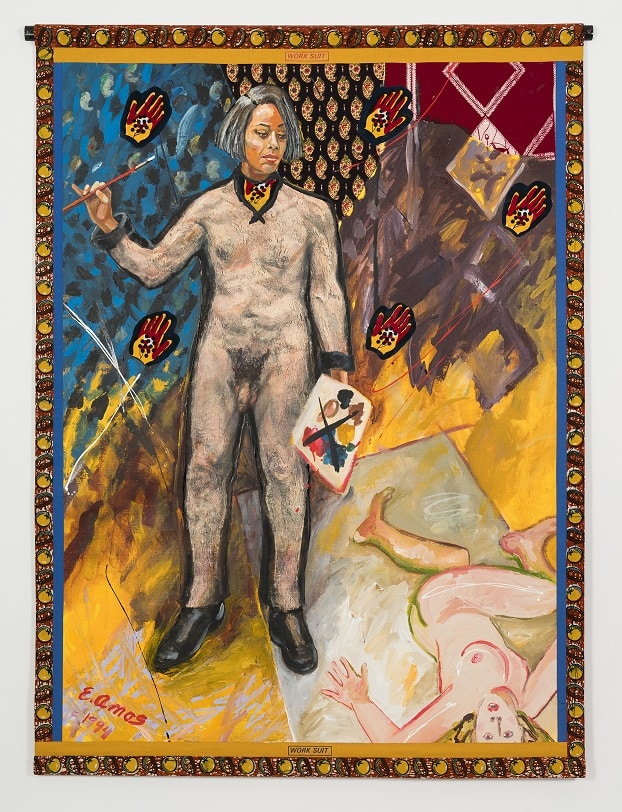 Ryan Lee Gallery is bringing to the UK for the first time the work of Emma Amos whose figurative paintings often use her own likeness to engage with racial and feminist politics.
Indra's Net will feature 10 dedicated presentations, as well as a number of displays scattered throughout the main section of the fair, and will feature artists including: Muhanned Cader (Jhaveri Contemporary); Dorothy Cross (Kerlin Gallery & Frith Street Gallery); Shirazeh Houshiary (Lisson Gallery); Jamilah Sabur & Oscar Santillán (Copperfield); Eddie Rodolfo Aparicio & Clarissa Tossin (Commonwealth and Council); Martha Atienza (Silverlens); Teresita Fernandez (Lehmann Maupin); Claudia Andujar (Vermelho) and Tomás Díaz Cedeño (Peana) among several others.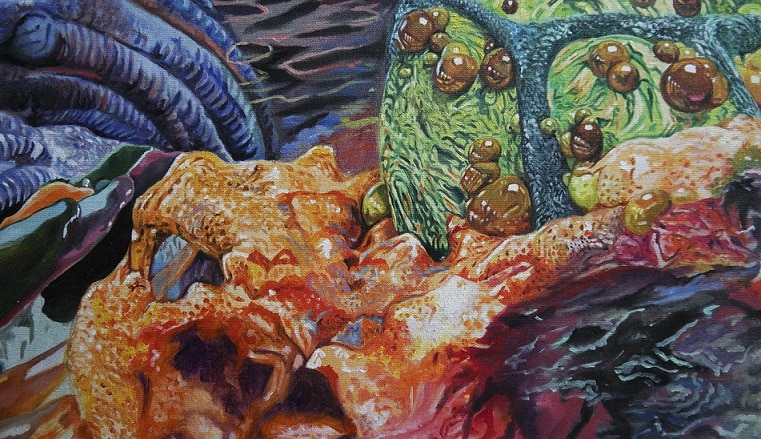 Oscar Santillán, Antimundo 00G, 2022. Oil on canvas. 120 x 80 cm. Courtesy of the artist and Copperfield, London-Detail.
Celebrating the 10th anniversary of Frieze Masters, the fair will bring together a snapshot of art history, from rare antiquities and Old Master paintings to luminaries of the 20th century. Highlights include:
De Jonckheere, with a solo presentation of works by Pieter Brueghel the Younger.
Gisèle Croës is focusing on a collection of Tang dynasty precious gold and silver cups, bowls and utensils historically used for banquets and feasts.
Helly Nahmad, London will present Joan Miró – After The War; a selection of paintings, works on paper and painted textiles executed between 1946 and 1973, emphasising Miró's unique and ever- evolving approach to material and form.
ACA Galleries bring us an exhibition of pre-eminent African American artists of the 20th century including Romare Bearden, Jacob Lawerence, Faith Ringgold, Aminah Brenda Lynn Robinson and Charles White.
Elliott Fine Art presents Portrait of a Zulu, 1897. Oil on canvas by Frans David Oerder.
Galleria Tommaso Calabro will present the exhibition 'Casa Iolas. Citofonare Vezzoli', curated by Italian artist Francesco Vezzoli, which will pay homage to the legendary Greek art gallerist Alexander Iolas (1907-1987) and include work by Victor Brauner, William Copley, Giorgio de Chirico, Max Ernst and Leonor Fini.
Richard Nagy will create a Gesamtkunstwerk with works and furniture of the Viennese Secession movement including works by Egon Schiele and Gustav Klimt.
Another first-time exhibitor Martin Beisly Fine Art will show Pre-Raphaelite and Victorian paintings made between 1830-1910, including works by Dante Gabriel Rossetti, Ford Madox Brown, and Edward John Poynter.
Cesare Fracanzano, The Liberation of Saint Peter, late 17th century. Oil on canvas.Courtesy of the artist and Artur Ramon Art.
Returning to the fair for the second year, the Standout section of the fair this year explores the idea of 'Global Exchange'. Once again, the section is curated by Luke Syson (Director and Marlay Curator of the Fitzwilliam Museum, University of Cambridge) who describes the makers of art objects as "open-minded, even large- hearted, to a degree that is unusual in the arts', explaining that 'they embrace ideas, materials, designs and techniques that might have originated very far from home. In a world that today feels both more joined up and more culturally fraught than ever before, the histories of these works trace a complex and fascinating history." Highlights include:
Oscar Humphries, with a special focus on Isamu Noguchi's relationship with Japan, featuring works he created while visiting as well as collaborations with Japanese contemporaries.
Prahlad Bubbar brings a selection of "The Cosmic Dance" pieces, ranging from mother goddess figures of the Mauryan period (300 BC) in Northern India to a 16th century royal canopy from Golconda in the Deccan region, amongst others.
Peter Finer is presenting culturally diverse examples of steel weaponry dating from antiquity through to Japan's Edo period.
Raccanello & Leprince will show a selection of Renaissance-era Maiolica, featuring pieces by makers including Nicola da Urbino and Francesco Xanto Avelli and their followers, as well as productions of the Fontana workshop.
Amir Mohtashemi will showcase a pair of 19th-century Indian watercolor paintings of ducks, from an album of "Company School" paintings by local artists commissioned by Europeans to record the likenesses of flora and fauna.
The much-celebrated Spotlight section of the fair is this year curated by Camille Morineau and the AWARE team. Featuring 26 solo presentations by female artists of the 20th century, the section will draw attention to previously overlooked names and allow a reconsideration of recent history. Highlights include:
Ab-Anbar, with their solo show of works by Iranian artist Sonia Balassanian.
DAG will showcase paintings by self-taught Indian artist Madhvi Parekh.
The Gallery of Everything will present works by Sister Gertrude Morgan, whose work was featured in this year's Venice Biennale.
Kó will show rarely-seen work by Nigerian artist Nike Davies-Okundaye, featuring embroidery, batik, weaving, patchwork, painting, and mixed media from the 1960s to the 1980s.
Partners and Collaborations
Deutsche Bank is the Global Lead Partner for Frieze Art Fairs for the 19th consecutive year. Works by Shezad Dawood will feature in the Deutsche Bank Wealth Management Lounges at Frieze and on Frieze Viewing Room. The works, consisting of neons, painting, sculpture, and virtual reality, delve into themes of climate change, migration and mental health using a combination of fact and science fiction.
Breguet will present a specially commissioned artwork by the artist Pablo Bronstein, continuing his panoramic installation series launched at Frieze New York in May, followed by Frieze Seoul in September. The third iteration for London will reference the art of watchmaking's endurance since the industrial revolution, whereby visitors will witness Bronstein's artistic vision. The work will be displayed alongside historical watches from Breguet's archives, as well as new timepieces from their collections. An artisan from Breguet's workshop will also be present at the booth performing guillochage demonstrations.
Pablo Bronstein's, Scenic Wallpaper with Important Machinery of the 18th century, generated huge interest in Frieze New York.
BMW Open Work Commission 2022: curated by Attilia Fattori Franchini 'BMW Open Work by Frieze' invites an artist to develop an ambitious project utilizing BMW design and technology to pursue their practice in innovative new directions. For the 2022 commission, artist Nikita Gale will present 63/22, a sculptural installation comprising a series of electric guitars imagined in collaboration with BMW i7 designers and activated by live performances in the lounge.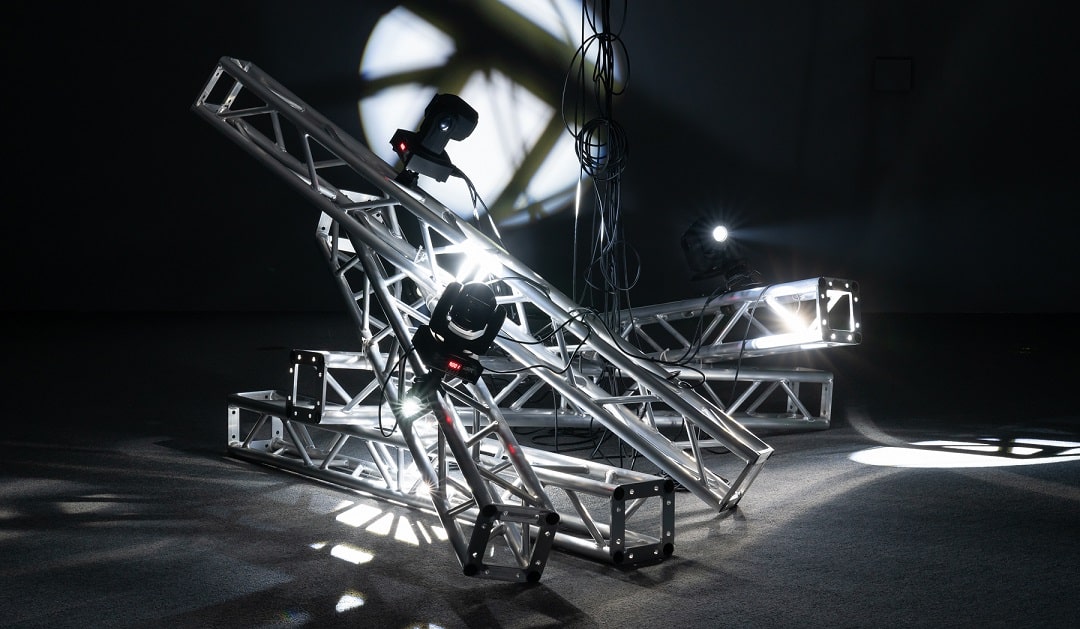 Nikita Gale, Private Dancer,2020. Installation view, California African American Museum, Los Angeles. Photo: Elon Schoenholz.
Maison Ruinart has given carte blanche to Jeppe Hein, who will translate his first impressions of Ruinart's terroir into fragments of matter and emotion that both awaken senses and touch hearts, while placing each of us at the centre of a delightful participatory experience. A collective experience that is unique each time. An artistic installation to live RIGHT HERE, RIGHT NOW.
La Prairie will highlight emerging women artists, inviting five young female artists to create digital works inspired by the codes of Bauhaus. The Women Bauhaus Collective by La Prairie celebrates the legacy of the women in Bauhaus and empowers greater equity for future generations of talent. As part of the collective, Talia Golchin, a London-based artist and recent graduate of Central Saint Martins, has created a digital sculpture entitled "Euphoria", inspired by the synergy of the body, mind and the universe. A physical representation of "Euphoria" will be on display within the La Prairie lounge at Frieze London.
To keep up to date on all the latest news from Frieze, sign up to our newsletter at frieze.com, and follow @friezeofficial on Instagram, Twitter and Frieze Official on Facebook.
Opening picture: Linda Nylind. Courtesy of Linda Nylind/Frieze.