This year marks the 65th edition of one of the most popular and prestigious rare book fairs in the world. Whether you are a collector looking for the next masterpiece to add to your library, or a bibliophile who loves browsing second hand classics, Firsts London is the book fair for you.
"We are very lucky to have this kind of fair…. It's not elitist, it's not specialist, you don't have to be a scholar, you just have to be someone with an immense thirst for the glory of books" – Stephen Fry, actor, writer and book collector
Firsts London's Rare Book Fair, organised by the Antiquarian Booksellers' Association (ABA), returns to the Saatchi Gallery in Chelsea with 120 international dealers exhibiting, 49 of them being new to fair. Among these is Sam Fogg, a leading dealer in the art of the European Middle Ages, who will be showing a selection of illuminated medieval manuscripts.
Rare copy of Ulysses from 1933 with a painting on the fore edge. Available at Johnson Rare Books.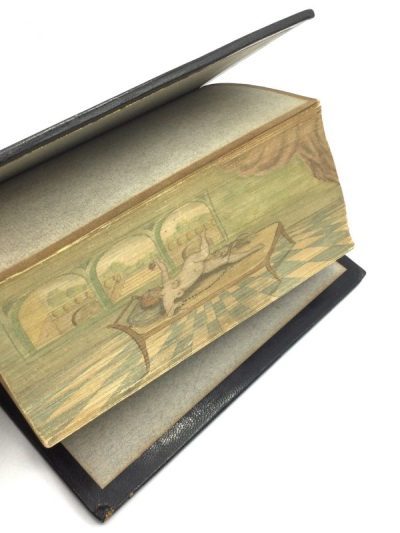 This year's theme for the fair is "Banned Books" which was inspired by the 100th anniversary of the publication of Ulysses – one of the most famous censored books in modern times – but also responds to contemporary conversations around censorship across literature, the media and online. Pom Harrington, ABA President and Chairman of Firsts London, explains: "Now is an ideal opportunity to celebrate Ulysses and others like it, that were suppressed, banned or led to their authors being ostracised for expressing views that were different from what was acceptable when they first appeared. One tends to think of forbidden works as an issue of another era, but it's a subject that is very much of our time. The printed word has always remained a powerful vehicle for enshrining an acceptance of plurality of views. We thought it was a topic that remains very current and worthy of shining a light on."
In addition to examples of "Banned Books" across the centuries (both fiction and non-fiction), exhibitors will present a vast treasure trove of items: rare books, objects and memorabilia, maps, illuminated manuscripts, incunabula, fine bindings, illustrations, maps, historical documents, prints and print ephemera.
French playing cards circa 1760, "Paris pattern". Image courtesy of John Underwood Antiquarian Books.
Among the highlights of the fair is a first edition of Copernicus' De revolutionibus orbium coelestium, a signed first edition of D. H. Lawrence's Lady Chatterley's Lover, and a true first edition in Russian of Doctor Zhivago by Boris Pasternak. "In a time when print books and ephemera have mattered more than ever and continue to serve as a source of comfort and escape during a period of uncertainty, this fair has never been more relevant", write the fair organisers.
Saatchi Gallery, Duke of York's HQ, King's Road, London SW3 4RY
Preview night: Thursday 15 September, 5pm – 9pm
Public opening: Friday 16 September, 11am – 8pm – Tickets £10 on the door; Saturday 17 September, 11am – 6pm – Free entry; Sunday 18 September. 11am – 5pm – Free entry.
Opening picture courtesy of John Underwood Rare Books