Directed by Mark Steven Johnson (Daredevil, Ghost Rider), Finding Steve McQueen is a hilarious film based on the true story of the Youngstown mob, President Richard Nixon, the FBI, and the biggest bank heist in US history.
Based solely on the film name, I was thoroughly excited at having the opportunity to watch and review. At my age, I'm just about versed on how big a cult hero and superstar Steve McQueen was in his day.
However, a few minutes into the movie you realise it has very little to do with him at all, but at this point, you're already heavily enthralled by the adventure and slickness of the heist plot, mixed with subtle humour and smart storytelling.
The film is based on the true story of the biggest bank heist in US history.
Travis Fimmel, an actor I have previously been impressed with for his work on the Viking series and in Raised by Wolves, takes the lead role and in my opinion, he nails it. We start with a stressed-out Harry Barber (Fimmel) coming off the phone in despair. When he finally gets the strength to rise up out of his depressing state, he makes a move to leave his apartment. As he approaches the front door, he comes to a large poster on the wall of Steve McQueen. At this point, we see that Harry has modelled his whole style on Steve McQueen, including his stance, and before leaving the apartment, Harold stares up at the poster and strokes it.
In the following scene, Harry enters a small diner where a young lady named Molly (played by Rachael Taylor) is sat waiting for him. As he sits down, she notices that he isn't his usual self: nervous glances, heavy sweating and minimal eye contact. When Molly presses her fella about his strange behaviour, we enter into the fulcrum of the storyline, we dive into history as Harold begins to explain how he has been living a lie for a number of years with a fake name as he has been pursued by the FBI for his part in the United California bank robbery. Harry begins to tell his story… that of a heist to steal $30 million in illegal campaign contributions from the President's secret fund in 1972.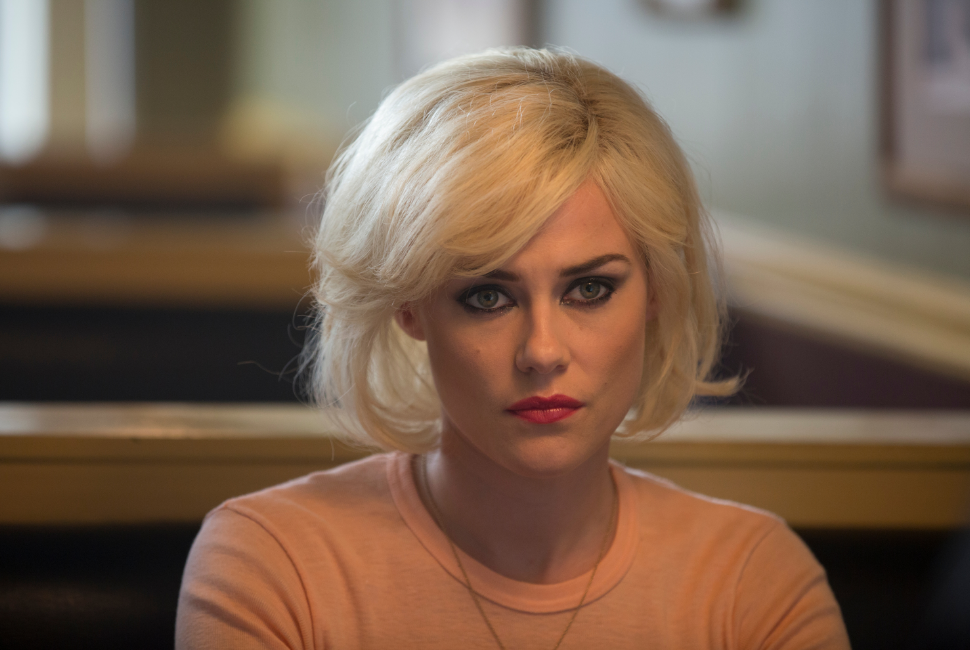 At this point, we start to meet a few more characters: William Fitchner (Armaggedeon, Crash, Black Hawk Down) is quickly established as a leading crew member for upcoming schemes. One of his cronies is played by Louis Lombardi (Sopranos and Entourage) and both men are present for a meeting in which another associate lets them know of a possible score if they can round up a crew of men. A certain bank in California will be closed for the weekend containing many safety deposit boxes filled with readies. What makes this job even more appetising for Enzo (Fitcher's character) is that this vault is supposedly filled with $30million of President Nixon's illegal political contributions. Enzo, who despises Nixon with a solid passion, relishes the chance to embarrass him and cleverly makes the point to Pauly (Lombardi) that as they are illegal proceeds if they manage to steal them, there won't be much backlash from the authorities.
Enzo proves a master strategist whilst Harry contributes with unorthodox tactics in their attempt to pull off a mega score. Their first move is to rent a vacation home near to the target bank, so they can study it carefully.
What I find most interesting about the direction of the film is that they waste little time in letting the viewers know that the actual heist goes off with minimal problems, just a few comedic errors that don't bring much drama to the crew of robbers. We spend the second half of the film with Forrest Whittaker (as FBI agent Howard Lambert) meticulously combing through evidence in an attempt to find the culprits. To complicate things further, his superiors refuse to tell him why there is so much pressure on this case and why the Oval Office are monitoring his steps ever so closely.
I must say they couldn't have found a better man to play the tight, ever so focused detective. It seems that in every film I've seen with Forrest Whittaker in recent years, he is playing a scrupulous, attentive researcher ready to foil some plans.
I found this film hilariously entertaining from start to finish and, where it is only 90 minutes in duration, no detail is missing as the director has cleverly refined and filtered each scene without neither missing any important information nor compromising on quality and dialogue.
Finding Steve McQueen stars Travis Fimmel (Raised by Wolves, Vikings), William Fichtner (Armageddon), Rachael Taylor (Jessica Jones, Transformers, Grey's Anatomy), Lily Rabe (The Undoing, American Horror Story) & Academy Award winner Forest Whitaker (Last King of Scotland, The Crying Game).
Available on Digital Download from 16th November and can be bought here
Digital Platforms: iTunes, Amazon, Google, Microsoft, Sky Store, Sony, TalkTalk, Virgin, Rakuten & BT
Words: Papa-Sono Abebrese