From 8 July to 4 August 2019
Bulgari Launches Cinemania POP UP Corner Shop at Selfridges
From 8 July to 4 August 2019, Bulgari presents an immersive customer experience, with its pop-up Cinemania boutique. This is sure to be a real show stopper, complete with gourmet popcorn, proceeds of which will go to Save the Children, a charity with which Bulgari has a ten year partnership.
Vincenzo Pujia, European Managing Director, Bulgari, says about this project, "To launch the new Cinemania concept globally in the UK is an absolute privilege, and we are thrilled to have the prestigious Selfridges Corner Shop location in which to bring it to life. The cinema is an incredibly important source of inspiration for Bulgari as is reflected in our creations, namely the new Cinemagia High Jewellery Collection, (launched in June) and Bulgari's endorsement from stars of the silver screen over the years. This Pop Up celebrates the cinema in original and interactive ways, providing the customer with THE ultimate 360-degree brand experience."
The Cinemania concept explores the cinematic universe in many different ways. From its unique retro logo, mimicking the letter boards of movie theatres, to eye-catching windows with the flashing lights of a film premiere, Bulgari's desire to offer visitors an interactive experience is also showcased through an innovative photo booth concept and a customisable letter board, in front of which customers are invited to take photographs. Unique Bulgari-branded popcorn, in flavours such as truffle, salted caramel and double Belgian chocolate, are also available to purchase.
To celebrate this collaboration with Selfridges, Bulgari presents an exclusive jewellery, watch and accessory offering. Through this collection, Bulgari takes customers on a journey through time to the enchanting Italian Riviera in the 60s, where movie producers and stars gathered together to idle in the summer sunshine and enjoy la dolce vita.
This glamorous existence is brought to life through Bulgari's Limited Edition Serpenti Forever Accessories collection in two of the brand's best-selling shapes. Making a statement with a pop of electric colour, the collection is this summer season's must-have. The collection includes six pieces in total, with three bags that depict a lead actress figure, adorned with Bulgari jewels printed on leather entitled "Extravaganza in Riviera"; whilst another three bags focus on a star's lifestyle behind-the-scenes, featuring charms that include a miniature lipstick, nail polish and a make-up mirror.
Limited to 200 pieces, priced at £1,660 and £1,880 respectively, and complete with special edition packaging – these accessories represent the perfect collector's item and gift.
The Special Edition Serpenti Tubogas Watch in gold and steel reinvents the Maison's classic with an exquisite guilloche green dial, in a limited edition of 20 pieces, exclusively for Selfridges. This unique timepiece exhibits highly impressive craftsmanship, with the wearer in mind; five metres of gold and steel wires are wound by hand around a spring to ensure flexibility and comfort.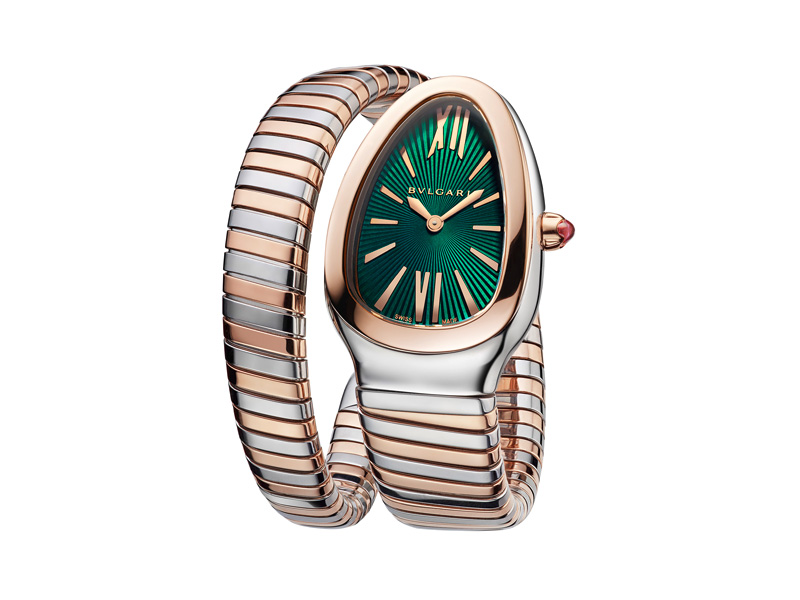 "Green matches perfectly with our history. As a Roman jeweller, we've always worked with precious stones and more specifically with emeralds," explains Fabrizio Buonamassa Stigliani, Director of the Bulgari Watches Design Centre.
Bulgari will have a worldwide preview of two necklaces from the brand's best-selling line: Divas' Dream. The necklaces, featuring designs in rose gold, diamonds, mother-of-pearl and carnelian are set to launch globally in September, however, they are available exclusively in Selfridges from July to mark this exciting collaboration.