When I think of Fabergé, I imagine aristocrats in the Amber Room at the Catherine Palace of Tsarskoye Selo near Saint Petersburg, swirling around as the orchestra played, arriving by sleigh, wrapped up in fur and adorned with Fabergé jewels.
Adored by the Russian Royal family, we now have a chance to know the man considered one of the best goldsmiths in history. Although his London branch is little known, it was truly important for his business. Fabergé's huge success at the 1900 Paris Exposition made it clear that he would have a keen customer base outside Russia. He chose London for its wealthy and international clientele. King Edward VII and Queen Alexandra were already avid Fabergé collectors.
Fabergé miniature replicas of Imperial Regalia such as this egg depicting the Alexander Palace (Chief Workmaster Henrik Wigstrom, 1908 ©The Moscow Kremlin Museums) were popular gifts between members of the Imperial family.
Royalty, aristocrats, American heiresses, exiled Russian Grand Dukes, Maharajas, all flocked there as his creations became a social currency for gifting. With over 200 pieces by the Russian master, this exhibition at the V&A London is your chance to explore timeless stories of love, friendship and tragedy of the Russian Imperial family. One such piece is a sparkling aquamarine and diamond tiara – a token of love from Frederick Francis IV, Grand Duke of Mecklenburg-Schwerin to his bride Princess Alexandra of Hanover and Cumberland on their wedding day (see opening picture above).
The King's mistress, Mrs George Keppel, gifted the King an elegant art-nouveau cigarette case with a snake laid in diamonds biting its tail – a symbol of unbroken and everlasting love. A nephrite cigar box, set with a sepia enamelled view of the Houses of Parliament, was bought by Grand Duke Michael of Russia on 5 November 1908 and given to King Edward VII.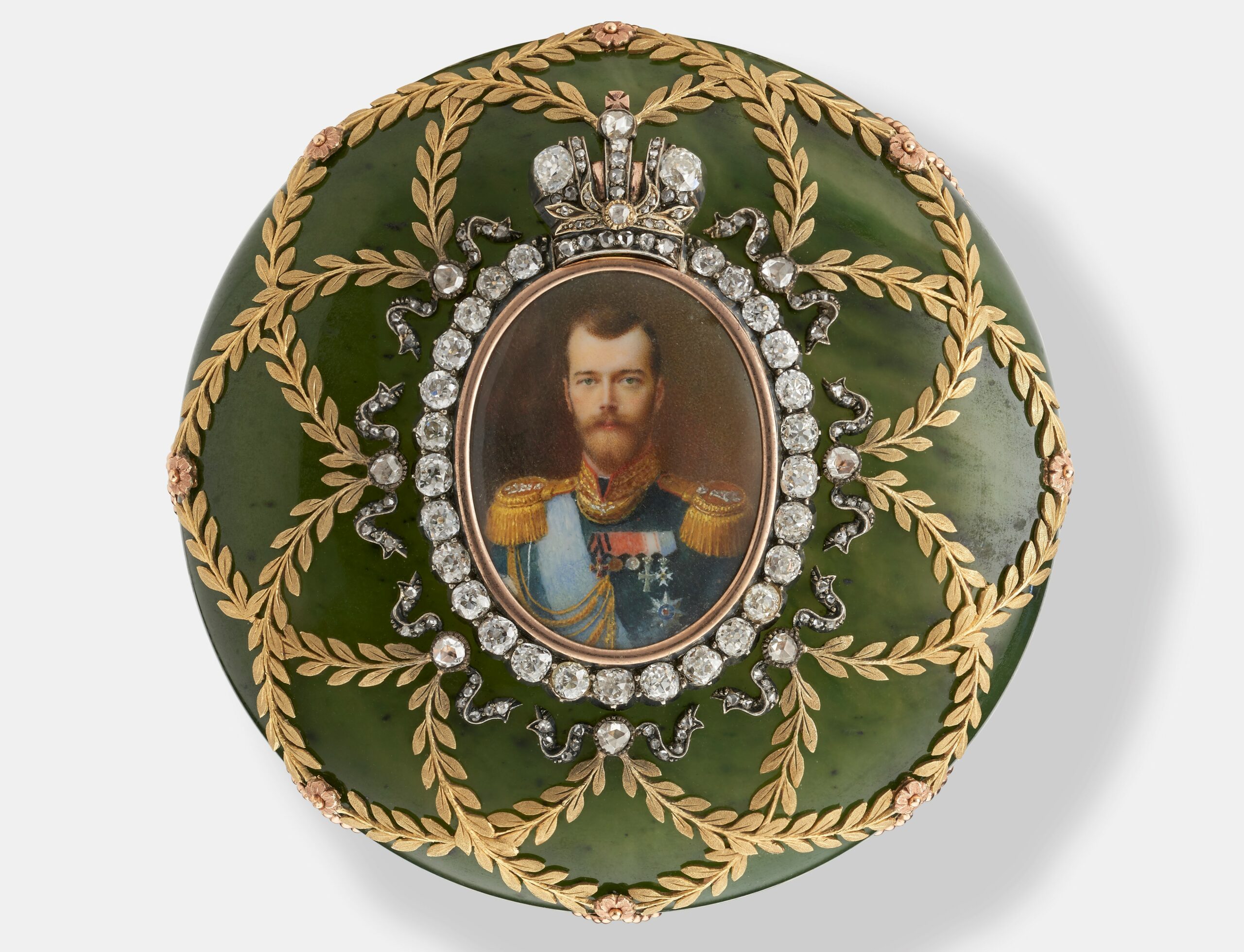 Imperial presentation box by Fabergé in nephrite coloured gold, diamonds and ivory. Chief Workmaster Henrik Wigstrom, St. Petersburg, 1904. Private collection. Image courtesy of Wartski, London.
During the Great War and Russian Revolution Fabergé's production suddenly shifted from exquisite objects to munitions. In 1917, as the Revolution hit Fabergé's workshops in Russia, its outpost in London ceased to operate.
The spirit of Fabergé is shown in the work of one of his best-known female designers, Alma Pihl, including a scintillating "ice crystal" pendant made from rock crystal, diamonds, and platinum.
The legacy of Fabergé through his iconic Imperial Easter eggs can be admired through the collection on display at this show, which includes several that have never been shown in the UK, including the largest Imperial Egg – the Moscow Kremlin Egg – inspired by the architecture of the Dormition Cathedral, on loan from the Moscow Kremlin Museums and the Alexander Palace Egg, featuring watercolour portraits of the children of Nicholas II and Empress Alexandra – containing a surprise model of the palace inside.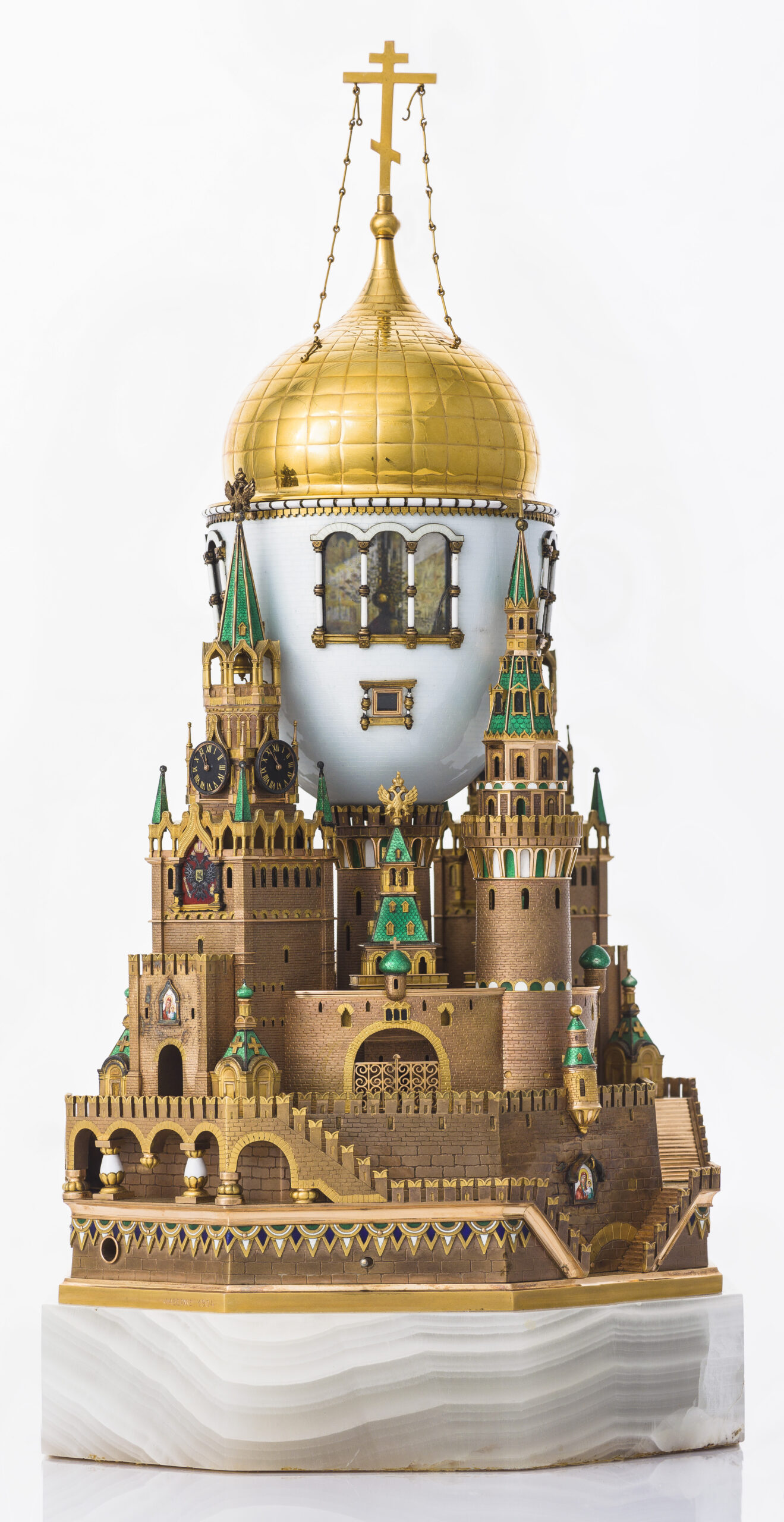 The Moscow Kremlin Egg (1906) in gold, silver, onyx and enamel is the largest of its kind, inspired by the Dormition Cathedral. ©The Moscow Kremlin Museums.
Although Carl Fabergé's firm ceased to exist, the myth crystallised around the Imperial Easter Eggs and the demand for Fabergé pieces has endured with his designs continuing to inspire, captivate and delight.
Words: Lavinia Dickson-Robinson
Opening picture: Aquamarine and diamond tiara by Fabergé. Workmaster Albert Holmstrom, St. Peterburg, circa 1904. Photo courtesy of HMNS. Photographer: Mike Rathke