Our editor Julia Pasarón swaps heels for sandals and takes her family on an exciting holiday in Dubai. With an average of 340 days of sun per year, hundreds of luxury hotels, shopping malls, adrenaline boosting activities and a very tolerant legal framework, you'd struggle to find a more convenient place for a luxury winter holiday than Dubai. Just under seven hours flight time and only four hours ahead, chances are you'll suffer very little or no jetlag at all. Although overnight flying is never easy, our flight with BA from Heathrow was a piece of cake. Being the selfish parents we are, we stuck the kids in premier economy and treated ourselves to Business Class. The prices are much more affordable than you may think.
Going through passport control and collecting our luggage at Dubai's International Airport was virtually painless so within an hour of landing we were arriving at Raffles The Palm, watching the sunrise from the private car the hotel had sent to pick us up. The city looked beautiful in the pale golden morning light, with the glass of its skyscrapers shimmering like diamonds. Assisted by Shafiq, we were checked-in in no time and before we knew it we were unpacking in our rooms. Raffles The Palm Dubai is the latest addition to the Raffles family in the region and every bit as luxurious as you'd expect… if not more. Located between one of the best beaches of The Palm and the sea, the Raffles looks very much what a luxury hotel is expected to look like in this part of the world: rich and sumptuous, with shiny marble floors and shimmering gold and silver leaf details everywhere. You do feel as if you are jumping into a tale out of One thousand and One Arabian nights. With 381 suites and rooms and eight spectacular villas – all of them featuring balconies – you won't find any other hotel in The Palm with a larger floorspace. You can choose to be facing the pool side or the ocean, which would be my recommended choice if you are a sunset lover. Opting for the latter, we stayed at Premium Ocean rooms. Spanning up to 62 sqm and offering panoramic views of the Arabian Gulf, they cater to leisure and business travellers alike with their blend of luxury and contemporary comfort and every amenity you can think of.

The foodies among you will be in heaven…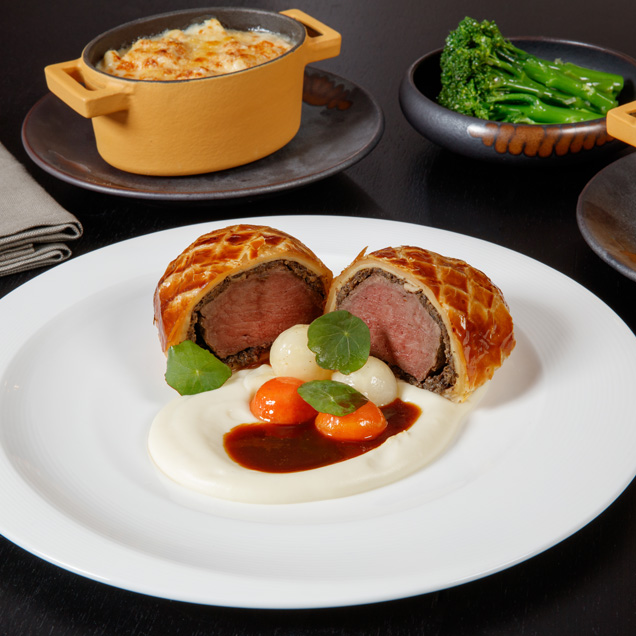 The food offering is represented by six restaurants and bars that encompass a world of exquisite gastronomy and dining experiences. Breakfast takes place at Le Jardin, right by the pool. With its relaxed atmosphere, generous buffet and a la carte menu, Le Jardin is ideal for those who want to spend all day sunbathing and just have informal meals. The foodies among you will be in heaven at the Japanese Matagi and the Italian Piatti. Matagi offers a fusion of Japanese flavours, aromas and textures. The restaurant features a contemporary Japanese atmosphere and it is recognised as a prime destination in Dubai for lovers of modern Japanese cuisine. In the bar you'll find a good range of signature cocktails such as the Matagi Mule, together with a wide selection of wines, premium spirits, beers and of course, sake. We celebrated my youngest son's 18th birthday here and they truly went out of their way to make it special. Manager Danilo and chief waiter Ishwor delighted us with dish after dish of the most delicious Japanase food I've eaten in a long time. Particularly moreish were the Alaskan King Crab Crispy Tacos, the Yuzu Scallops with seaweed and finger lime and the A5 Waygu Beef with lime ponzu and Maldon salt. No need to elaborate on the sushi and sashimi. I haven't eaten it better anywhere (I've never been to Japan though).

Piatti is located by the pool, facing the beach. General Manager Luca Pellegrini and Maitre D' Justin Alberts lead a fabulous team, with chef Batuhan Piatti at the helm of the kitchen. Piatti has marshalled many a Michelin-starred kitchen, among them the first Cipriani in Istanbul and Billionaire Dubai; Piatti is his brainchild. The moment you set foot in the restaurant you feel immediately transported to the Amalfi Coast. But it is not just the ambience that will conquer you, the food is simply incredible. We were spoilt for choice. Starters like Burrata DOP with Heirloom tomatoes, basil oil and aged Balsamic vinegar, a tray of seasonal Fritto Misto (crisp deep-fried seafood not oily at all) and a sensational black truffle pizza were followed by delicacies like seabass ceviche with Tropea onion and Sorrento lemon, home-made Maltagliati with Spiney lobster and a 300gr Wagyu beef ribeye tagliata. On top of it Justin picked a selection of desserts for us that included Merenga alla vanilla con lamponi, Torta al cioccolato and Crostata ai frutti di bosco.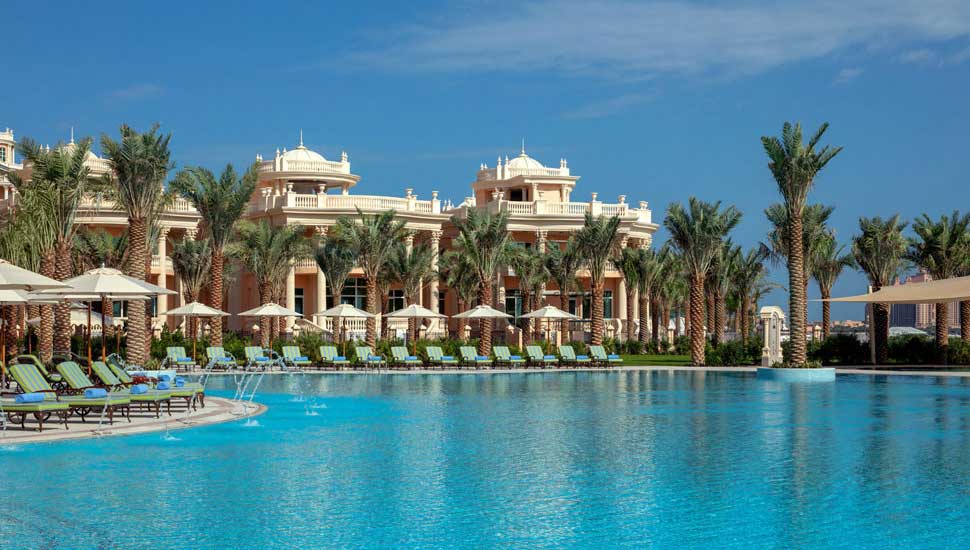 View of the pool at Raffles The Palm.
Dubai has become a true gourmet destination. There are dozens of first-class restaurants to choose from. One of my favourites is Gordon Ramsay's Hell's Kitchen at the new Caesars Palace Hotel in Bluewaters, just a 15-minute cab drive from our hotel, on the outer edge of The Palm, five minutes from Atlantis. Tip: to move around, you can either use one of the hotel cars or ask valet Peter or one of his colleagues to get you a much cheaper local cab or an Uber. We were all amazed by how beautiful the Caesars Palace is (very modern and elegant looking) and by the quality of the food at the restaurant. Supervisor Mibin recommended a tasting menu that was out of this world. Seriously, I don't think even Gordon could cook his recipes as well as chef Rijo does. The selection of cocktails both with and without alcohol is fantastic so we started with those: a tequila based Ancho Paloma infused with home-made chili liquor, agave nectar, elderflower and grapefruit; an explosive Fear of Loathing, which consists of mezcal, tequila, maraschino liquor, pineapple cordial and fresh orange juice; and Meet your Maker, a surprisingly fresh combination of bourbon, homemade gingery syrup, fresh apple juice and strawberry puree.

With our drinks came a selection of mouth-watering appetizers: Pan-seared Scallops with celeriac puree, vale bacon and radish salad; Waygu Meatballs (you'll never want to eat any other kind of meatballs ever again); and Beef Tartare with hot sauce, blue cheese dressing and pickled vegetable sticks that go famously with it. As main course we had absolutely perfect Beef Wellington, Roasted Cod with a mussel velouté, fregola pasta and herb oil, and the lightest Saffron Risotto with courgettes, dried cherry tomatoes, parmesan foam (I could eat spoonfuls of it) and chive oil. My youngest son, who doesn't like to share food, opted for a Hell's Kitchen burger with roated jalapeños, mozzarella, jalapeño aioli and of course, triple-cooked chips. He declared it to be "the best burger I've ever eaten mum." When you travel with three teenagers there is no amount of food they can't wolf down so they still have space for dessert, which came in the form of the most decadent Sticky Toffee pudding, a silky Mango and Passion Fruit Cheesecake and a divine Molten Chocolate Square, made with salted pecan, almond tuille, Chantilly cream, cinnamon caramel and vanilla ice-cream. After such a sumptuous dinner we could nothing but crawl into a cab back to our hotel. I didn't feel too bad since I knew that we were going to spend the next day at the Aquaventure Park (within the Atlantis resort), the largest aquapark in the world with 105 attractions.
Matagi is recognised as a prime destination in Dubai for lovers of modern Japanese cuisine.

Despite being the biggest waterpark in the world, it is easy to navigate. In some rides you don't have to queue at all and even for the most popular we didn't wait more than 10-15 minutes. I'd strongly recommend the group rides Zoomerango and Anaconda as up to five people can go together and for adrenaline junkies, Leap of Faith, Slitherine and Poseidon's Revenge. You may have to come back to pick up your stomach but what an experience! Super chilled but still fun is to let yourself float on a donut and be carried by the current around a stream that circumvallates the park. In some parts they have added a few waves and rapids to make it a bit more exciting. It sounds naff but it is worth doing, especially if you go in a group. There are food courts everywhere and inside the main building, a wide variety of restaurants, from street-like pizza joints to Michelin starred restaurants. Ocean life lovers are in luck. At Aquaventure Park you can swim with dolphins and sea-lions, scuba-dive in its aquarium and even take a walk inside it (Aquatrek Xtreme experience at The Lost Chamber), guided by their team of instructors. My kids thought it was the most exciting thing they've ever done and I must confess I was terribly jealous. In the evening we were all too tired to adventure far from our hotel so we called an Uber and in five minutes we were at Le Pointe. This is a cute area full of small restaurants from all countries, you can start at a Chinese and end up at a Mexican having an ice-cold Corona or maybe go for a delicious gelato at one of the Italian restaurants on offer.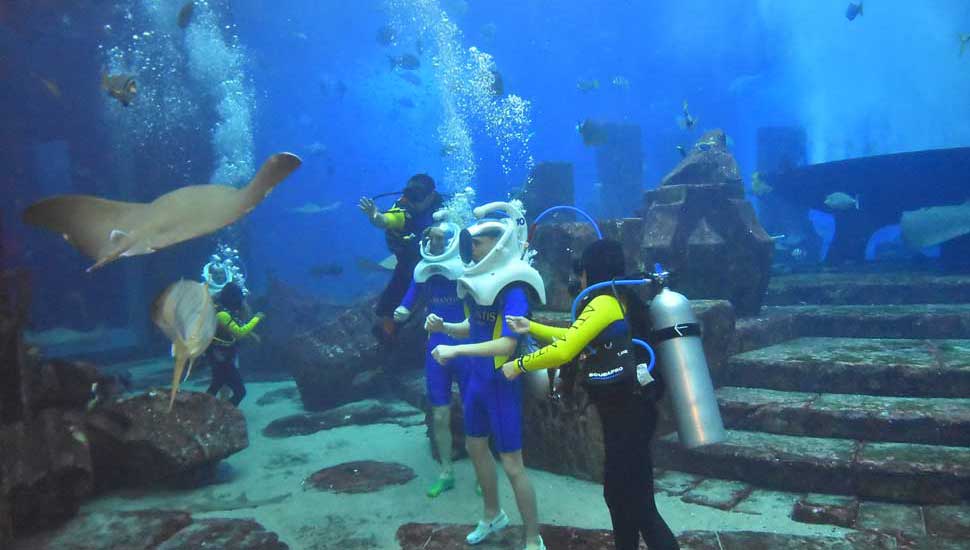 The Aquatrek Xtreme experience at The Lost Chamber offers the chance to get up close and personal with amazing marine creatures.
In order to avoid going back home a stone heavier I diligently went to the gym almost every day, taking a couple of private sessions with the hotel's own personal trainer, Roy. A few minutes in the sauna or steam room afterwards would leave you fully energised for the day. The Cinque Mondes spa is beautiful and offers a wide range of treatments from different parts of the world. It is very difficult to choose so we asked Assistant Manager Venera Danilova to help us. After a short consultation, she recommended we tried the Ayurveda massage and the Shirodhara Royal Care, both from India. The former is an invigorating hot-oil massage inspired by traditional Abhyanga. The energetic, alternating pace releases any tension and relaxes your muscles. The latter focuses on treating insomnia and tension release by slowly pouring a warm sesame oil stream down your forehead.
Watching the sun disappear over the desert horizon is pretty unique…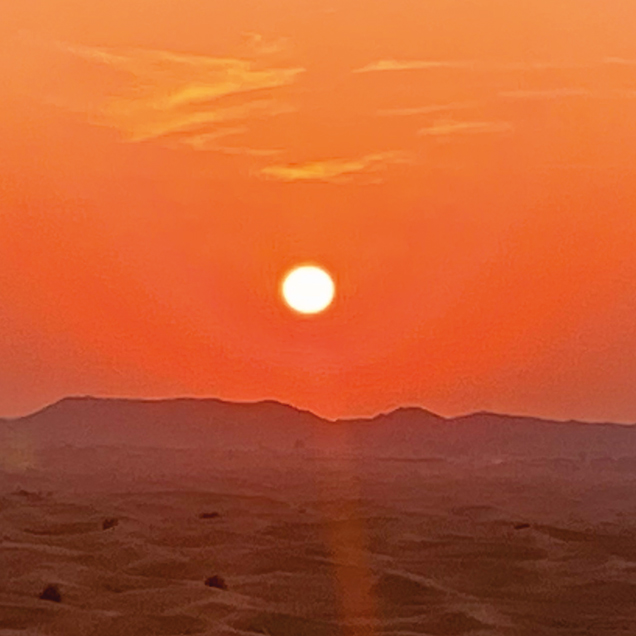 The treatment is finished with a relaxing and stimulating head massage. Although I am known to not be able to stay still, I always enjoy at least one day of my holiday just on the beach or by the pool, doing nothing but swimming, reading and sipping cocktails. The pool at Raffles The Palm has a bar inside. I find those "floating" bars – as my son calls them – irresistible so spent some time "researching" their menu. My diligence was rewarded. Waiter Pius helped me discover the Margarita Picante: tequila, triple sec, tabasco (all well shaken), salt around the rim of the glass and a wedge of lime. It has been an epiphany.
We couldn't possibly leave without going to the desert. Francis (part of the Concierge team at Raffles), who had already helped us with the visit to Aquaventure, contacted Royal Vision Tourism – one of the leading companies specialised in desert excursions – and assisted us in arranging an hour of buggy-driving in the dunes, sunset in the desert (the drive through the dunes in a reinforced 4×4 was absolutely thrilling) and finally a barbeque and show at one of their camps. Royal Vision's fleet of quadbikes, buggies and SUVs is very new and maintained to the highest spec. Driving the spider-looking buggies over the sand was exhilarating. You don't have to be Hamilton to drive one, just be confident and remember, "If in doubt, flat out." Watching the sun disappear over the desert horizon is pretty unique. The sand turns a hundred colours, from cold greens and blues to warm pinks and reds while the sun spreads its blanket of embers over the sky.
Dubai turned out to give us much more than we expected and the local hospitality truly won us over…
The temperature drops significantly at night so take a jumper or jacket with you to the camp. The barbecue consists of traditional Arabic dishes such as tabouleh, humus, kibbeh, fattoush, freshly baked bread (in a tandoor) and an assortment of different grilled meats and even some fish. The show is quite interesting, with the programme changing every few months to keep it fresh. We had the chance to watch a Sufi dance from Egypt known as tannoura, a fire act and belly-dancing. In the camp there are also a few camels, henna-tattoo painting, shisha smoking and a couple of stands with trinkets and souvenir It was with a heavy heart that we packed our bags to get back to London. Dubai turned out to give us much more than we expected and the local hospitality truly won us over.