Emilia made her screen debut in the 1995 adaptation of Pride and Prejudice as Colin Firth's sister (Georgiana Darcy). In the two and a half decades since, she has become one of the most beloved actors in the UK and the star in the country's favourite forensic drama, Silent Witness.
Our editor Julia Pasarón had the chance to catch up with her at the Bvlgari Hotel in London, for a chat about her career, the importance of mental and physical health and her plans for the future.
Emilia comes from a long line of talented actors. Not only both her parents are actors but also her uncle, brother, cousins… One can't help but wonder what family reunions must be like. "First and foremost," she says with a smile, "we never talk about acting or the job, and that is a great relief." I am not surprised she feels that way. It is easy to imagine the pressure to measure up to others in your family when everybody is in the same industry… and all of them are brilliant. "From the beginning, I wanted to carve my own way in the business," she adds.
I think we have now opened the doors to positive change. We are talking about diversity, embracing it and celebrating it…

– Emilia Fox
With such lineage, most people would think acting was in Emilia's blood, but she refutes this foregone conclusion quite vehemently, "It is not that it is in your blood, it is just that you feel comfortable around the job because you have seen it and been around it since childhood. It is no different to any other family business, be that greengrocers, lawyers or surgeons."
Most importantly, Emilia is extremely proud of her heritage and absolutely adores her job. "It is very rare to be able to say, 'I love going to work.' That is exactly how I feel, I still get a great thrill when I get a job, when I am at the beginning of discovering and developing a character; it is sort of a birth process."
Indeed she has brought to life an impressive list of characters over a career that expands 26 films and 57 tv shows, including the second Mrs de Winter in the 1997 adaptation of Rebecca, Sam Vincent in Delicious, and Violet Bradman with Judi Dench in Blithe Spirit to name but a few. In Emilia's heart though, her character Dorota, who she played in her big screen debut, Roman Polanski's The Pianist, is still one of her favourites. "I loved working with Roman and Adrian [Brody]," she says, "it was there that I learnt the difference between working on film and on tv."
Her previous experience was limited to her role as Georgiana Darcy in the 1995 BBC adaptation of Pride and Prejudice. "I did it as a summer job while I was at university and had no idea about acting," confesses Emilia, "I gave it a try hoping I would better at it than I was at waiting tables!"
She must have done something right because straight after, she landed the role of the second Mrs de Winter opposite Charles Dance, Faye Dunaway and Diana Rigg in Daphne de Maurier's Rebecca. "I was trying to absorb everything like a sponge. It was an incredible opportunity to work with such stars."
Perhaps though, it is with Silent Witness that she has had the opportunity to fully explore and develop a character. Dr Nikki Alexander has been evolving since 2004, when Emilia joined the cast. "In a profession that can be compared to gambling, Silent Witness has given me the luxury of familiarity," she explains. "I am actually extremely risk averse, so with this character, over such a long time, I could try different things, be braver."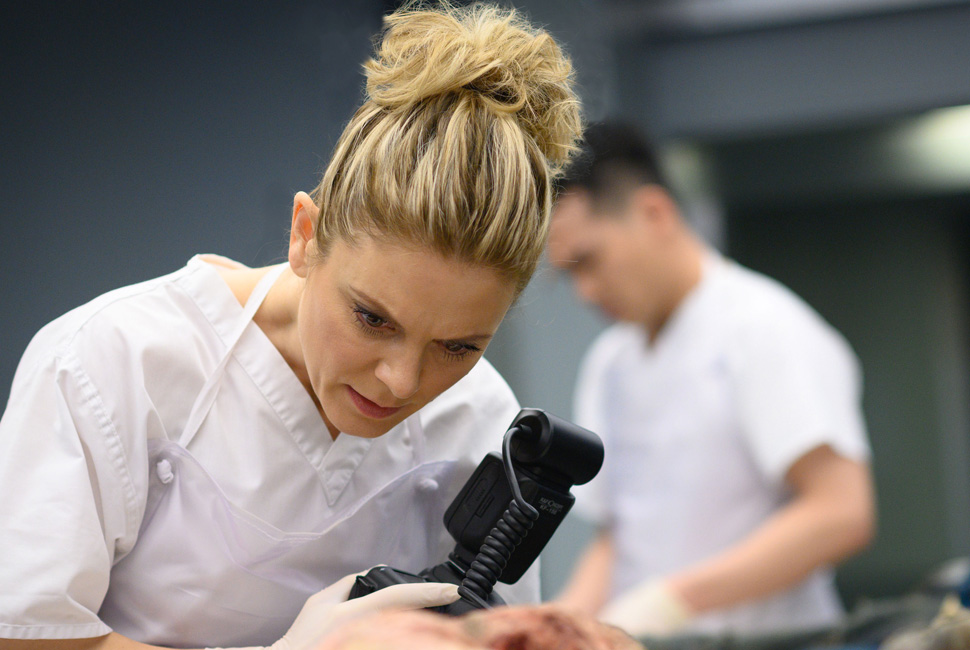 Talking about brave, in the BBC series The trial of Christine Keeler (2019-2020), Emilia played Valerie Profumo, a complex character with whom she identified as a woman, wife and mother. "I loved playing her. She is the one that I took home, the one I didn't let go of after the job. She was a character I could totally throw myself into."
Playing strong women is Emilia's thing. Between 2016 and 2019, she worked with Dawn French in Delicious, a Sky 1 series set in Cornwall about a celebrity chef married to the beautiful Sam (Emilia) who is having an affair with his first wife Gina (Dawn), a talented cook from whom he stole many of his recipes and cheated on for years. "As you can imagine," Emilia says with the edge of laughter threatening to come out in her voice, "working with Dawn was a lot of fun, as it was working with Iain Glen and the rest of the cast."
Styling by Arabella Boyce. Photography by David Venni. Hair by Ben Cooke. Make up by Elizabeth Beckett.
To read this interview in full, please order your copy of our new issue here!