Edvard Munch (1863-1944) was a Norwegian painter whose best-known work, The Scream, has become one of the most iconic images of the art world. His childhood was overshadowed by illness, bereavement and the dread of inheriting a mental health condition that ran in the family. Studying at the Royal School of Art and Design in Kristiania (present Oslo), Munch began to live a bohemian life under the influence of nihilist Hans Jaeger. It was Jaeger who urged Much to paint from his own emo- tions and psychological state. This would in time, emerge as Munch's distinctive style.
The British Museum, in partnership with The Sir Joseph Hotung Great Court Gallery and supported by the AKO Foundation are hosting a major exhibition Edvard Munch. It is the largest exhibition of prints in the UK for 45years. This unparalleled exhibition helps us once again examine his ability to strip down and examine human emotion in its rawest form. He was an artist of great experimentation, who produced compelling prints, from which he made his name.
Of course, no major Munch exhibition would be complete without The Scream. The Scream is considered one of the most recognisable images in art history. In this exhibition, the British Museum is displaying a rare black and white lithograph of this universally famous painting. What makes this lithograph so rare is that, unlike the painted version and two further drawings of The Scream, this lithograph has an inscription. It had been widely believed that The Scream depicted a human screaming but the inscription on this rare lithograph suggests otherwise, since it translates into English as "I felt a great scream pass through nature." Sadly, only 15 of these haunting lithographs survive.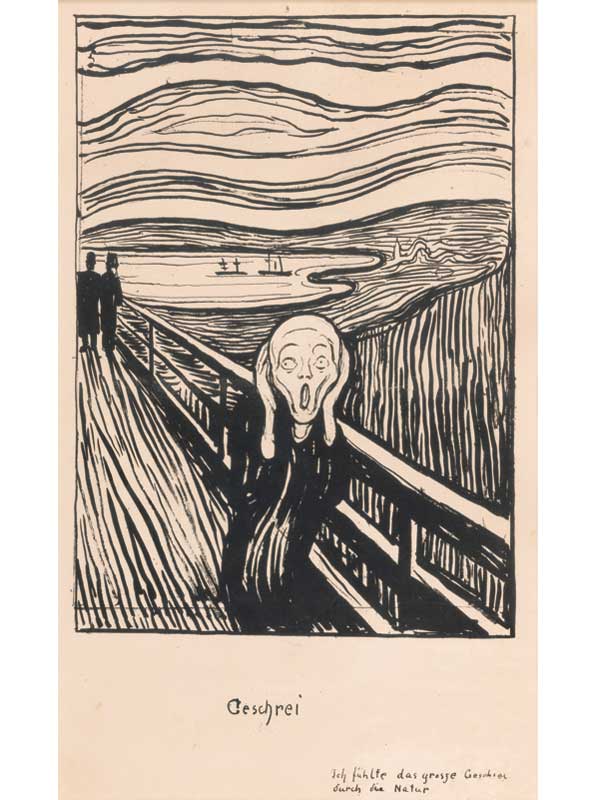 We can't forget the notoriety that The Scream acquired after it was stolen twice.
It is almost inconceivable that a painting so famous could just be taken off a museum wall, as it happened the first time it was stolen by two thieves who walked in to the National Gallery in Oslo. The nation was transfixed with the opening of the 1994 Winter Olympics, so the thieves simply took it off the wall and walked away. A decade later, a 1910 copy was stolen when masked gunmen took it from the Munch Museum in the Norwegian Capital.
Thankfully, both copies were later recovered. A pastel version of The Scream was later sold in 2012 in New York. I took less than 12 minutes to reach a staggering hammer price of £74million.
The British Museum hopes that the public will not see Munch just as the artist who painted The Scream. Lead curator Giulia Bartrum has said that they feel that those who appreciate art in the UK are less familiar with Munch's beautiful print-making and therefore they hope that it will shed a new light and understanding on how talented his print making truly was, alongside other printmakers of that period.
The Scream was said to have been inspired by Munch's Norwegian home wild skies. It has been long been my opinion and it seems that also of many art experts that Starry Starry Night by Van Gogh painted in 1889 may have given inspiration to Much to create The Scream. Both are dark in their stories, but if you look at the brush-stroke and composition, there is a similarity in style. The oil on canvas painting technique possesses multiple interpretations; one evident theme is Van Gogh's communication and Edvard Munch feelings and vision of vastness. Edvard Munch and Vincent van Gogh brought art and life together by finding a very individual way of communicating, using their own personal experiences and passions.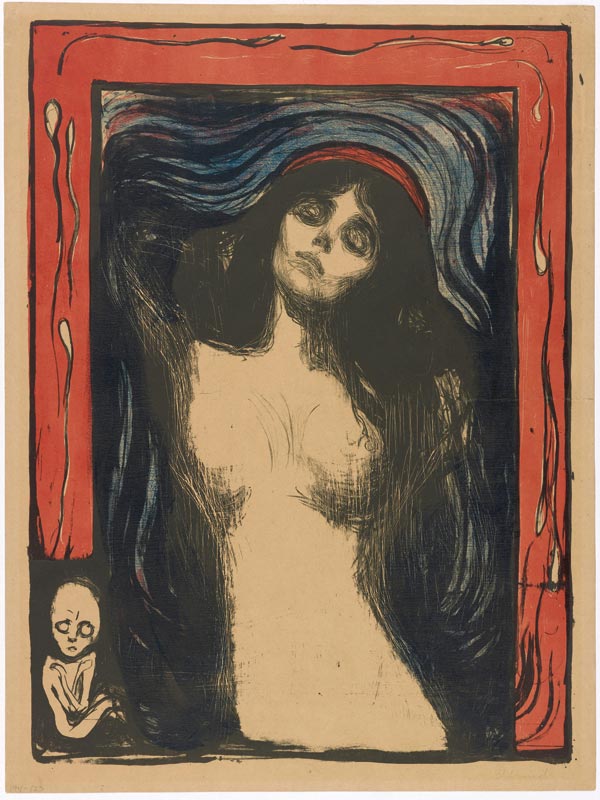 The Scream is, of course, the image everyone wants to see in this exhibition. I, in my own heart, prefer Vampire II, one of my favourite paintings by Munch. Originally titled Love and Pain, its most popular name was given by Munch's friend, the art critic Stanislaw Przybyszewski, who saw the painting in an exhibition and described it as "a man who had become submissive, and on his neck, a biting vampire's face." Others though, have seen it as "a man locked in a vampire's tortured embrace." Munch painted six different versions of
the subject between 1893 and 1895. The original painting shows a woman with long flame red hair kissing a man on the neck, as the couple embrace. Munch himself always claimed it showed nothing more than "just a woman kissing a man on the neck." In 1895, Munch created a woodcut with a very similar theme and composition. In the British Museum exhibition, we can also admire Jealousy II (1896), another of his haunting lithographs. Jealousy was originally painted in 1895 as oil on canvas and became an image that he returned to throughout his life time. Munch completed no less than 11 painted versions of Jealousy, the last one in the 1930s. He also created four lithograph versions and one dry-point.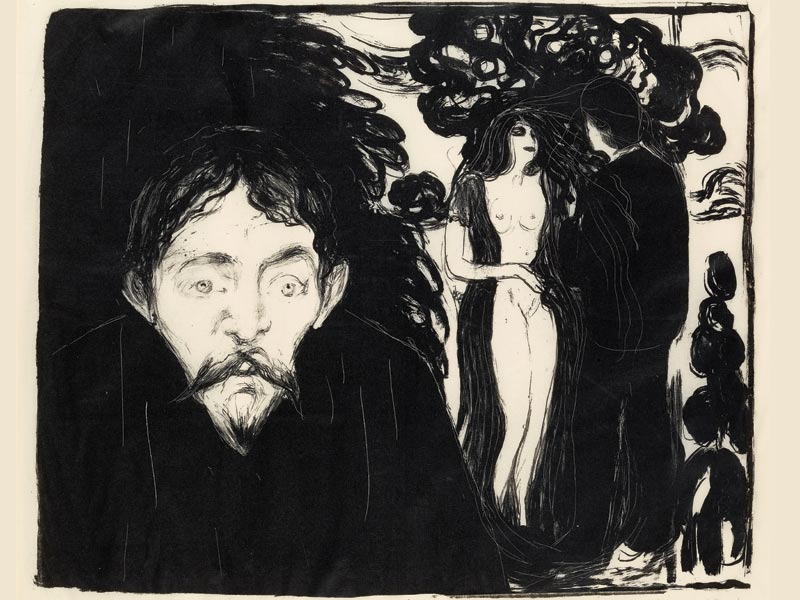 Visitors may be taken back by the dark and harrowing Madonna featuring a sperm and a foetus (1902). Again, Munch painted several versions of this composition between 1892 and 1895, using oil on canvas. It shows a bare-breasted half- length female figure. The lithograph print of the composition is distinguished by a decorative border depicting wiggling sperm, with a foetus-like figure in the bottom left hand corner. Like so many of his works, this one was stolen in 2004, thankfully recovered two years later. As a great admirer of Munch, I hope that this exhibition will bring to light that he was much more than a scream on a notebook or a Halloween mask. There is a lot to learn from this artist. As the British Museum stated, Much should be considered one of the greatest artists of all time.
Till 21st July 2019
The Sir Joseph Hotung
Great Court Gallery,
British Museum.
Supported by AKO Foundation