Hublot has a penchant for limited editions with collaborative artists, sport and media stars. The current selection is a masterstroke as the luxury watch market increasingly moves east. 
Watch sales across almost all brands have steadily been increasing in south-east Asian markets – most notably China – and now accounts for the largest share of Swiss watch exports.  Hublot already has a veritable who's who of contemporary artists as collaborators in the brand's line-up: Richard Orlinski, Mark Ferrero and Shepard Fairey, so a watch created with Murakami is a smart move indeed.
Murakami is no stranger to collaboration with a luxury brand. His first foray into the co-brand world was with Louis Vuitton. From 2003 until 2015 Murakami created a series of vibrant bags with coloured logos and insignia. He has also worked with Japanese fashion designer Issey Miyake and other brands including Vans, Uniqlo and Crocs. However, up until now, the lure of working with a luxury watch had not presented itself.
Murakami is known in the art world for fusing traditional Japanese techniques with modern multimedia and pop culture motifs. Foremost among them is his trademark smiling flower. When Hublot approached him to work on a watch together, Murakami wanted more than just printing his signature pattern on the dial, he wanted to be fully involved in the creative process.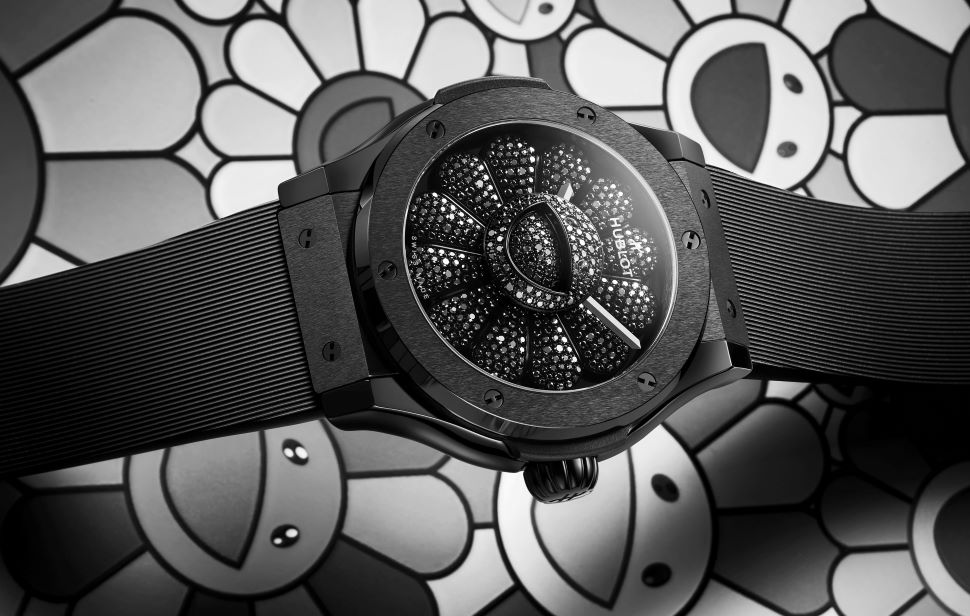 Hublot convinced Murakami to visit the factory in Nyon, Switzerland, about a year ago. It was the combination of traditional knowledge, precision manufacture, futuristic technology and craftsmanship intertwined in the creation of a watch that enticed Murakami to enter into the collaborative venture. The result from this unique creative process is the Classic Fusion Takashi Murakami All Black based on his iconic smiling flower.
Despite being the artist renowned for coining the term "Superflat" for the artistic movement he began, for his collaboration with Hublot, Murakami did not just print the cheery motif on the dial, but with the help of Hublot's engineers, he brought the pattern to life. The motif was animated with an ingenious system of ball-bearings that allow the petals, set with 456 brilliant-cut black diamonds, to rotate around as you move your arm. By doing so, the dial is in constant motion with the diamonds reflecting the light with its eye-catching motion. The smiling centre of the bloom encrusted with 107 black diamonds, emerges from the top of the sapphire crystal adding a further three-dimensional aspect.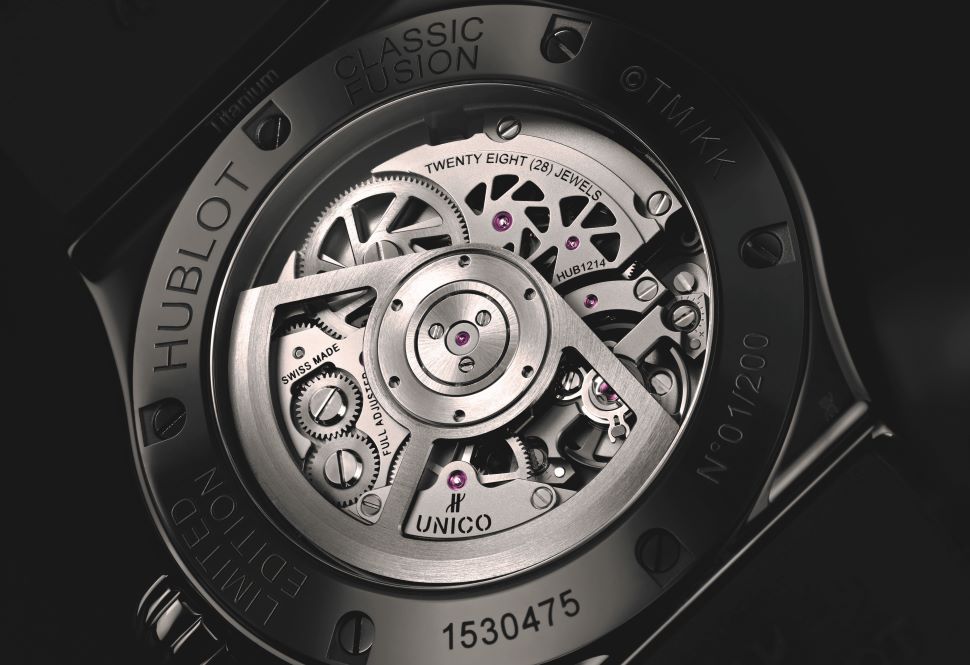 The design is housed in a 45mm satin-finished and polished black ceramic case. The movement is the standard Hublot HUB1214 UNICO manufacture self-winding calibre. While this Murakami collaboration is limited to 200 pieces, there are sure to be other limited series watches from the same collaboration in the future.
For enquiries about the Takashi Murakami All Black, click HERE