There is no better time to plan a trip to the heart of historic and cultural London than now, with international travel restricted and a minimal amount of tourists in town. Dukes Hotel is perfectly situated in Mayfair surrounded by some of London's most historic landmarks, restaurants and shops, among them Fortnum & Mason, The Royal Academy and St James's park.
Tucked away in a beautiful little courtyard just off St James's place, finding Dukes is not that easy. As you turn into St James's place, you must look for the Narnia style lamppost and make a left. Dukes's entrance is guarded by a very regal stone Dachshund, a signature motive present throughout the hotel. Dukes also have a special partnership with many of Mayfair and St James's most prestigious retailers, from bespoke tailors Benson & Clegg, to wine merchant Berry Bros. & Rudd (both Royal Warrant holders). These unique relationships make possible unforgettable private shopping experiences.
Dukes Hotel is steeped in history. Very famous personalities have grace its facilities, including Diana, the Late Princess of Wales, who had a small table in the drawing room permanently reserved for her as it was one of her favourite places in London for afternoon tea. Royalty has long been associated with Dukes. The Mansion was originally built around 1530 as part of St James palace, where Henry VIII would come from Whitehall to escape the public eye and, it is said that it was at St James palace that he'd woo and conduct his affairs. We stayed in the Portland suite, airy, full of light and with a beautiful marble bathroom. Perfectly pressed sheets and thick warm snuggly robes with the Dukes Dachshund embroidered on the left completed the luxurious linen set.
we found the perfect spot under a chestnut tree…
Looking forward to being back in our suite early, we opted for having dinner on site. GBR, their all-day dining restaurant is still unfortunately closed but Chef Nigel Mendham's inspired dishes are served in the drawing room. Chef Mendham likes taking food back to its roots, working with core ingredients meticulously prepared and bringing out the flavours of each dish, finding the perfect balance between seasonally inspired dishes and some Great British favourites such as Cumbrian lamb cutlets, slow cooked shoulder shepherd's pie and of course, fish & chips.
Dukes Bar is legendary, with a definite Tinker Taylor Soldier Spy meets 007 feeling about it. Just read the names of the cocktails, it says it all. I don't think I have ever had a martini experience like it. Each martini is exquisitely mixed in front of you: a little wooden trolley with all the components for the perfect martini is swept to your table and then the mixologist talks you through the process until the magic that a perfect martini is appears in front of your eyes. These are the martinis dreams are made of; I am sure even James Bond would have agreed for once to have his "shaken, not stirred."
Dukes also has a Cognac & Cigar garden, unsurprisingly, very masculine but also romantic, with a Moroccan air to it, lots of wood and iron, antique mirrors and lit by fairy lights. In the corner, there is a curved wooden cabinet filled with an array of Remi Martin Cognac. The cigar selection is perfect and of course has the Winnie (RJ Wide Churchill) as it is affectionately known as Winston's favourite cigar.
To end our stay on a high note we had planned ahead and booked in advance one of Dukes's divine picnics. Followed by two hotel butlers, we walked hand in hand through St James's park with our dog until we found the perfect spot under a chestnut tree, where they spread a soft picnic rug, opened the basket and displayed the goods. Nothing had been forgotten, there was a delightful array of dishes, including smokey BBQ chicken brochettes with lemon & thyme yoghurt, pulled pork & cheddar scotch eggs with piccalilli, pesto potatoes with marinated artichokes, different salads and dips, a selection of cheeses and artisan breads and house made crackers. To finish off, there was Eton mess and chocolate chip flapjacks. Needless to say, we both felt the proverbial postprandial stupor after such a feast so leaving my darling husband to take a nap under the chestnut tree, I took our baby wolf for three much needed laps around St James's park.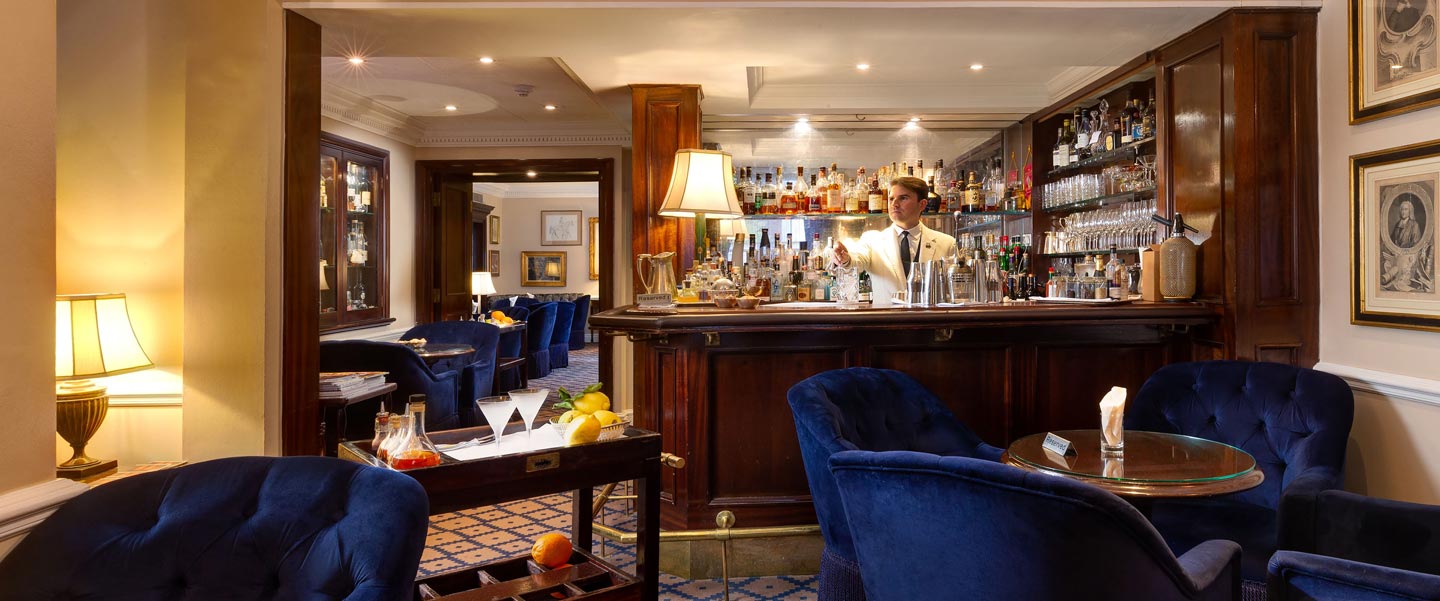 Nightly rates at DUKES LONDON start from £183 inclusive of VAT and breakfast.
For more information and reservations email: bookings@dukesthotel.com
or phone +44 (0)207 491 4840
35 St. James's Place
London SW1A 1NY