Despite having lived in the UK for the last 17 years, I've never visited Scotland. For me, this bit of the British Isles was, at worst, the area always covered by menacing clouds in the weather forecast, and at best, the setting for erotic novels such as Diana Gabaldon's The Outlander. I couldn't have been more mistaken!
On our way to Drumtochty Castle, very early in the morning, we drove up Glen Shee, through Cairn Gorm mountain in Perthshire. It is a serene landscape of meandering streams and desolated bare hills, with the occasional mindless sheep in the middle of the road. As we left the Glen and got closer to Balmoral, the explosion of warm autumnal colours announced the promise of a sunny day in Scotland.
The area, known as Royal Deeside, is a favourite of the royal family, who have been coming here for generations. Just an hour south-east of Aberdeen, this is an affluent area, its wealth courtesy of the oil business in the North Sea. Incredible estates speckle the countryside. As a local friend of mine had told me "anything smaller than a hundred acres is a wee thing here." Entering the beautiful Glen of Drumtochty, a place full of forests and heather, hills and history, I remembered that this is one of the places that claims having been the setting for Shakespeare's Macbeth, although to me it felt much more as if it were the setting for a fairy tale.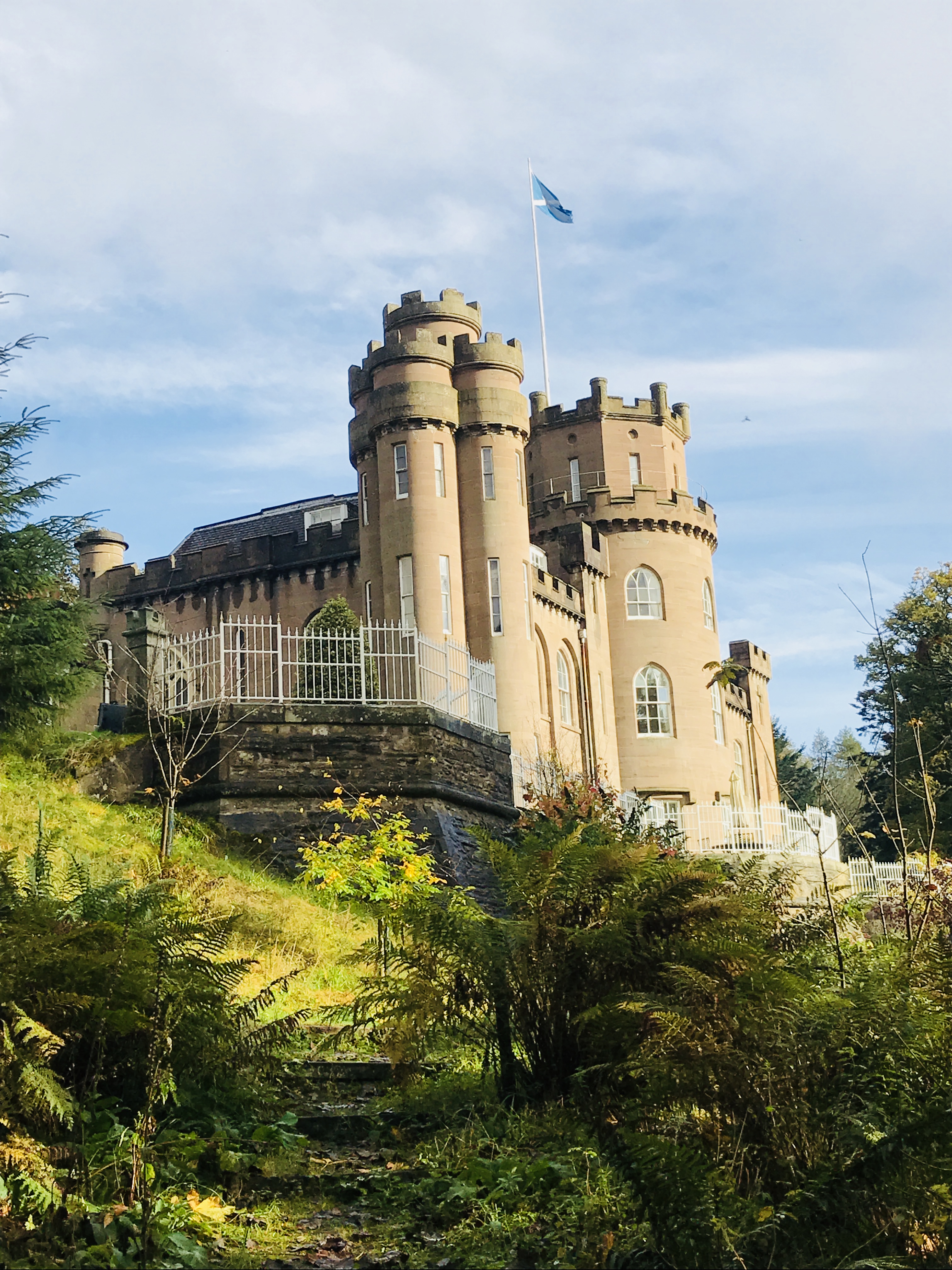 From the surrounding trees rose Drumtochty castle, built by the Drummond family at the beginning of the 19th century. The castle, designed by Edinburgh architect Leslie Graham, is a castellated Neo-Gothic mansion, with everything you would expect in such a grand house: ballroom, drawing room, sitting room, dining room, seven principal bedroom suites, and seven further bedrooms, sleeping in total 23 people. The castle has actually quite an interesting history as a family home, school and restaurant. During World War II, it was known as Little Norway, a home for refugees.
When the current owners -Charlie and Dorothy Anderson- bought it 20 years ago, the place was in quite a state. There was no real kitchen, a roof that leaked everywhere and 3 wings that were uninhabitable. After a titanic effort, patience and considerable investment, the place was completely transformed and brought back to life. The unused wings were converted into separate houses and the grand public rooms started to be used to host weddings and gala events.
In the castle grounds are the old stables, the gatekeeper's lodge and the verger's hall, all of which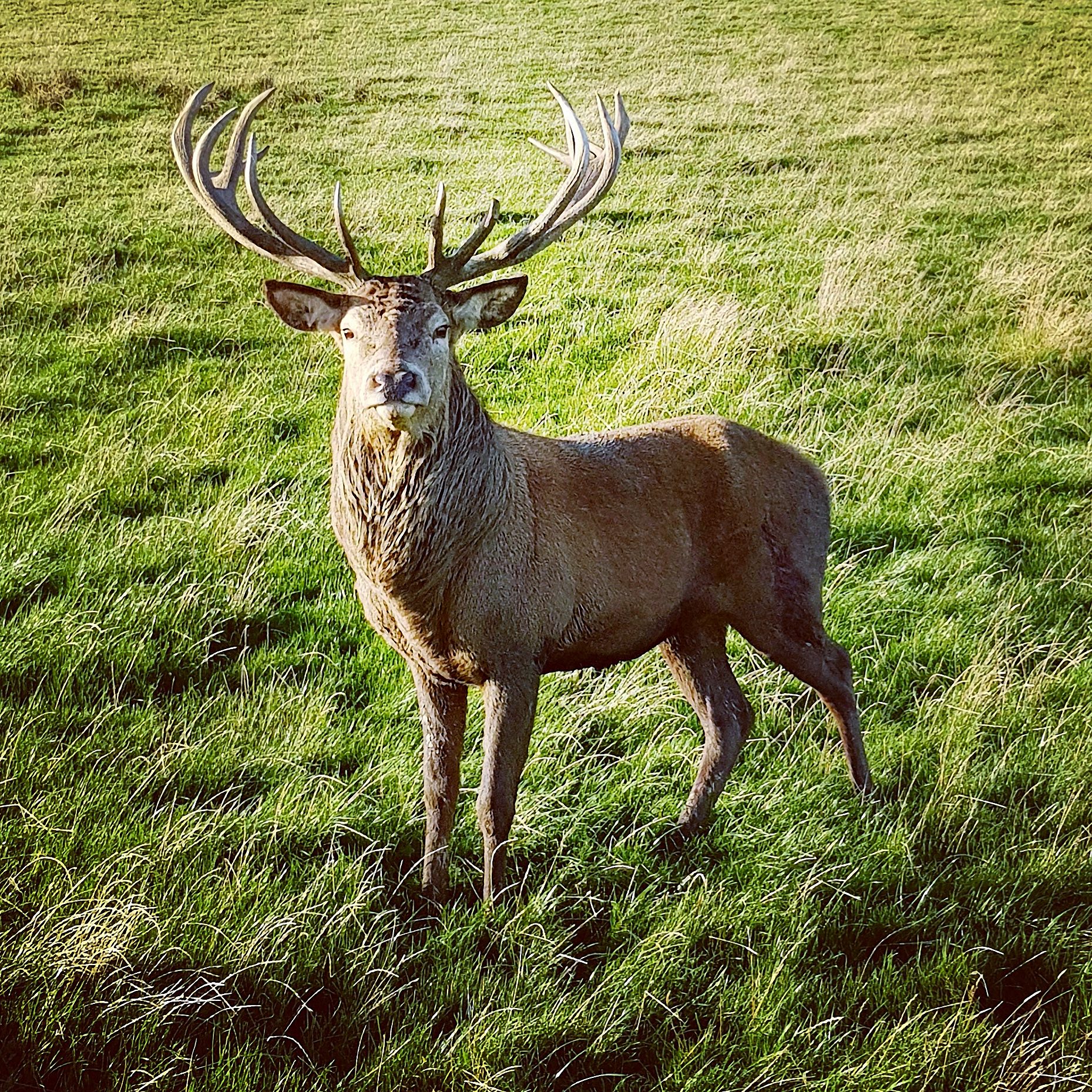 have been converted into apartments, increasing the capacity of the castle to around a hundred guests. Charlie Anderson undertook several other projects to revitalise his 360 acre state. A two-acre trout pond was created, he established a herd of bison (although not there anymore) and more recently one of red deer; and the rejuvenated tree population, more than 50,000 including sequoia, oak and beech, is magnificent.
I am not surprised Drumtochty castle is a favourite for weddings. Its idyllic location, hidden away in a wild woodland glen together with the majesty of the castle itself, makes the place the ideal setting for such an event. They even have their own church, the picture postcard St. Palladius. In my case, I was looking for a private refuge to spend the weekend with my husband. Drumtochty castle turned out to be everything we expected and more.
We were met by the Assistant Manager, Dougal Lindsay, an affable, good-humoured Scot, who offered to be our guide for the weekend and assist us in whatever we may need. Dougal dropped us at the castle and left to deal with the hundred things that always need attention in a estate the size of Drumtochty. Realising that it was just the two of us in such a magnificent building my husband and I both immediately regressed to childhood. Once we got tired of running around the luxurious rooms of the castle giggling like children, we went to the nearby picturesque village of Fettercairn for a hearty pub supper.
I don't know if it was all the running around, the copious dinner or the pure Scottish air but by 11 pm my eyelids were as heavy as garage doors and I had to almost crawl my way up to our bedroom. I must not forget to mention how incredibly comfortable our bed was. I wish I could have taken it back with me to London!
We were blessed with unseasonal warm and sunny weather so after 9 hours of sleeping like babies we were ready to start exploring our surroundings . While I cycled around enjoying getting lost in the labyrinth of unspoiled forestry trails, Paul set himself by the trout pond enjoying a few hours of peace and quiet and hoping to catch one or two fish.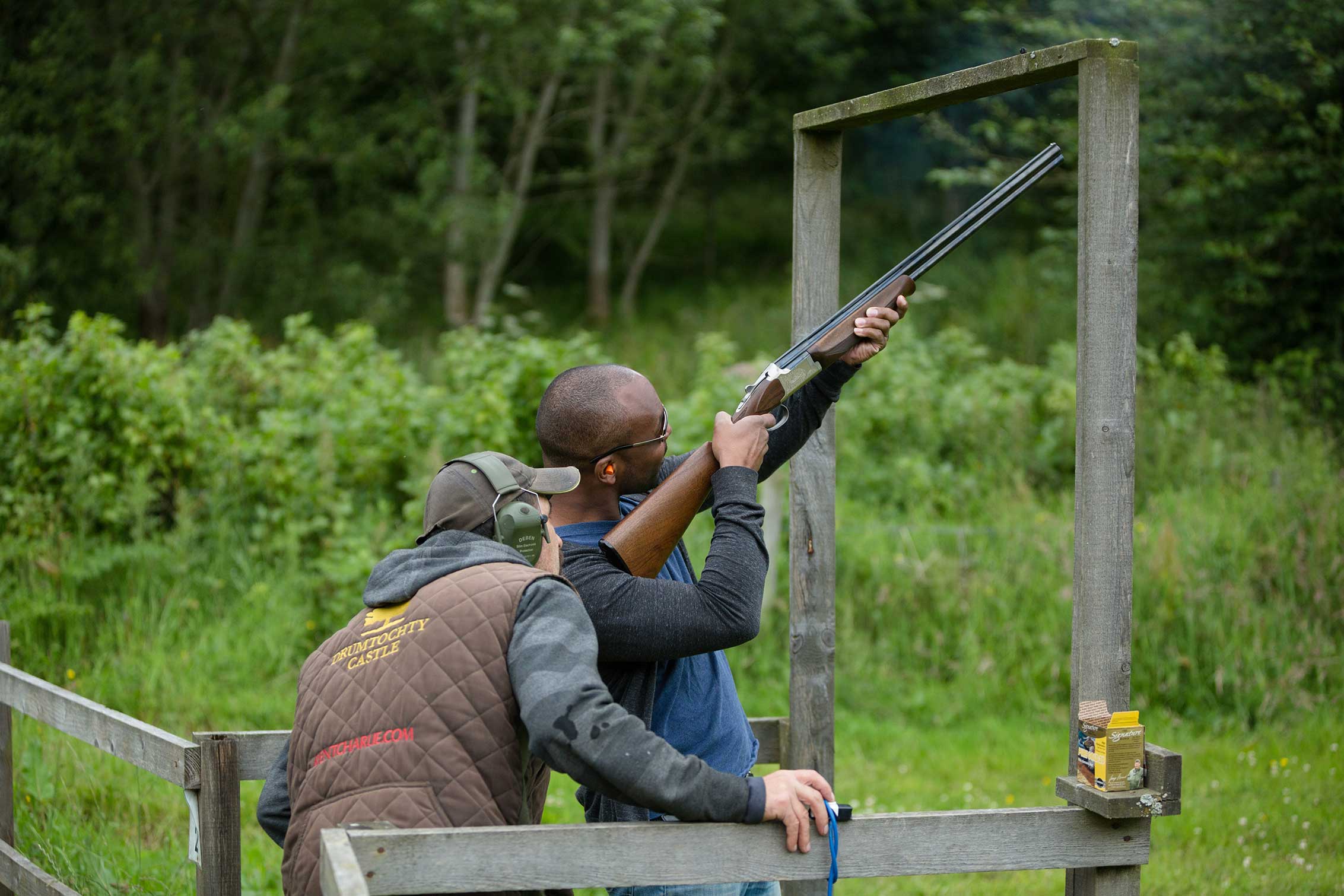 After lunch Dougal introduced us to Clay Pigeon shooting, an exciting and thrilling sport suitable for anyone above 12 years of age. I don't think we will be remembered at Drumtochty for our shooting ability but oh boy, did we have fun! Dougal explained that they also offer simulated game shooting, which replicates every aspect
of game shooting, with challenging targets produced from actual game drives simulating anything from pheasant, partridge, grouse or duck. They can also organise traditional shooting parties within the superb surroundings; the sport being extremely popular in this region.
For golf lovers, some of the country's best courses –St. Andrews, Carnoustie- are less than an hour drive away. Dougal managed to also fit in a visit to the estate's herd of red deer. It was exhilarating to be so close to these elegant creatures, some of which we even managed to touch! However, we had to keep an eye on the stags at all times. Dougal explained that they can be very aggressive and dangerous at this time of year. Apparently they spend the summer growing their antlers and from the middle of September to the middle of November is mating season. Stags often fight for the right to mate. These fights can be really dangerous so to avoid fatalities, their antlers are cut off every year.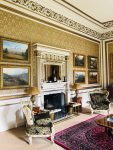 Back at the Ramsay Arms in Fettercairn for supper, we realised that we were feeling very much at home in these northern lands and that it was going to be very difficult to say goodbye to our castle in the morning. The weekend had gone in a flash. We hadn't even had the chance to visit the Fettercairn whisky distillery! Unforgiveable. Driving back to the castle, with the night sky full of stars, I couldn't help but think what an extraordinary experience would be to watch the Northern Lights here. Unfortunately it was not to be this weekend. Maybe next time.
Dougal said we must come back in summer for the Highland games. I most certainly hope to take him up on the invitation. I am delighted to confess I have fallen head over heels in love with Scotland. Thank you Charlie Anderson for letting us have such a wonderful weekend at your castle.