Travel has the power to inspire and educate children of all ages and now, more than ever, is a perfect antidote to long months of home-schooling and shuttered lives. The luxury travel company Black Tomato has come up with "Take me on a Story", a new collection of trips debuting with five immersive, bespoke itineraries inspired by beloved children's stories, set in destinations that form the backdrop to these iconic tales from Oxford to Iceland.
Full of wonder and intrigue, these itiner- aries are designed to spark curiosity and bond adventure-deprived families through extraordinary experiences, whether swap- ping hedgehog for mallet on the croquet lawn during an interactive, and very mad, tea party inspired by Alice's Adventures in Wonderland or learning survival skills, dog-mushing and listening for the Call of the Wild in Alaska.
Tom Marchant, co-founder of the company commented, "We cast our eyes to the enchanting world of classic children's literature to stir creativity, instil enticing learning opportunities and capture the imagination of children of all ages by harnessing the transformative nature of travel. After the hardships of last year, being able to transport both kids and adults into these rich, whimsical worlds feels like the ultimate joyful way to reconnect with family and welcome back the magic of travel.
Foraging with an expert gives families the opportunity to learn about the properties and uses of lots of local plants and fruits…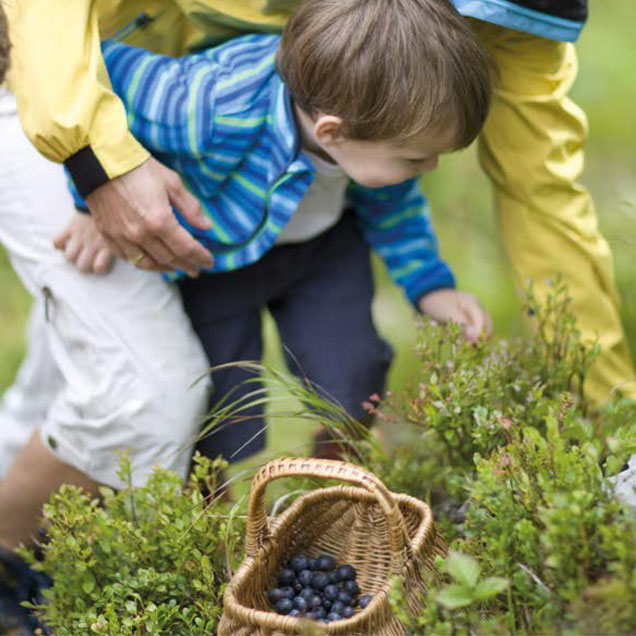 As a father myself, it's a personal delight to see these stories come to life. This is a collection we will continue to grow by inviting clients to shape our offerings with their favourite books. We believe these trips will not only provide an engaging, experiential platform for education, but importantly inspire wanderlust and excitement, in the build-up to travel."
As it is not completely clear where we can travel this summer, we chose to follow in Alice's footsteps on a five-night journey through the heart of rural Oxfordshire with a trip inspired by Lewis Carroll's classic, Alice's Adventures in Wonderland, during which, families are invited to go down the rabbit hole, tee-off on croquet fields and forage for mushrooms through fantastical forests before sitting down to a curious tea party they won't soon forget. Alongside Oxford historians specializing in the works of Lewis Carroll, guests go behind the words to find their very own Wonderland in this extraordinary adventure.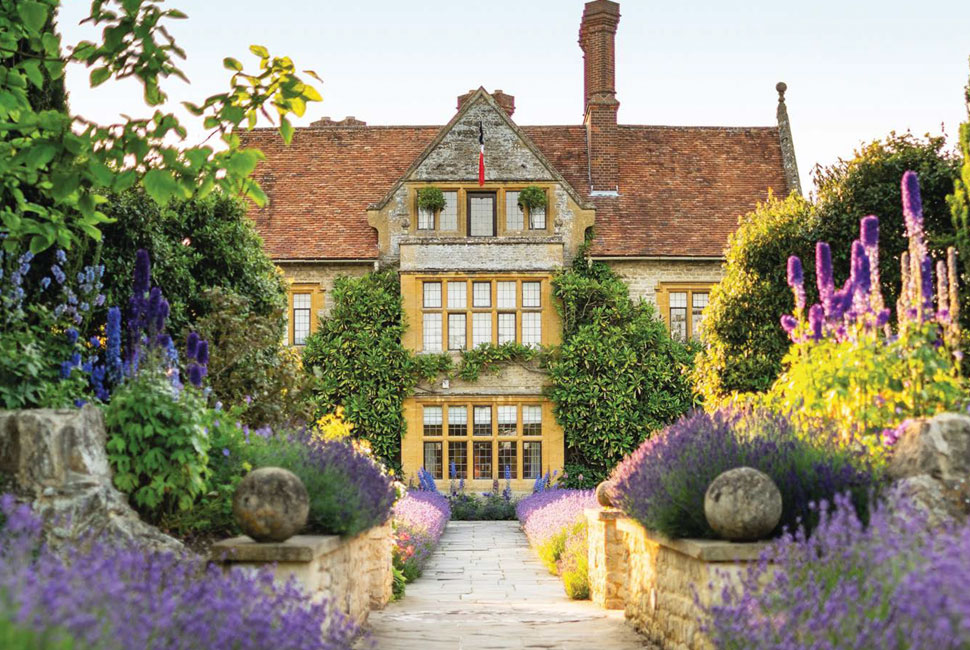 The trip is based at the legendary Manoir aux Quat'Saisons, the fulfilment of chef Raymond Blanc's vision of creating a hotel and restaurant in perfect harmony. Since its opening back in 1984 and with two Michelin stars achieved that same year, Le Manoir has become the perfect country retreat from which to explore the Oxfordshire countryside. Its location and famous gardens are ideal to immerse guests into Carrol's fantasy world, brought to life by the efforts of the Manoir's and Black Tomato's teams. Although this is a family-oriented experience, I can assure you adults will enjoy it as much or even more than the little ones.
Starting with an interactive treasure hunt, participants are invited to look for Alice's lost key encountering a myriad of characters, a challenge by the Queen and riddles from Tweedledum and Tweedledee, the characters whose names have become synonymous in western popular culture slang with any two people who look and act in identical ways, generally in a derogatory context. One can't possibly go into Wonderland and not join the epic Mad Hatter's tea party, epitome of decadence and dissipation. Organised at Le Manoir and other idyllic country settings, this is a tea party like no other, full of sweet treats and savoury delights to tantalise your taste buds.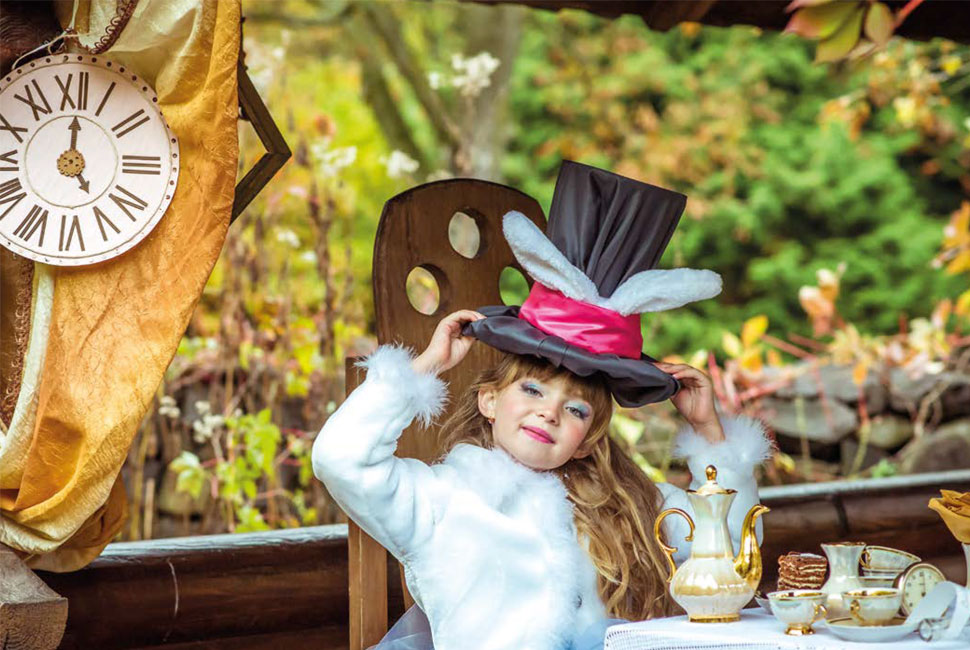 The Mad Hatter and his friends will be there to entertain guests throughout with cakes, fancies and delicious "drink me" potions before they try their hand at croquet, swapping flamingo and hedgehog for mallet and ball. A little bit of trivia for your, Lewis Carroll never actually referred to the Mad Hatter as such, only as the Hatter. The phrase "mad as a hatter" pre-dates Carroll's works. In the book, it is the Cheshire cat who refers to the Hatter and the March Hare as, "both mad!".
For those who love fancy-dressing, there is the option of organising a bespoke Alice's Adventure in Wonderland made-to-meas- ure costume experience with a dressmaking atelier in a picturesque courtyard in an idyllic Cotswolds village. On arrival guests are offered High Tea with cakes and other delicious treats, while discussing designs and choosing fabrics. Children then have the chance to co-design a special memento, from a bespoke couture dress with hand-sewn embellishments to tailored jacket and trousers with extravagant fabrics and trims and of course, accompanying hat and pocket watch. Tick tock.
However you look at it, this is truly and enchanting and unforgettable experience…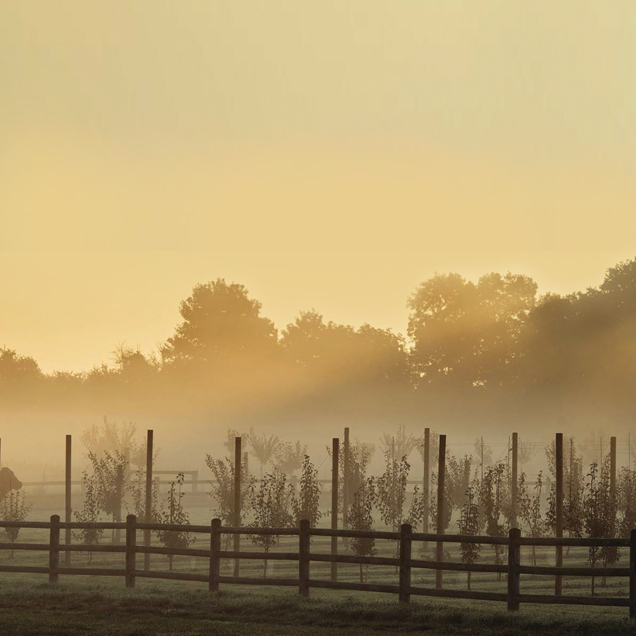 Once the design has been chosen the kids go through to the atelier side and their meas- urements are taken. Outfits can be ready to be delivered in as little as three days. It was in 1862 that Lewis Carroll, during the famed "golden afternoon" boat trip, first told Alice Liddell and her sisters the story that would become legend, journeying from Oxford to Godstow, where Carroll saw the white rabbit disappear down the hole. Guests can emulate that moment by taking the same boat trip from Folly Bridge almost 160 years later. In fact, "All in the golden afternoon" is the preface poem to Alice's Adventures in Wonderland.
Another really interesting activity planned for guests is a foraging masterclass and wildlife safari. In this experience, families join an expert naturalist and wildlife detec- tive to learn how weeds, fruits and flowers can be transformed into food, drink and beauty products, while exploring the trees, lakes and meadows to spot special fauna. If like me, you love being told a good story, you'll thoroughly enjoy the VIP visit to the Story Museum in Oxford that includes an exclusive storytelling experience. Before getting to the museum, you are taking around in a private walking tour, discovering the sources of inspiration for the tale's characters.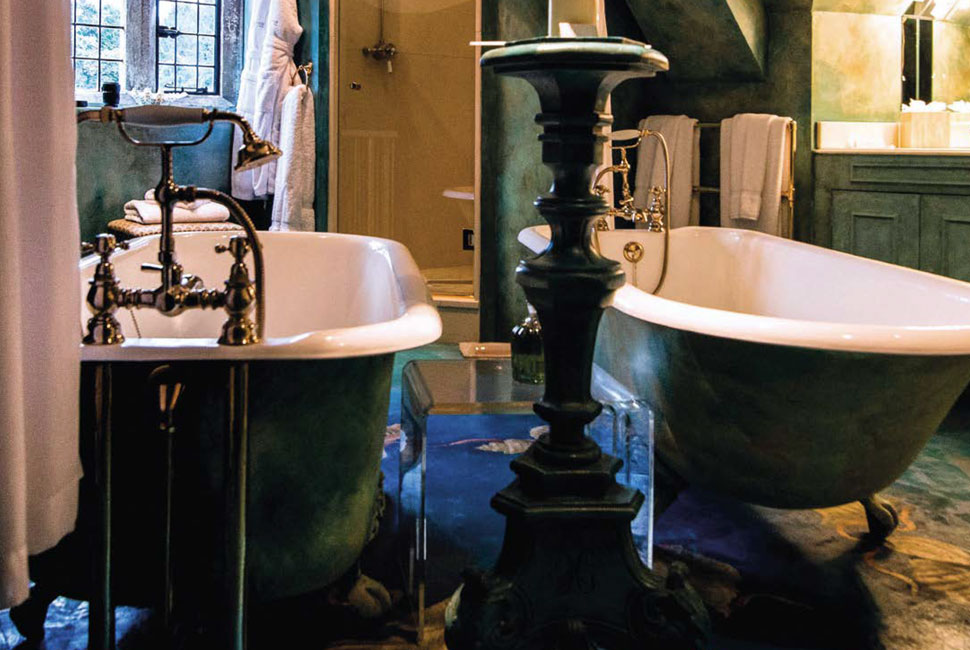 For example, in the dining hall at Christ Church, there is a tribute to Alice in Wonderland in the stained glass. In the bottom left of one of the panels is a small Alice with long blonde hair in her iconic blue dress. Also in this dining hall you can find a fireplace on either side. Flanking the fire are two brass firedogs, which were the inspiration for Alice's long neck in Chapter 5, Advice from a Caterpillar. The Capterpillar tells Alice that one side will make her taller and the other shorter. As she grows taller, she finds that she has an enormously elongated neck and can barely see her own hands. Visitors will see the resemblance between the dogs' long necks and the illustrations of Alice.
However you look at it, this is truly an enchanting and unforgettable experience, a memory-maker that will stay with you for decades to come.
For Reservation
Belmond Le Manoir aux Quat'Saisons.
Bookings:
www.blacktomato.com/story/
0207 426 9888
When to go:
May – October. Price: from £33,000 for a family of four (£8,250 per person) for five nights.
What you'll learn:
Problem-solving, storytelling, foraging, lawn games, creative expression, design.
The Mad Hatters Tea Party:
There are two versions of the tea party – one all out involving renting the event space at the hotel, the other without characters and served in the normal dining area.
Bespoke Alice in Wonderland:
There are varying tiers available.
Entry level: For Girls – Bespoke Alice in Wonderland Dress made to measure from a choice of two designs that are the classic
Alice dress and girls version of the Mad Hatter. For Boys – A Mad Hatters outfit of soft tailored jacket and trousers with the option to purchase a hat. For Boys – A Mad Hatters outfit of soft tailored jacket and trousers with the option to purchase a hat.
Mid level: For Girls – Bespoke Alice in Wonderland Dress made to measure with the choice of classic Alice dress, girls Mad Hatters dress or Queen of Hearts. The dress will have an elevated level of detail added compared to the entry level. For Boys – A Mad Hatters outfit as above with added details such as fun trims and the Rabbit's watch. Hat included.
Luxury level: For Girls – Couture Alice in Wonderland Dress designed individually as per child's wishes, hand sewn embellishments, signed copy of dress illustration and a mini High Tea at the atelier. For Boys – A classically tailored jacket and trousers with extravagant fabrics and trims hand sewn. Hat and watch included also. We recommend that fittings are taken on the first day and collection of the dress on the last day. The absolute minimum time frame to complete a dress is three days. Varying tiers available, pricing includes one outfit at entry level whereby the child would receive a bespoke outfit following either an Alice or Mad Hatter made to measure design with the option to purchase additional accessories.