Vertex was founded in 1916 by Claude Lyons, Don Cochrane's great grandfather. In the 20s and 30s, they made elegant gentlemen's sport and evening watches and truly beautiful cocktail ladies watches, with designs inspired by Art Deco.
Lyons's son-in-law, Henry Lazarus, a Captain in the British army, joined the business in 1938, and soon they were asked to help with procurement of watches for the British Military, making Vertex the only British company that was part of the "Dirty Dozen," the nickname the watch community uses for the 12 companies that the British military authorized to produce timepieces for World War II troops. At the time, the watches were called W.W.W. — for Watch, Wristlet, Waterproof — and some are highly collectible today, like the Omega, IWC and Jaeger-LeCoultre designs.
In fact, Vertex's latest model, the MP45, replicates an Ordnance timing watch Vertex was commissioned to make in 1945 by the British War office. However, as Don explains, "The Mono Pusher never happened due to post war rationing affecting the number of movements Vertex could import from Switzerland. After that, Vertex moved its focus to the civilian market and by the 50s, we were producing as many watches as Omega.'
At the beginning, the MP45 will be available only to Vertex owners, but then ownership will be open to other people…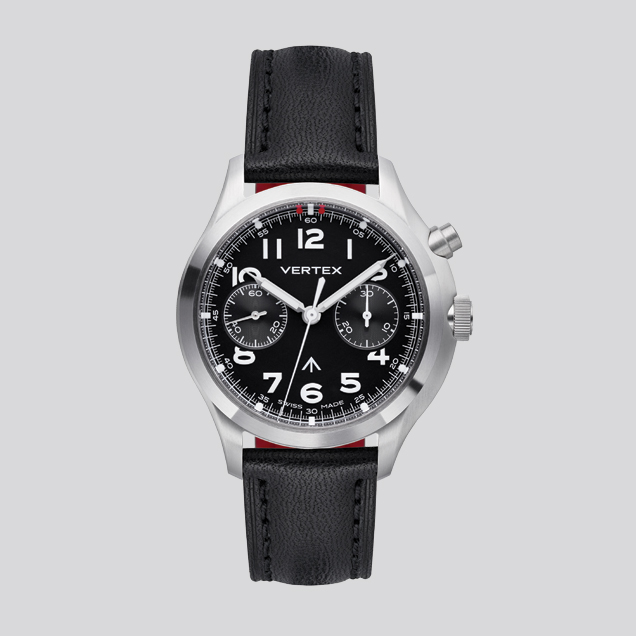 In the 50s and 60s the company put a lot of attention into what was known as the Gold Retirement watch. 'In the old days, people used to get a gold watch when they retired, with their name engraved on it,' clarifies Don, 'Vertex did thousands of those watches at the time. The truth is that this wasn't very sexy, but it was a good business.Vertex was doing very well, without spending a fortune on advertising and very much trading off their reputation for quality within the watch trade.'
The arrival of Quartz watches in the late 60s, together with the lack of interest from other family members and the lease for their Hatton Garden factory coming up for renewal, lead to the final closure of Vertex in 1972. 44 years later, in 2016, Don decided to relaunch the brand. When asked why, he answered: 'It was completely an emotional decision. As a kid, I used to stay a lot with my grandparents. My grandmother Peggy was one of those formidable women who lived through the war and carried that strength with her, for the rest of her life; there was nothing she couldn't do.
She was never ill, never complained, she just got on with it. So when she died five years ago, at the age of 99 and a half, I found myself thinking a lot about our family, her life and Vertex. I started searching the Internet and found there was much more to Vertex than I had originally known, truly compelling stories and some amazing history. That's what got me started, the will and curiosity to see if I could make just one of those watches to bring the name of Vertex back; I wanted to do it for my grandmother. I suppose it was a cathartic initiative.'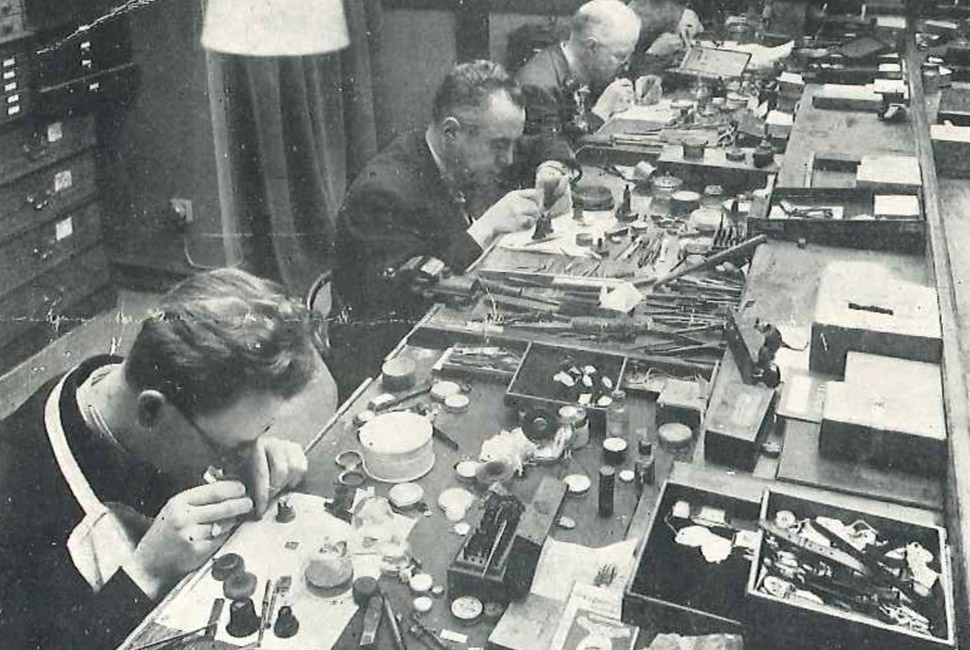 At the time, Don didn't know much about watches, to the point of looking up online how to make a watch. A friend of his, sent him a link to a website with incredibly specific instructions of how to make a watch, including the details of suppliers for everything, from movements to straps. 'I also learnt about white label manufacturers', he details, 'these are manufacturers in Switzerland, Germany and even China that make watches for everyone. One of these Swiss companies makes watches for some of the most famous brands in the market so I thought that if they were good enough for them, they'd be good enough for Vertex. I went with the best –and most expensive- because I wanted Vertex watches to be as good as they could possibly be.'
The first watch that Don launched was the M100, which paid homage to the watches that his grandfather made for the MoD in the 40s. As Don says, 'I wanted to be true to the DNA of the original watch, in both design and movement.' Another two models came to join the new Vertex family, the M100B and most recently, the MP45. This Mono Pusher has a brand new movement by Sellita (SW510MP). The timing Chronograph is available with a manual of automatic movement, both limited to 200 pieces and both priced at £3,750.
The designs of these three new Vertex watches are quite functional, which is a feature of many service pieces. 'Military watches have a purity of purpose; they have to do a job, they have to be functional, not fashionable,' states Don, 'these watches were ordered for a number of reasons, one of them ordnance disposal. At the end of the war, there were bombs everywhere; and these bombs would come with specific timed fuses, the mono pusher was used by bomb disposal personnel to help them understand how long they had to work on the device. If it was a naval mine, it could have been a magnetic fuse. The man engineer working on the mine could not have any metal on their person and instead would work with a second person placed 40m behind them and attached by a rope that would be tugged at regular intervals 15 second intervals as a countdown timer.
Art Deco inspired ladies watch designs…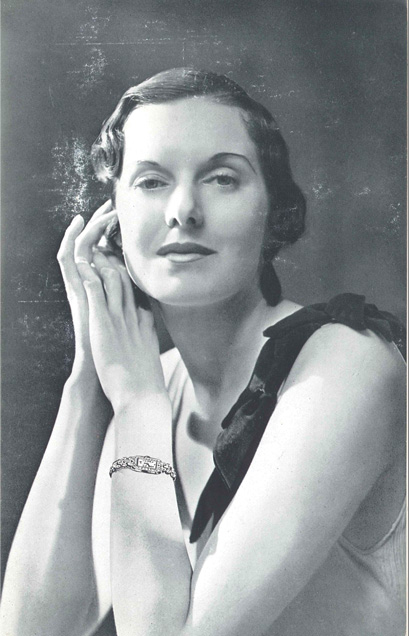 'Our new MP45 is based on such a watch', specifies Don, 'its asymmetric case is one of the features that is there to fulfil a purpose, not just for the sake of design; in this case, it helps protect the pusher and crown from damage that can occur during military action.'
He doesn't seem in a rush to increase production, actually the opposite could be said, 'I love the momentum that Vertex currently has. You see a lot of brands with so many different watches in their collection, it becomes hard to understand what their story is, and what the brand stands for. In our case, we do a watch, sell it, then do another one, sell it, and so on, each with a definite place in the horological landscape.
We have hundreds of designs in our archives but at the same time I don't want Vertex to become a purely historic brand. I want to associate Vertex watches with passions I have: diving, sailing, bikes, cars… but there is no rush. It is all about sustainable growth.' Britain represents 70% of the market for Vertex, with 20% of their clients coming from the US and 10% from the rest of the world. Don hasn't really pushed into other markets yet, in his words, 'I really want to build a firm foundation here before we move into other regions.'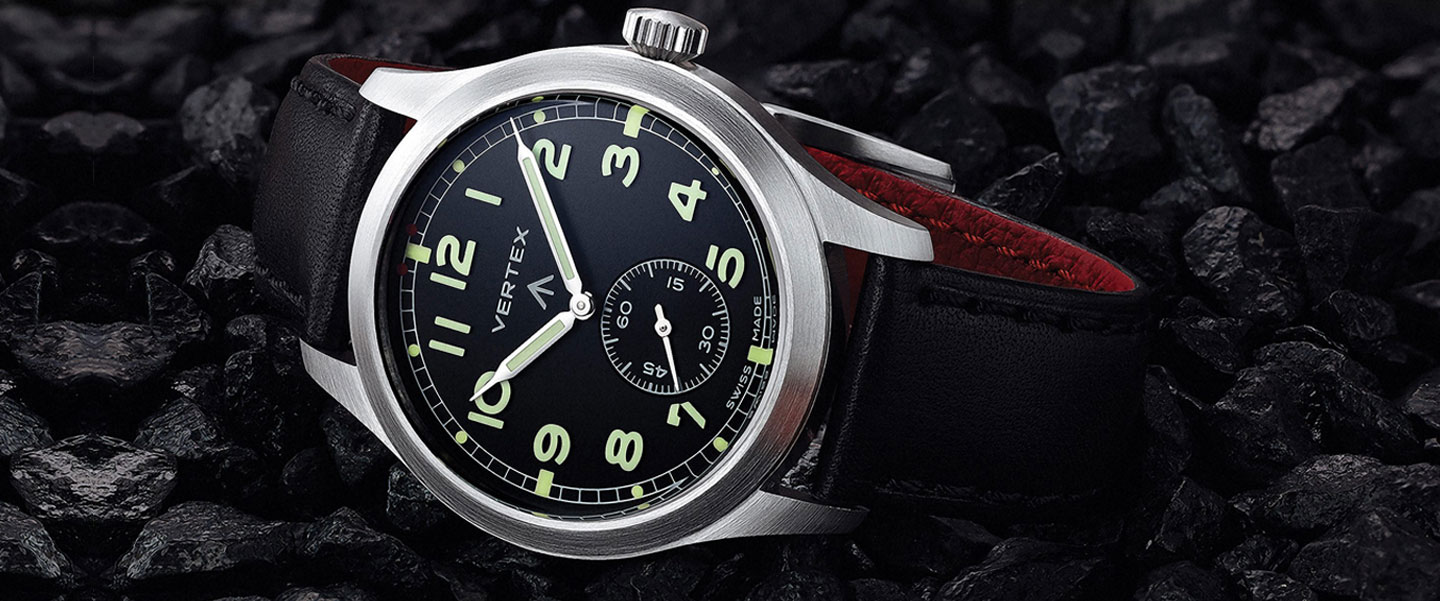 In terms of customer profile, they don't really have one. For what Don shared with me, it seems they have customers who are school teachers and customers who are rocket scientists, some who are doctors and some who are Hollywood actors.
His efforts to cement the Vertex community will soon be rewarded with the opening of Vertex store/club in Chiltern Street, planned for next autumn. 'It is not quite big enough to do what I want to do' Don says about it, 'but enough to start. I really want a space that tells our story.
I want to bring more value to our clients, add to their ownership experience beyond the point of purchase. The value of a customer to Vertex isn't based on the fact that they bought a watch, it is the fact that now they are part of our community.'