A love story
I was rather enchanted by Justin and Amanda Howard-Sneyd's story.
 

Having just seen Van Gogh's Starry Night, it struck a romantic note in me. Justin is a Master of Wine and lives and works in London. But ever since he spent 3 years working as a 'cellar rat' in the 90s, he has nurtured a dream to make his own wine. This is their story.

Justin told me: "One starry winter night in 2001, after a tasting with Charlie Sichel in Cucugnan and a dinner of wild boar, the combination of the sharp night air, the smell of wood smoke, and the closeness of the stars, made a deep imprint that left me sure I would return."

Fast-forward to October 2003, Justin was working as a buyer for Sainsbury's, and for their half-term holiday they returned to France with their young son Sam.  It was on this visit that Justin, Amanda and Sam, passed through Maury. They decided to stop at Jean Pla's shop.  There they met up with Richard Case, who is the owner- winemaker of Domaine de La Pertuisane and his erstwhile partner, Mark Hoddy.

That night, they opened a bottle of the legendary 2002 vintage of Jacques Montagne's Clos del Rey, Justin recalls, "16 degrees of alcohol and brimming with the unfathomable tarry quintessence of the Roussillon." Justin and Amanda were left smitten with the countryside and the wine.
They left Richard with a message that they might be interested in buying a small block of vines, if he was able to manage it for them.  Luckily for all of us, who have come to know and love Domaine of the Bee, Richard rang a couple of months later; he had found them a lovely vineyard right next to one of his own, and so the journey began.
For the next three years, Justin shuttled back and forth between his job in London, and his new block of vines, sleeping on Richard's floor, and searching the countryside around Maury for more likely looking vineyards. Meanwhile, Justin and Amanda's grapes played a minor role in some of Domaine de la Pertuisane's best barrels.  By 2007, Domaine of the Bee had grown to 4 hectares, and Justin felt that it was time to bottle a wine of his own.
That vintage was not a large one – only 11 barrels were made –  a large number of tastings were conducted, and different blends were tried out, until the realisation dawned that a single wine, using all of the barrels, would be the most sensible and practical blend – and also tasted fantastic!
The Roussillon region is the hottest and driest part of France. It used to be well known for its sweet fortified wines, but as demand has declined so did the visibility of the region. The best grapes come from the schist soils of the hills and it's the old vines that are so common in the region; although they may produce low yields, those grapes make extremely concentrated wines.
The sheer number of old vines in the region, combined with the relatively low land prices compared with most other parts of France, have attracted a wide range of other would-be winemakers with big dreams and limited means.
In fact, there is quite a buzz about the Roussillon, with wine experts like Andrew Jefford moved to say that the area around Maury "has the potential to be one of the rare grands crus of the South of France." Parker Reviewer Jeb Dunnuck has called the Roussillon "The Mecca of high quality wines."
So, what makes the wines of Domaine of the Bee so special and worth of so many awards? Knowing I couldn't possibly put it into my own words, I asked Justin to explain the magic.
"The secret lies in the way the hot dry climate and the steep stony vineyards force the vine roots really deep in search of water. An 80-year old vine, with roots several metres deep, produces the most amazing flavours."
Grenache Noir used to be the main component of the fortified style reds that used to be so popular. Justin added that Grenache is a bit like one of those actors that you can't put a name to, but keep on seeing in great films playing a huge range of different roles. Grenache turns up in the blend of wines that are better known by their regions. It is usually the base of most Chateauneuf-du-Papes, and also does its part as the second grape of Rioja, as well as being widely grown throughout the Languedoc. In Australia, they planted it to make Port, and there are many wonderful old Grenache vineyards now used to make dry reds.  In Maury, especially grown on black Schist, Grenache shows the depths of its brooding, dark, chocolate-like nature.
Justin moved on to describe the Carignan Noir grape, "Carignan is thought of as a bit of a lightweight, but a reliable and popular choice that can turn out competent and entertaining.  However, as Carignan ages, it matures into a performer of rare intensity and distinction. The Carignan vines that produce grapes for Domaine of the Bee are over 80 years old, and the tiny amount of wine they produce is black as the inside of a witch's hat, and deeply concentrated."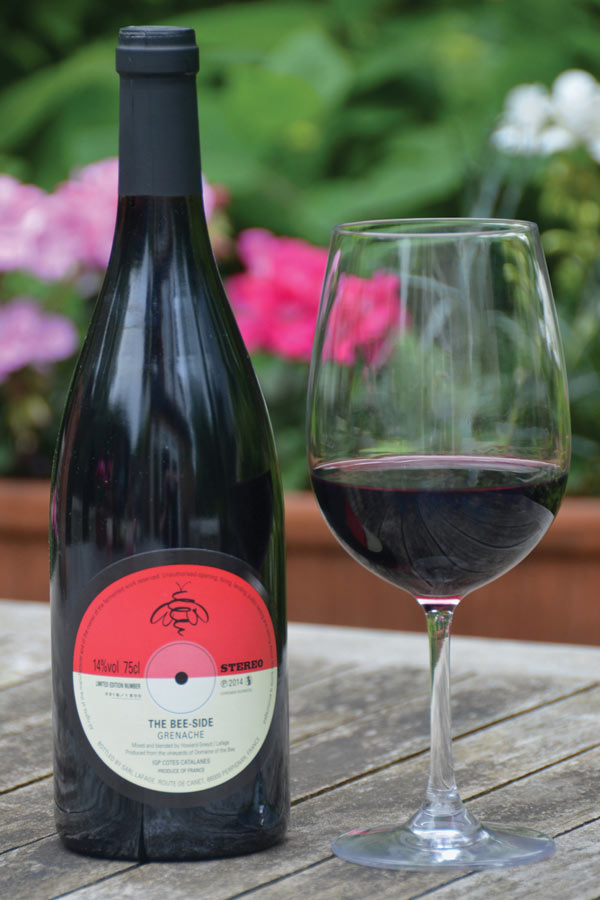 "In 2009, Domaine of the Bee launched a top cuvée, amusingly called Les Genoux, which means 'the knees' (as in the bee's knees – geddit!) made from the best barrels from our oldest and finest vineyard in Maury's famous Coume de Roy. It is a 'field blend' (i.e. different grape varieties all mixed together in the vineyard), with the majority being Grenache Noir, but with significant amounts of Carignan, Grenache Gris, and Carignan Blanc. The vineyard was planted over 100 years ago."
Wines like this demonstrate that the Roussillon has the potential to rival places like Chateauneuf-du-Pape, and Portugal's Douro Valley – punching above its weight in the heavyweight division of the world's finest red wine regions.
Having tried many of these divine wines over the years and as an early member of Domaine of The Bee 'Wine Club', I can only say that every bottle I have ever had the pleasure of tasting has been a delight.
Justin and Amanda still have day jobs in London, but with a foot firmly in the South of France, it can't be long before they become full-time vignerons.