5th July 2017 – De Beers Diamond Jewellers unveiled yesterday their Lotus by De Beers High Jewellery Collection at their private salon in Paris during Haute Couture week.
The presentation was followed by a champagne reception at the Automobile Club de France where Fan Bingbing, accomplished actress and friend of the brand, shone in the magnificent Blooming Lotus necklace.
The Lotus by De Beers High Jewellery Collection also delves into the mythology of the lotus flower and the Ancient Egyptian belief that each bloom is a talisman of rebirth and regeneration. Radiating Lotus celebrates this mysterious power with petal-shaped marquise diamonds, rows of fan-like round brilliant diamond peaks and kite-shaped cascades of princess-cut and round brilliant-cut diamonds. This sparkling chorus exemplifies the technical skill that is poured into every piece of De Beers High Jewellery, including the exceptional settings that allow for maximum light reflection.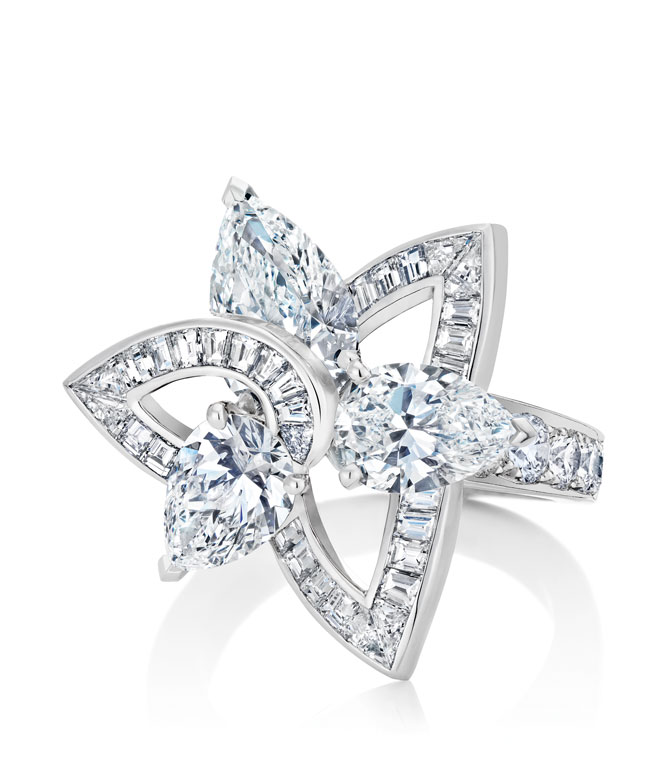 Now the lotus flower bud has emerged into the light, its petals can unfurl and feel the warmth of the sun for the first time. This synergy with the sunlight is expressed through Blooming Lotus; a unique set of diamond high jewellery centred on a three-dimensional diamond flower motif.
The Blooming Lotus Necklace is adorned with three exceptional pear-shaped diamond petals, supported by a pear, a marquise and baguette-cut diamond silhouette echoing that of a lotus flower. This technically superb, striking focal point can be detached and worn as a brooch.
The Home of Diamonds since 1888, De Beers creates wondrous jewels with peerlessly beautiful diamonds to celebrate all of life's events. Over 125 years of diamond mastery go into creating each individual design. De Beers is entirely committed to authenticity and integrity. De Beers meticulously hand-selects the world's finest diamonds for their unique Fire, Life and Brilliance.