The sybarites among you may remember that CUT was the first restaurant in London to have the highly desirable – and until then unobtainable – Japanese Wagyu beef back in 2014. However, it is not actually these precious cows that made the restaurant an immediate success among London foodies but their exceptional steaks. As the first establishment in Europe by international chef and restaurateur Wolfgang Puck, CUT could not have hoped for a bigger success than it has had so far.
CUT is not only famous for its food but also for its art, following the ethos of 45, Park Lane, which strives to be a living canvas for contemporary British artists. Ever since its opening, the restaurant has been hosting exclusive exhibitions and gallery residences which have gained CUT a global reputation as a platform for emerging artists and for its collection of established artworks from Damien Hirst, Sir Peter Blake, Alastair Gibson, Patrick Hughes, Bruce McLean, Joe Tilson and many more. Actually, the evening we visited was the opening night for Veronica Evers's exhibition, a London-based photographer specialising in black and white documentary photography.
Damian Hurst's Diamond Dust Psalms series, on display at CUT.
We were welcome by Assistant Manager Léa Schlapfer, who took us to our table and left us in the capable hands of Director of Wines, Frederic Marti, named one of the top ten sommeliers in the U.K. Fred presented us with a glass of Ruinart Blanc de Blancs, one of my favourite non-Vintage Bruts. Executive chef Jamie Shears had prepared for us a stunning menu, one that I will vividly remember for a long time. To start with, we had a couple of amuse bouche: deliciously fresh Tuna Tartare served in a sesame-miso Tuile Cone and Wagyu Sliders, which I could have kept eating forever. Tuna Tartare and a Yellowtail and Rice Salad followed as starters, paired with The Chablis Village from Christian Moreau (2019, Burgundy), a critically acclaimed wine, bone-dry and mineral, with tones of crisp green apple and white fruit flavours.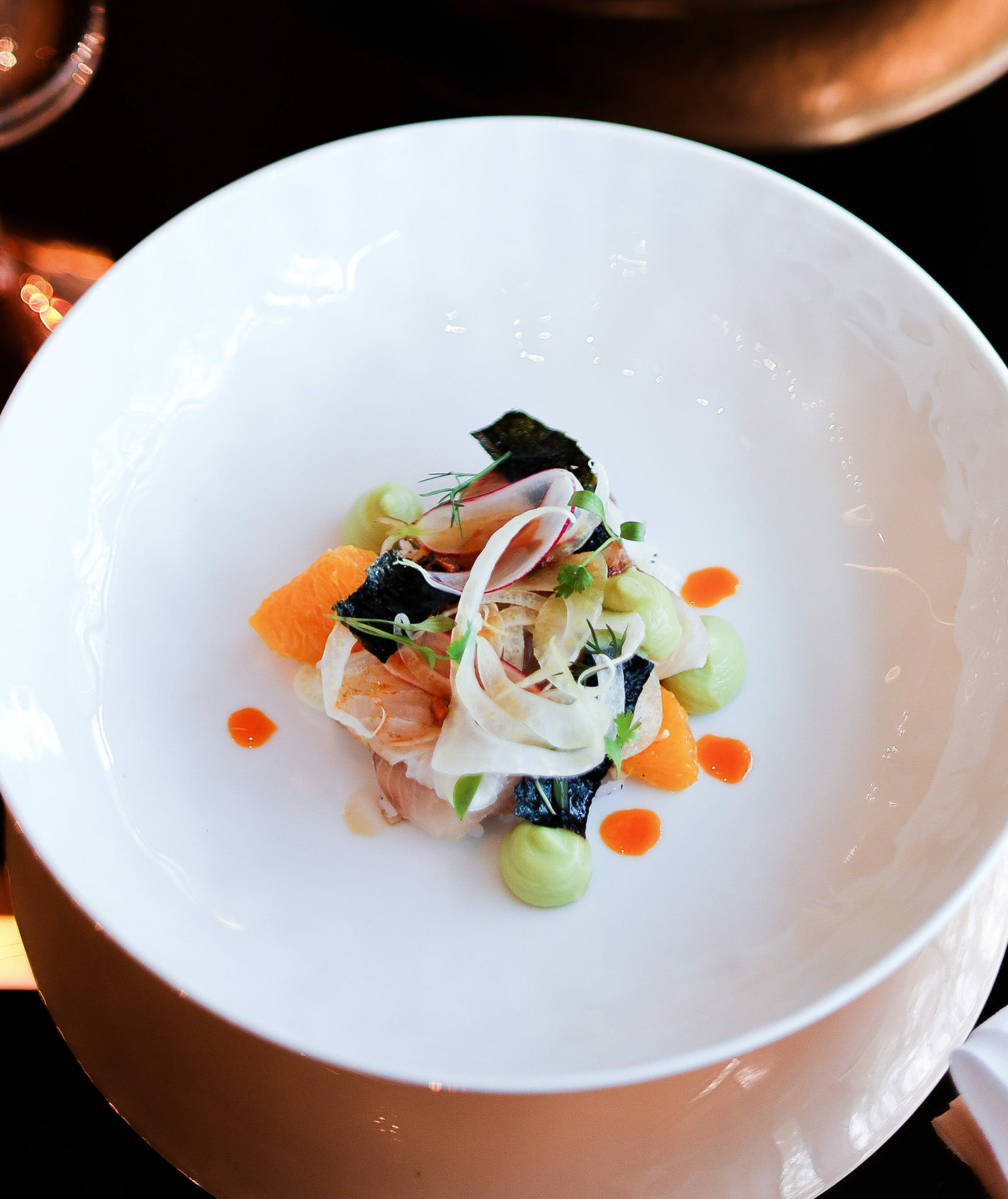 Yellowtail and rice salad, ponzu & crispy garlic, one of the most popular starters at CUT.
As the second course, Angel, our wonderful waiter for the evening, brought us Potato Gnocchi with Parmigiano-Reggiano and Black Truffle, and Tortellini of Roasted Cauliflower and Goat Cheese and Goats Cheese with Toasted Pine Nuts and Black Truffle. The Gnocchi were delicate, fluffy and light, with the right balance of black truffle against the pine nuts, enhancing the dish rather than overpowering it (which happens far too often). An elegant subtle dish that I will certainly order again. My partner adored the tortellini, which didn't surprise me. Cauliflower and cheese are natural bedfellows and with chef Jamie's touch, the combination reached new levels of deliciousness. The partnership between the earthy flavour of the roasted cauliflower and the nuttiness of the goat cheese and the pine nuts works a treat, and the pasta was simply perfect. Fred was spot on in his choice of wine: Achetipo Fiano (2019) from Puglia; it goes really well with the earthy and nutty flavours of these dishes. An elegant wine with an enticing nose and a complex, lean palate.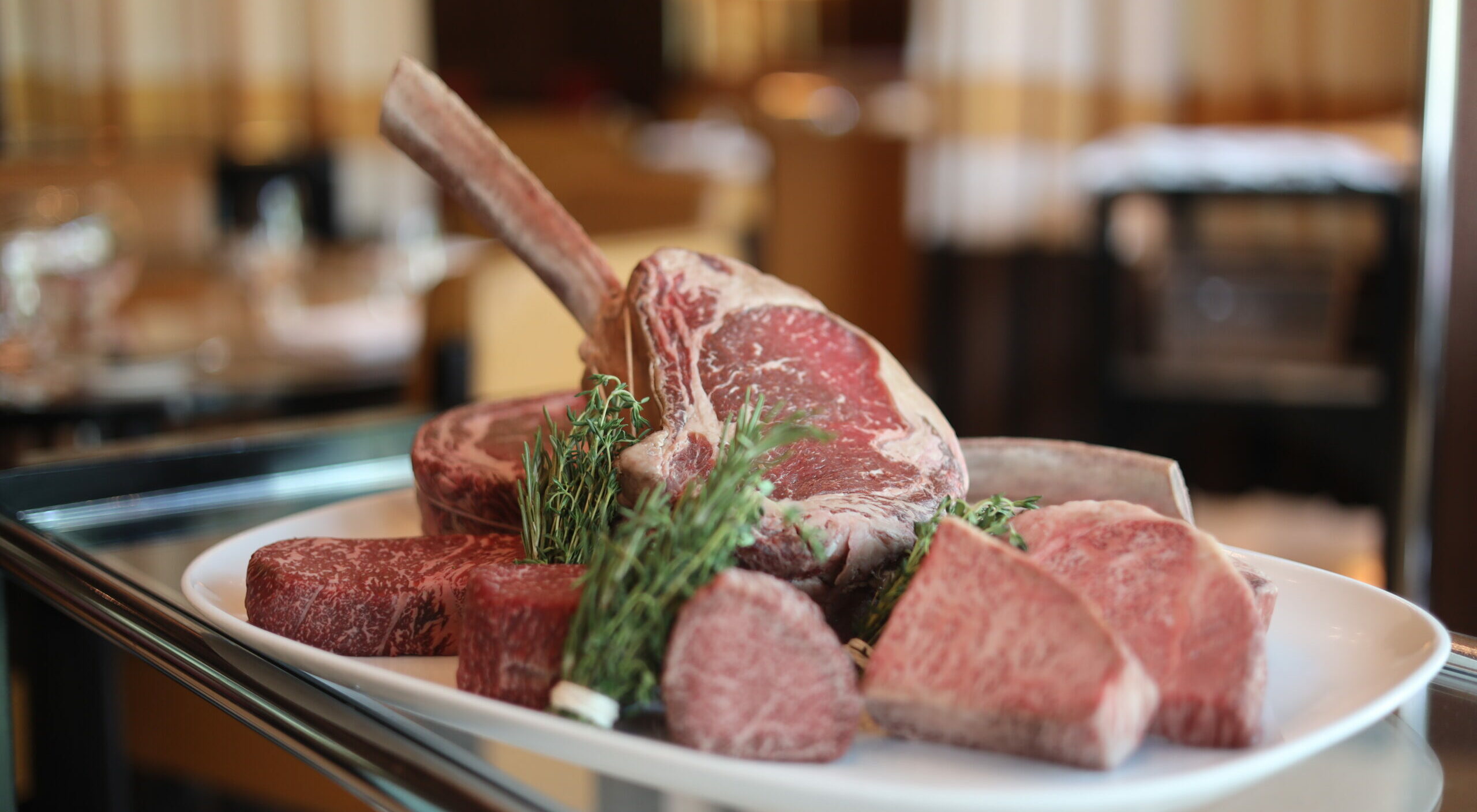 The Tomahawk is a highly marbled cut of steak, which means a more intense flavour. As it comes from muscles rarely used by the cow, the meat is incredibly tender.
Pastry Chef Niamh Larkin's interpretation of the classic Baked Alaska with caramel is so delicious you'd be tempted to come back just to eat dessert.
By the time Angel announced he was bringing dessert, we didn't think we could manage so we called a couple of friends who live around the corner and they came to help us polish a sample of the CUT's Yorkshire Rhubarb Pavlova, Chocolate Cookies and Cream with Pear and Caramel Baked Alaska. They had never been there before but they loved the sweets so much that the day after they booked for the weekend!
For reservations, call:+44 (0)20 7319 7467