Seven Seas Explorer, a vessel owned by Regent Seven Seas Cruises is now starring in the Channel 5 series "The World's Most Expensive Ship". This doesn't necessarily mean that it is the most expensive to cruise on, but it is generally recognised as being the most luxurious. I-M Intelligent Magazine sent Shelley Campbell to the Explorer for a 3-day cruise visiting the Greek Islands of Mykonos and Kavala to find out if the ship lived up to its reputation.
Prior to this, my only experience on board a sea vessel was fishing with my father on his boat off the coast of New Zealand, so I didn't know what to expect. The idea of spending time on a cruise ship had never been foremost on my list of travel objectives, however, any initial reservations were immediately put to rest. From the moment we arrived at the dock, we were greeted with hospitality and efficiency, the likes of which I imagine are usually afforded to royalty. With a ratio of 732 passengers to 567 crew, the Explorer staff are highly trained and intuitive, encouraged to anticipate and cater to every need of those travelling aboard. Concerned that perhaps they had been briefed of my press status, I took time to sit back and observe the interactions with other passengers. It soon became apparent that regardless of category, all passengers were bestowed with equal attentiveness.
Following a sumptuous lunch at La Veranda, we took the opportunity to explore the ship further. The delightfully decorated interior boasts more than an acre of granite and marble features, just under 480 chandeliers, as well as works of art that range from celebrated Spanish painter Pablo Picasso to early modernist Marc Chagall. This ship is wonderfully intimate, yet surprisingly spacious.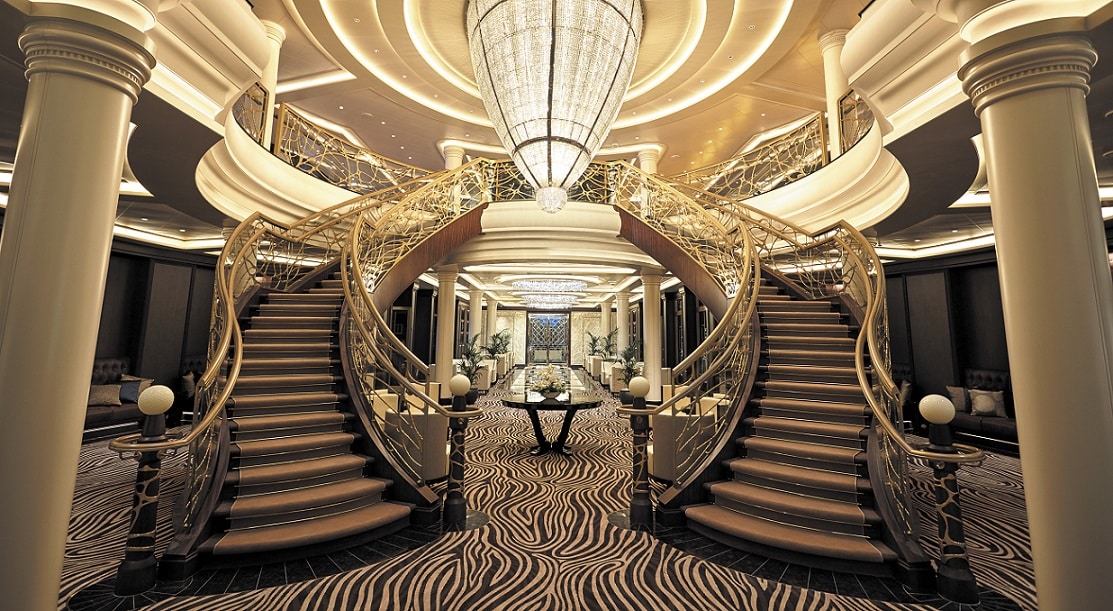 Seven Seas Explorer is lavishly decorated, with an abundance of granite, marble and other noble materials.
Drawing inspiration from high-end pool retreats at exclusive boutique hotels, Deck 11 offers a decadent oasis for relaxing, swimming and enjoying the ever-changing vistas. Described by many as the most elegant pool deck at sea, the lavish pool and twin whirlpools provide a happy haven, further enhanced by the attentive staff on hand to deliver refreshing drinks and soft dry towels. Deck 12 provides a designated running track and sports area for more active recreation activities. The area is home to cruise classics such as shuffleboard, putting greens and paddle tennis. The state-of-the-art Fitness Centre is a great indoor alternative featuring free weights, treadmills, workout mats and much more. Dedicated fitness professionals are on hand to advise and motivate. Pilates, yoga and aerobics classes are also available, meaning there is something for everyone.
The pool area has been described by many as the most elegant of any cruise ship.
Equally luxurious are the ship's 375 suites, all of which have balconies that open out onto spectacular views. These are some of the largest you'll find at sea, providing an additional private area in which to relax. Each suite is unique in terms of design but the one thing they all share is an exceptional attention to detail. European Elite Slumber beds are fitted in each cabin for optimum comfort, as well as more practical features such as minibars, USB charging stations and flat-screen televisions with on-demand movies. Bathrooms are adorned with both marble and stone, creating a highly chic space.
Each of the 375 suites are beautifully designed, with exceptional attention to detail.
As you would expect from an ultra-luxury cruise ship, the food is an inspired combination of fine dining and exceptional cuisine. Supporting the two main restaurants, La Veranda and Compass Rose, speciality eateries include Pacific Rim, a pan-Asian restaurant that delivers modern dishes inspired by the east, Chartreuse, which serves modern French cuisine in the style of a Parisian café, or alternatively, there is Prime 7, a traditional signature steakhouse with an emphasis on exceptional produce cooked to perfection.
Pacific Rim serves Asian inspired dishes such as Duck Confit spring rolls, Lobster tempura, Miso cod and Chinese dumplings.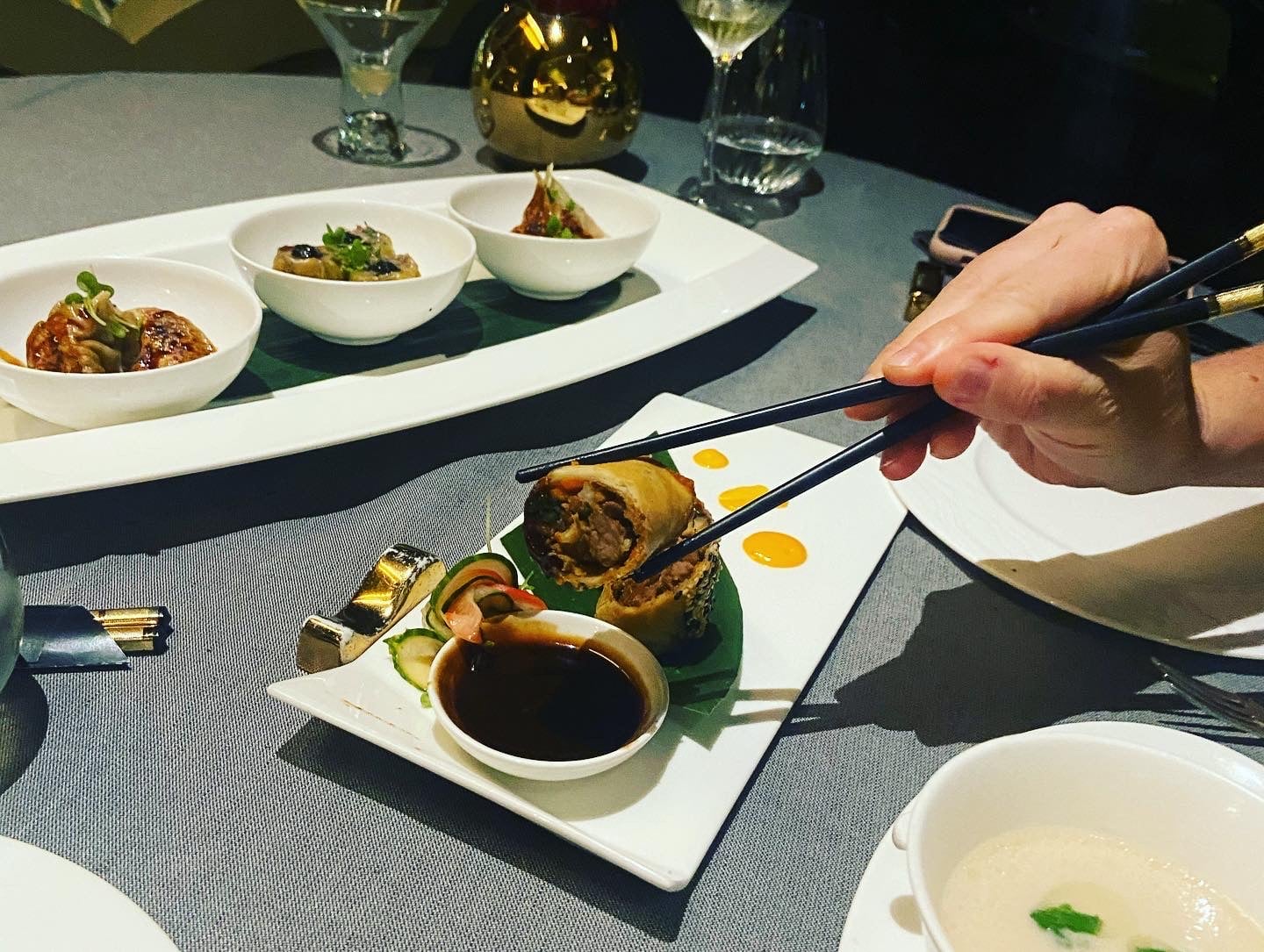 When the sun sets, the entertainment comes alive. An open and inviting casino beckons guests seeking Monte Carlo-style gaming entertainment with tables for blackjack, craps and roulette, along with several slot machines. The main Constellation theatre is a stunning art deco space that is host to an array of exciting shows and activities. In addition, guests will find lively alternatives including the Observation Lounge which brings to life the opulence and indulgence of the roaring twenties and the Explorer Lounge featuring a country club vibe with rich mahogany wood columns, comfortable leather chairs, deep blue fabrics and luxurious flooring. When the live entertainment finishes, there is also a room set up with a laptop and a fairly hefty sound system enabling you to search for your favourite music and break out the dance moves – I sincerely hope that no one has photographic evidence of that particular night!
The intimacy of 600 passengers aboard our cruise afforded the unique opportunity to recognise fellow passengers and engage. This was not something that I felt obliged to do, but rather it occurred organically. Everybody had a story to tell about their experiences and each highlighted the fundamental significance of the Explorer's community spirit and friendship.
For more information on the Regent Seven Seas fleet and destinations visit HERE.
All images courtesy of Regent Seven Seas Cruises.