One of the best things about Sundays is to have a lay-in before making your way to your favourite restaurant for a long, lazy, indulgent brunch. The most talked-about at the moment is the one served al fresco at the Jurema Terrace by the Mandrake hotel.
Without question one of the coolest hotels in central London, the Mandrake hotel has moved things up a gear with its new offer for Sundays. Based on the idea of sharing, the eclectic menu brings together a bit from here and a bit from there to offer a combination of crowd-pleasing dishes that are sure to be appreciated by any guest lucky enough to have a reservation at this sought-after exterior space. Jurema terrace is enveloped by a hanging garden of jasmine and passion flowers overlooking the Courtyard and its soaring Tasmanian Ferns. This evergreen oasis is ideal to have a break from the buzz of Oxford Street and its surroundings.
The normally quiet Jurema Terrace transforms into a lively oasis every Sunday afternoon thanks to the sound sommeliers DJing while guests enjoy brunch and a lineup of summer ethnobotanical cocktails.
As you arrive, you'll hear super cool music, as a live DJ (they call it a sound sommelier) plays there every Sunday from 1 pm till 5 pm. When we visited, we ate to the beat of electronic music with Middle Eastern tones, courtesy of DJ Regina, which positively added to the fun and lively ambience of the place.
Our waiter Fulvio presented us with a very tempting cocktail menu (the vodka-based Blue Lotus with lavender, lemon and champagne among other ingredients sounded practically irresistible) but, as the die-hard champagne lover I am, I opted for a glass of pure Veuve Clicquot… at least until we finished eating. The first dishes to arrive are the ones to share: bread with butter and extra-virgin olive oil, Padron peppers with smoked chilli salt, the most delicious guacamole with tomato chipotle and popped corn chips and a delicate crab & fennel tostada with sea herbs and lime. The guacamole is to die for. Honestly, the best I've ever had, even in Mexico.
Two of the sharing dishes at Jurema Terrace's summer brunch: guacamole with tomato chipotle and popped corn chips and crab & fennel tostada with sea herbs and lime.
There are four mains to choose from, two that are traditional brunch dishes with a twist: chorizo & poached egg muffin with chimichurri hollandaise, and brioche French toast with bacon and banana maple syrup; and the other two are more unusual for this kind of menu but equally delicious: buttermilk fried chicken bun with pickled jalapeño coleslaw and the vegan mushroom & kale tacos with grilled spring onion. It is difficult to pick a favourite but for me, it has to be the chicken bun. That pickled jalapeño coleslaw truly enhances the flavour of the chicken, so much so that just writing about it is making my mouth water! My friend preferred the chorizo & poached egg muffin. She thought that the paprika tones of the chorizo and the heat of the chimichurri lifted the dish in a way she would have never expected. To accompany your mains, you have an unlimited supply of fries with chipotle aioli and green salad with coriander and coconut dressing.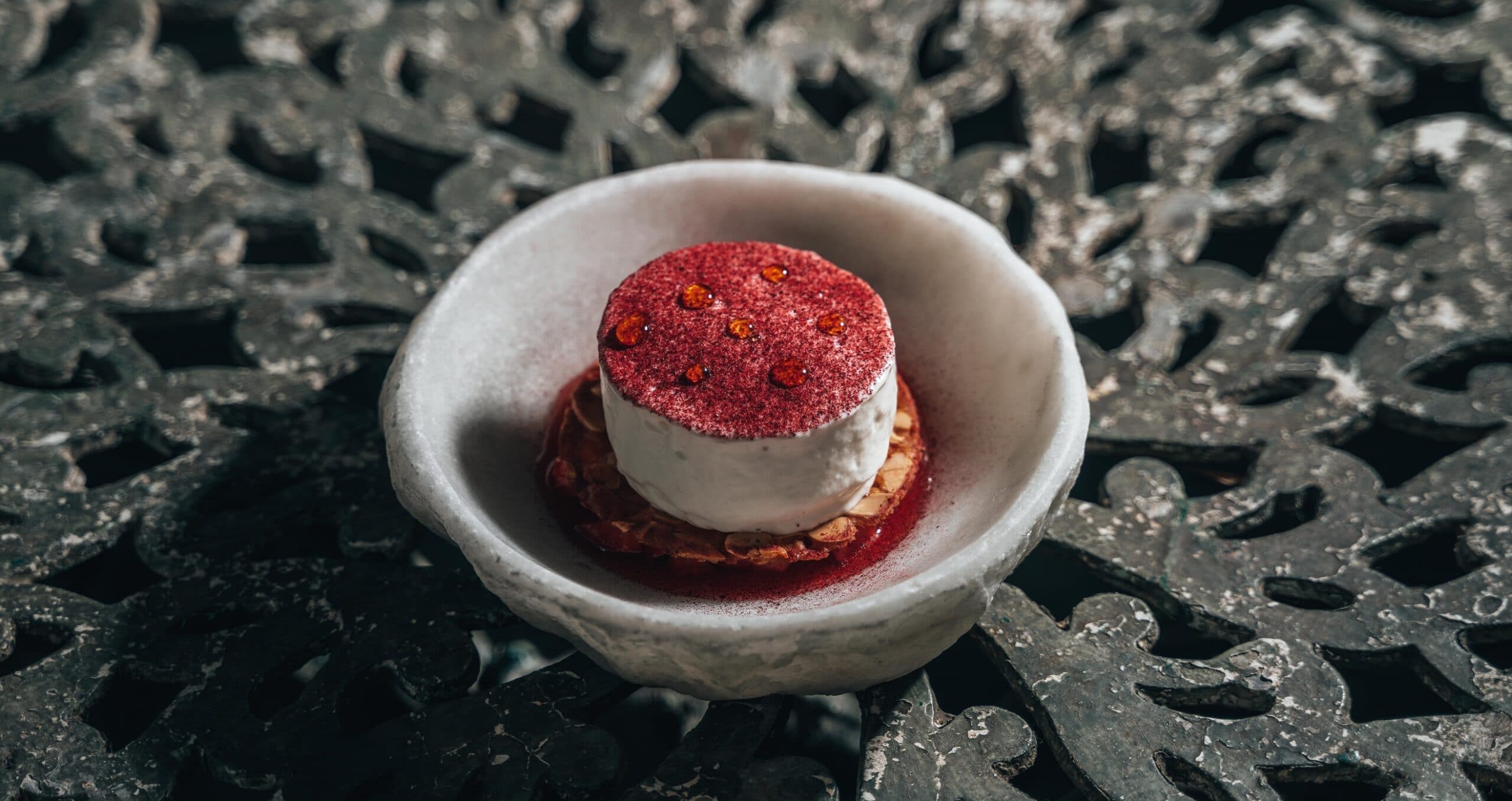 Strawberries, vanilla and red pepper parfait infused with red chilli.
For dessert, it is one each, to choose between strawberries, vanilla and red pepper parfait infused with red chili and Guatemalan chocolate mousse with coconut, buckwheat and almond. We were too full so we shared the parfait, which turned out to be a perfect choice. You get the red pepper in your palate at the end, together with the kick from the chilli. Very original, very cool.
After such a meal we were in no rush to leave so we asked Fulvio for the cocktail menu. I ordered the Blue Lotus while my friend picked the mezcal-based Ginkgo, with chinotto nero and chartreuse elixir among several other ingredients. We spent the rest of the afternoon enjoying the fab music and becoming closely acquainted with the drinks offer at Jurema Terrace.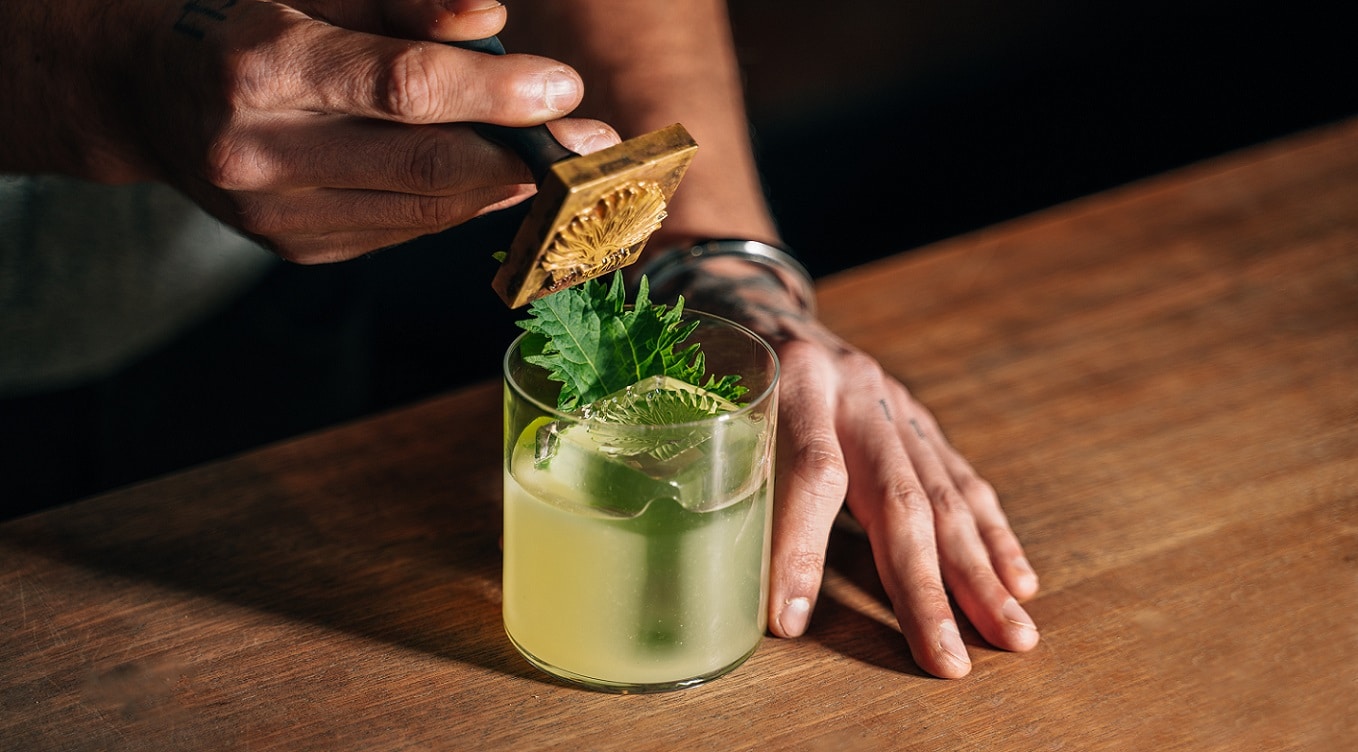 Ginkgo cocktail: mezcal, chinotto nero, yellow chartreuse, elderflower, yuzu, chartreuse elixir and shiso.
The basic brunch is only £65 per person. You can upgrade to a bottle of rosé wine with the total cost then being £95 per person or of Veuve Clicquot for £120. If you prefer cocktails, you can have three at £99 per person (whole brunch)