Written and directed by Darryl Duah-Boateng and produced by Pyraglyphix, Class S appears to present a current and revealing approach to young-adult angst and the dramatic effects of new psychoactive drugs, which are increasingly being the cause of the loss of many young lives. Duah-Boateng's film focuses on university students to tell his take on this pressing topic. But don't you think this is all it is about Class S. Trust me, you'll be surprised, and you'll like it.
The film is narrated from the point of view of the main character, a student called Leo, played by Reggie Banigo (known for his role as detective Lawson in Amazon Prime series Trust) speaking to his therapist, Dr Williams (Erina Mashate, Black Mail). At the beginning of our story, we can quickly see how this young man struggles with the different pressures from university life: assignments, exams, social life, relationships with girls… It is obvious he takes his studies very seriously, but he is surrounded by others who don't, so temptation to "party" appears to be everywhere. I think that the director wants to make us understand from the very beginning how difficult it can be to stay on the straight and narrow when exposed to so many opportunities to take drugs and when faced with peer pressure. 
Leo and Cherry get together for a movie night that turns into an experience completely new to Leo.
Basically, the desire to fit in and to be "cool" overrides common sense and our protagonist finds himself first agreeing to do drugs with his girlfriend Cherry (Charithra Chandran, Edwina Sharma in Netflix hit series Bridgerton and Sabina Pleasance in Alex Rider) and then with bad girl Zoe (Julia Holden), who introduces him to yet more powerful drugs. From here on, Leo goes down into a spiral of addiction until he reaches rock bottom and almost dies of an overdose. Thankfully he survives, his girlfriend forgives him and his doctor convinces him to get help.
Class S investigates the topic of drugs in the life of University students… but all is not as it appears. The end will most certainly surprise you.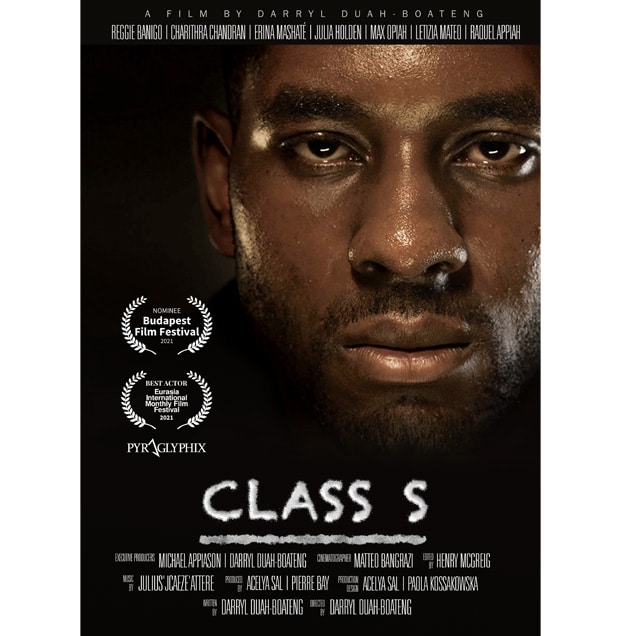 For a film that runs for less than 50 minutes, Class S manages to narrate the whole story thoroughly and consistently, with touches of humour and tones of scepticism, including quite an obvious criticism of the establishment when it comes to the standard of care for those affected by drug addiction. Towards the end of the film, Leo kind of loses his temper and shouts at Dr Williams, "You parade pictures of your certificates around the room screaming out for attention… you are just like the rest of us, crying out for validation… trying not to be swallowed up by the big bad world." But things are not what they seem… you'll be surprised by the turn of events in the last ten minutes of the film. It is very clever, very timely, very pertinent. I can't recommend it enough. I'll give you a little clue. Suicide has been identified not only as an individual phenomenon, but as one influenced by social and environmental factors.
Curious about what else the team at Pyraglyphix have on store, I persuaded them to let me read the script of their next project, The Elexum, which will go into production in 2023. I really liked it. It is fresh, exciting and very original. What a talented team!
Learn more about Pyraglyphix independent film and production company HERE.