With a notorious sculptor for a father and a much-celebrated architect grandfather, it is not difficult to see how this Taiwanese jewellery designer was destined to achieve great things as a creative artist. Cindy has always had a very three-dimensional mind. Perspective, space and depth are concepts that have preoccupied her since childhood and that she has translated into her sculpted jewellery.
"I have an architectural mindset which I think comes from my grandfather with whom I grew up," she shares, "and the skill and technique of a sculptor, which I learnt from my father." Her creations are true pieces of art, with a volume, movement and depth that I hadn't seen in any other jewellery designer's work. As Cindy calls them herself, "They are miniature sculptures." She starts sculpting in wax following an 18th century artisan technique known as "la cire perdue" (lost-wax casting) and completes her pieces using precious metal and gemstones. It was her father who taught her the basics of sculpting, although he worked with clay rather than with wax.
My Butterflies are the ultimate expression of my creativity as a jewellery artist…

– Cindy Chao
The complexity of Cindy's creations and the skill required are difficult to convey on paper. One must truly see her jewellery in the flesh to realise the mastery involved. "I'm always trying to push the boundary, challenge myself with every new collection," she declares. Of course things don't always go according to plan. She laughs adding, "Oh I get it wrong many times but when I succeed, I end up with a piece I am very proud of."
And proud she should be. In 2007, Cindy became the first Taiwanese jewellery artist to take part in a Christie's New York fine jewellery auction. Her two collections, Black Label Masterpieces and White Label Collection, have been exhibited at art fairs and institutions around the world including Beijing Today Art Museum, Tokyo Mori Art Museum, Biennale des Antiquaires in Paris, Masterpiece London and TEFAF Maastricht. In 2010, Cindy Chao became the first Taiwanese jewellery artist to have one of her designs, an Annual Butterfly, inducted into the Smithsonian National Museum of Natural History.
Initially she wanted to study architecture and went to New York for this purpose. However her mother told her there were two things she couldn't become: one, a sculptor; the other, an architect. So she suggested jewellery design instead and the rest as they say, is history.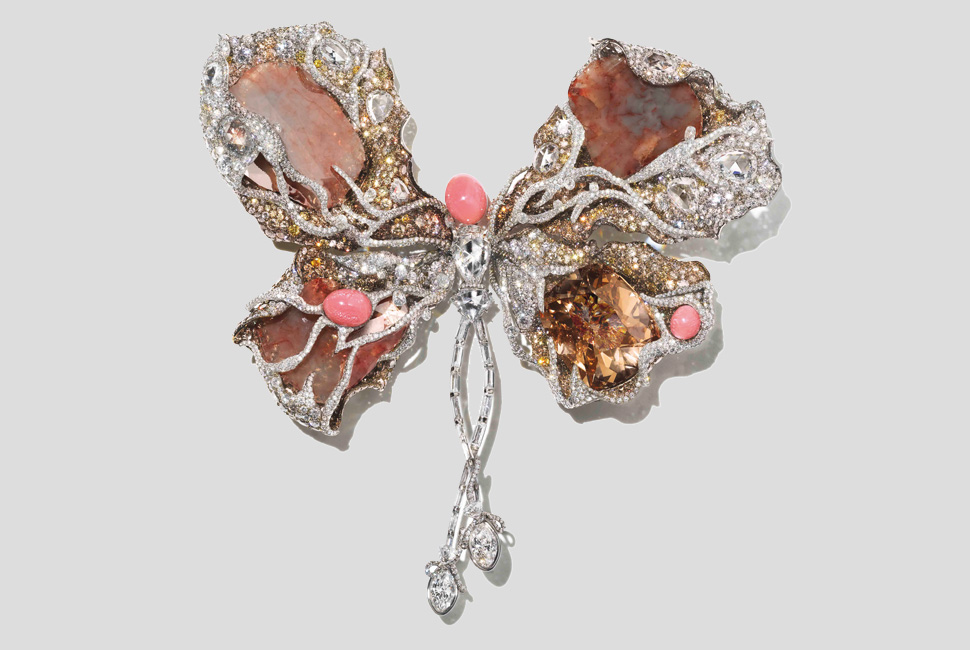 In 2004, she founded Cindy Chao The Art Jewel in Taipei. "I'd like to give credit to my son," she says, "it was him who gave me the confidence to launch my own company." At the time her son was five years old so I can imagine how busy her life must have been and I am incredibly impressed that as a single mother she managed to start a company and keep making such incredible pieces of art. "I think for the last 15-17 years my 24-hour days have been like other people's 72," she comments laughing.
Cindy exudes energy and determination. Her journey has been one of no compromise at any point. "I want to do everything, I want to conquer everything," she states with conviction, "and I have always been clear that I'd never compromise on my craftmanship." Her pursuit of perfection means she oversees every aspect of her company so she is constantly travelling around the world, especially between Asia and Europe because her ateliers are in France and Switzerland.
With so many plates up in the air at all times, Cindy has to be extraordinarily well organised with her time. "I will dedicate two days to company meetings and then when I take time to create, I isolate from everything and everyone." Her creative process is very unique. She starts her pieces sculpting them from the back. "Thanks to my grandfather, I have a very different mindset than other designers," Cindy shares, "I see things from a reverse perspective, a reverse psychology, a bit like Gaudí did for La Sagrada Familia in Barcelona. It is all about negative spaces." La Sagrada Família is a one-of-a-kind temple for its origins, foundation and purpose. Fruit of the work of genius architect Antoni Gaudí, the project was promoted by the people for the people. Today, more than 135 years after the laying of the cornerstone, construction continues on the Basílica.
Thanks to my grandfather, I have a very different mindset than other designers…

– Cindy Chao
Cindy has two main collections: Black Label Masterpiece and White Label Collection. Both of them exquisite but Black Label, inspired by her passion for architecture, sculpture, travel and nature is where she truly lets her imagination fly. "With Black Label the perspective is unlimited, there is no concern about cost or about time, it is all about the final outcome, about achieving ultimate excellency." Each of the jewels that Cindy creates for this collection every year (between 8 and 12) are named, numbered and dated.
For White Label her mindset is slightly different, "I need to hold back a little because this is a collection that needs to be easier for people to understand." The quality of the pieces is as high as in Black Label; and they are made by the same artisans.
Another of Cindy's "trademarks" are her butterflies. Every year she presents one. The first was created in 2008 and has since been coined as the Annual Butterfly. Each takes more than 18 months to complete as gemstones and thousands of pavé-set diamonds are set on and around delicately moulded wings. That very first one, Ruby Butterfly Brooch, has taken permanent residency at the Musée d'Arts Décoratifs in Paris. "My Butterflies are the ultimate expression of my creativity as a jewellery artist, and it is a privilege to count the first piece from the series among the Musée des Arts Décoratifs' prestigious collection," says Cindy with a mix of modesty and pride in her voice. This unique piece of art features a pair of magnificent non-heated baroque Burmese rubies set alongside stunning fancy coloured diamonds and colour-changing sapphires.
The 2009 Black Label Masterpiece I, Royal Butterfly Brooch, was inducted into the Smithsonian Institution National Museum of Natural History's gem collection. It is made of 2,328 gems, totalling 77 carats. The butterfly's wings contain four large-faceted diamond slices stacked atop a pavé layer of faceted diamonds, creating a pattern resembling a living butterfly's wings.
The V&A also claimed one of Cindy's pieces for their permanent collection. In this case, 2018's Black Label Masterpiece Peony Brooch, which is now on display at the acclaimed William and Judith Bollinger Gallery. The one-of-a-kind Black Label Masterpiece Peony Brooch set entirely with rubies and purple coloured titanium is dynamic, ethereal and boldly beautiful. The deep red petals and contrasting yellow pistils add a striking impression of the intensely hued, bold and kaleidoscopic peony flower.
The 2014 Black Label Masterpiece I, Ballerina Butterfly, was designed in collaboration with Sarah Jessica Parker. Cindy's talent and skill seem to have no boundaries, so I wonder where she sees herself going as an artist. She takes a moment to reflect before answering, "I want to keep improving, to do even better work that is recognised for its artistic value and possibly, reduce the number of pieces produced." As I look a bit surprised (her production is already pretty limited), she adds, "I think nowadays it is easy to burn commercially. Luxury is about choice so I decided to have my choice of clients and the choice of my time and my creations. This is very much thanks to my son's advice. He graduated from college just a few months ago – he studied finance at Wharton, in the US."
Cindy's ambition keeps her moving the goalpost. She loves a challenge and in the last years she has finally received the recognition she deserves, although she considers that there is still a bit further to go. "The Western jewellery industry is very muscular so not many Asians are able to enter the sector, not to mention being recognised as a female Asian jeweller." I can't imagine a better role model to inspire other women to follow suit. "I want my work to be meaningful, to leave a legacy. I want other women to think, 'If Cindy can make it in such a challenging masculine world, so can I.' Then I'll consider I am truly contributing to the evolution of the luxury business."