We have all heard of Alice Through the looking Glass and Johnny Cash's song Ring of Fire, so, what if I told you that you can have delivered through your letterbox a Pacific Ring of Fire wrapped in a chocolate dream. firetree chocolate will whisk you away on an exotic journey around the Solomon Islands, Madagascar and the Philippines. If you can't board a plane, why not travel through the world in a chocolate fantasy?
Just close your eyes, let the chocolate slowly melt in your mouth and imagine your own The phoenix and the carpet adventure to the far-flung islands of the Pacific. With the launch of the 25g set containing all seven of firetree single estate chocolates, why not do a little chocolate island hopping? The beauty of the 25g set is that you no longer have to agonise over choosing which of the 65g bar you want. Instead, you can visit a different island each night and while away the evening indulging in a chocolate fantasy in the company of friends and family or just on your own with your favourite movie. You could even take a walk enjoying the autumn colours and finish in your favourite coffee shop sipping coffee and enjoying a 25g bar without feeling too sinful.
Since firetree began its journey in 2017, the team has worked hard to set the standard across all their stages of production – from spending years nurturing relationships with farmers and paying them significantly more than the mass market rate, to enlisting Berlin-based artist Andreas Nicolas Fischer to design the beautiful packaging inspired by volcanic magma flows. With a combined 85 years of chocolate industry knowledge, the founders David Zulman, Martyn O'Dare and Aidan Bishop were drawn to one another due to their shared interest in producing first-class tasting chocolate with the best inherent flavours and aromas on the market. Their aim was to bring a sense of wonder and discovery back into the chocolate industry.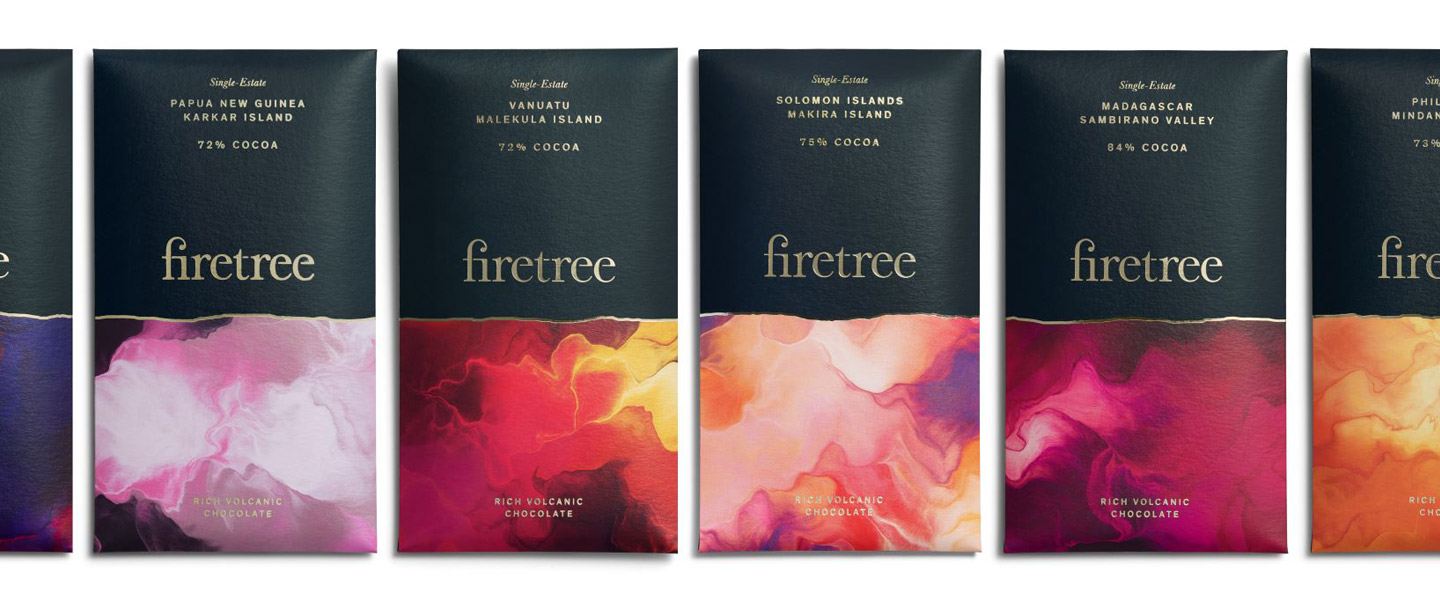 Who needs the dance of the seven veils when you can unwrap yourself seven different divine chocolate bars? As the saying goes, "All good things come in small packages."
The natural range is made up of seven 25g bars and contains no additives or flavourings. It is available to buy at £17.50 from the firetree website. The bars are dairy-free, suitable for vegans and lactose-intolerant, as well as being halal and kosher certified. Sounds like chocolate heaven to me.