Dynamic, passionate, self-asserted… Carolina Bucci is a woman who followed her dream until it came true. After more than 20 years working truly hard to make a name for herself, now she can comfortably say she has "made it" as a first class jeweller recognised worldwide. Her designs are worn by mothers, daughters, business women and celebrities alike. Furthermore, a selection of her designs is part of the permanent jewellery collection of the Palazzo Pitti museum in Florence.
Carolina comes from a long family line of jewellers, one that goes back to 1885, when her great-grandfather opened a watch repair shop in Florence. It was her father, who, after the Second World War, grew the business internationally, particularly in the U.S. and Japan, whilst continuing to anchor the manufacture of the jewellery in the family's Florentine workshops. Growing up in such an environment meant that from an early age, Carolina knew she wanted to be a jewellery designer. "I'd spend hours in the atelier, playing with bits and bobs. For my birthday and Christmas, I was always given beautiful pieces of the traditionally designed jewellery my family made. I would ask my dad if I could make some changes to them as I wanted to transform them into something more modern and with a story behind."
This turned out to be a great learning journey for Carolina as her dad would ask her to first come with a sketch of what she wanted to do. He would then point out which aspects couldn't work and send her back to work on it until he felt that her transformed piece was up to family standards. At that point, he would tell her "Carolina, now go and sit with one of the jewellers in the atelier and see if it is possible to make it."
In all her work, Carolina likes to challenge gold as a material and make it do things that it is not traditionally known to do…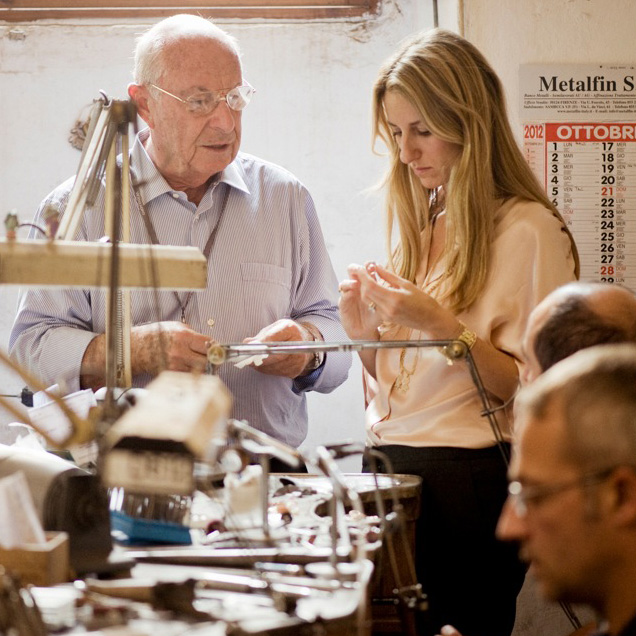 She went on to study at the Fashion Institute of Technology in New York. When she returned to Florence, upon her graduation, she worked with the atelier to push the boundaries of their traditional practices to create her first collections: Lucky (a reinvention of the friendship bracelets she made as a child); Woven, which saw her reinvent traditional Florentine textile looms to weave gold and silk threads, winning her the award for the Gold category of the Couture Show Design Awards for her rainbow gold and silk woven scarf; and Florentine Finish as seen on Audemars Piguet Royal Oak Frosted Gold watches.
These creations have evolved with Carolina over the last 20 years, being still considered her signature collections. It was the Lucky bracelets that caught the attention of celebrities and stylists and put Carolina Bucci firmly on the map of jewellery designers of the new century. "I started in a time when there was no social media or e-commerce, so either someone would see my pieces on somebody else or in a magazine. I was a one-person team, fresh out of school, designing jewellery in my apartment." Carolina had no idea that a very famous stylist in Los Angeles, Patricia Fields, was a big fan of her Lucky bracelets and selected one for Sarah Jessica Parker to wear throughout the final series of Sex and the City.
Jessica marked the finale by gifting one to each member of the cast and crew. The rest as they say, is history. "What I love the most," says Carolina, "is that all these celebrities were buying them for themselves, the bracelets were not being gifted or requested by the press. To me personally, they represent an attempt to recapture in the world of fine jewellery the bracelets that I used to make with cotton threads on the beach with my sister and my friends as a little girl. You'd tie a double knot, make a wish and they represented a bond with the person that had given it to you."
After that, everybody from Cindy Crawford to Halle Berry to the Olsen twins were wearing Carolina's creations. "It wasn't just celebrities," she comments, "but normal people just seeing them in the few retailers we had at the time and in the store in L.A. Another famous stylist, Rachel Zoe, loved them and not only wore them herself but put on the wrists of all the models she was styling." Lucky bracelets have become iconic. They are the first piece that customers normally buy from Carolina Bucci. She believes in timeless designs and in creations that can evolve and become something new. It is all about versatility.
"My collections start around one piece that I want to create, and the rest are developed from that initial one," she explains. "I like the idea that my customers can add bits to an existing piece – maybe new links – or wear it in a different way, even combine with other collections so that initial piece evolves and keeps being relevant to them." Her Forte Beads collection, which launched in 2018 was a great example of this versatility. Inspired by the Italian seaside town of Forte Dei Marmi, the pieces were base around a rainbow of semi-precious hard stone and 18 karat Florentine Finish beads and letters.
In all her work, Carolina likes to challenge gold as a material and make it do things that it is not traditionally known to do. "With the Florentine finish, I make gold sparkle as if it was covered in diamonds, while with our woven pieces, it looks like fabric," details Carolina, "in my latest collection with Audemars Piguet, we made it elastic. I am always experimenting and working on different things."
Staying still is not what Carolina does best. As if designing jewellery didn't keep her busy enough, she is known for her multiple collaborations with other crafts in the most diverse fields, from the Murano glass company LagunaB, for which she designed a swirling pattern that mimicked Florentine marble paper, to Pineider, one of the oldest stationary brands in the world, which counts the Pope among its customers, or Loretta Caponi in Florence, a company specialised in embroidered tableware and linens. "I look to collaborate with companies that show craftmanship and heritage and share our values, particularly Italian, since I love celebrating all things Italian."
The exception to that rule is her collaboration with Audemars Piguet, which is probably her most successful too. The partnership came to be in quite a serendipitous way. "As I design my own jewellery, normally for my birthday my husband would get me a watch. I love combining them with my jewellery. For my 35th birthday, I couldn't find one that I really liked… until one day walking in New York I spotted something in the wrist of an older lady and followed her until I was close enough to take a good look. It was a 36mm Royal Oak in yellow gold, very simple, without any precious stones. I absolutely fell in love with it."
Unfortunately for Carolina, the object of her desire was a model from the '70s-'80s that was no longer in production but her adoring husband eventually managed to find one through a second-hand dealer. "I never wore any other watch for years. It became part of my personal style."
Patricia Fields, was a big fan of her Lucky bracelets and selected one for Sarah Jessica Parker to wear throughout the final series of Sex and the City…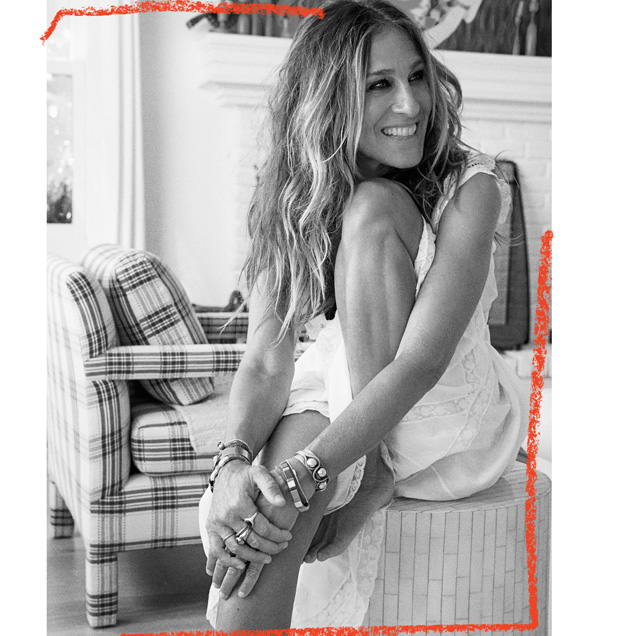 As she never took it off, when she was featured in the press, the watch was on her wrist and the CEO of Audemars Piguet, François-Henry Bennahmias, saw her and asked to meet her. "We started talking and learning about each other's worlds and at some point he asked me why, being a woman and designing female jewellery, I wore and old man's watch." Her answer was pretty straight forward, "I told him that I simply didn't like any of their women's watches and that I felt the designs were lazy, just a man's watch made smaller with some diamonds thrown at it. I also told him that I believed most women felt the way I did."
Bennahmias took it all in good spirit and suggested she designed a Royal Oak to her liking… and so she did. In 2016, on the 40th anniversary of the eponymous watch, the first Royal Oak with her signature Florentine Frost finish came to market. "We had to frost all the pieces of the watch separately and it took a few attempts until we got it right, given how many moving parts a watch has, but when it was finally ready, it was perfect," recounts Carolina with a clear expression of satisfaction on her face.
The watch was available in yellow, white and rose gold and in three different sizes, 33, 36 and 37 mm. The collaboration was so successful that Bennahmias asked her to create her own Carolina Bucci special edition Royal Oak in 2018. When she said that she wanted to change the tapisserie dial, Audemars Piguet's CEO almost fainted. But Carolina wouldn't budge. "It is time to break some rules," she told him.
Obviously Carolina got her own way and she created a silver toned mirror dial that gave the impression of no surface at all, or as she puts it "like when you see a calm lake framed by nothing but tress and the sky, and the water seems to almost disappear," which was very complicated from a production point of view because nothing could be on it, not a single speck of dust, not a fingerprint, nothing at all. It had to be absolutely perfect. The 300 limited edition series was yet again a resounding success. All of them sold in no time at all.
It is time to break some rules…

– Carolina Bucci.
Their latest collaboration has gone even further. Inspired by the watchmakers at Le Brassus, this time Carolina has created a jewellery line. The collection, called K.I.S.S. plays homage to simplicity (Keep It Super Simple) and at the same time, celebrates the spring in the brand's double balance
wheel escapement that first debuted in 2016. "I wanted to create something with a very simple silhouette, elastic, easy to wear and to style," explains Carolina. "The technique behind though was not simple at all, on the contrary, like the balance spring in a watch, it required complex knowledge and craftmanship". The collection launched late last year and is available at Audemars Piguet Houses in London, Hong Kong and Barcelona, as well as boutiques in Nagoya and Dallas. It features three different sizes of 18-carat gold bracelets in various colourways, along with necklaces to match. Each of them is a single coil of 18 karat gold. "Just like a spring."
Like everybody else, Carolina's life has been deeply affected by Covid-19. Determined to help from the very beginning, in March 2020, she committed to donating 25% of proceeds from her global online business to the Coronavirus Emergency Fund at Florence's Careggi Hospital. Later that same month, she announced "Isolate & Create" – a series of printable pages downloadable for colouring – in the hope to enhance mental wellbeing during such an unprecedented time. In May, she turned her efforts to New York City, donating 25% of the proceeds from carolinabucci.com to New York City Meals, a "meals on wheels" service providing nourishing meals and companionship to New York's homebound elderly.
Here in the UK, Carolina Bucci has been working with Re-engage, a charity that sets out to encourage communication and offers support to vulnerable and isolated communities. A percentage of London store sales are donated to Re-engage, and Carolina and her team regularly volunteer for the charity. With a touch of sadness in her voice she remembers how, during lockdown "I couldn't see any of my family in Italy – or anybody else apart from my husband and my kids – and they couldn't see anybody either. The sense of isolation was palpable."
Her commitment to Re-engage is long term. "London is where I live," she states, "so I wanted to do something more permanent and that would engage our whole team. We all donate half an hour a week to help the elderly, whether with setting up their email or helping them grocery shopping or simply keeping them company. Older people have fascinating stories to tell." 

– Carolina Bucci.
In a way, Carolina's conversations with her father over the phone helped her keep strong through the difficulties presented by Covid. "He shared many stories with me and reminded me that our business and our family have gone through wars, floods, financial crises… and we had managed to survive them all. That made me think of the many amazing stories that people have to tell so we reached out to our Instagram followers and asked them to submit their favourite jewellery stories. We selected the 16 that we thought were most heartfelt and uplifting and put them together in a book called Carolina Bucci Stories."
The authors were gifted a special piece of jewellery that was also made available to purchase in-store and online. All proceeds of the bracelet went to Re-engage. The book was a Christmas present to customers. Looking at the future, Carolina has very ambitious plans. First of all, she wants to open a store in Florence, where the history of the family company started. Another goal high on her list is to train young people in traditional arts and crafts. "I'd love to start an apprenticeship programme in Italy, so the older artisans can pass the secrets of the trade and their passion for their crafts to the younger generations and all that precious knowledge and artistry would be preserved for the future. It is really sad, but many centuries-old skills are dying."
In her book Carolina Bucci Stories, she collected beautiful narrations
about people's emotional relationships with pieces of jewellery…
It is clear that Carolina has no intention of staying where she is. Whether it is further collaborations with other brands or new collections for philanthropic initiatives, this woman is unstoppable. "The day I stop designing will be the day I am dead. I adore what I do. Every day I have new ideas that excite me and that I want to share with the world."