A new dazzling star on the Rue Saint-Honoré
Words: Lavinia Dickson-Robinson
Who could have possibly thought that the famous Parisian Rue Saint- Honoré, could become any more magical? Like London's Bond Street, the Rue Saint- Honoré is the by word of excellence for luxury shopping; a destination for those who crave true luxury and beauty, and for whom only the very best will do.
On the 24th of January this year Buccellati opened the doors of their latest flagship boutique at number 239 of the elegant Parisian street, at the heart of the Biéme arrondissement . Buccellati has long been recognised as one of the world's most renowned jewellery houses since its conception in Milan in 1919. It has been celebrated all over the world for its sublime craftmanship and breath-taking one off master pieces.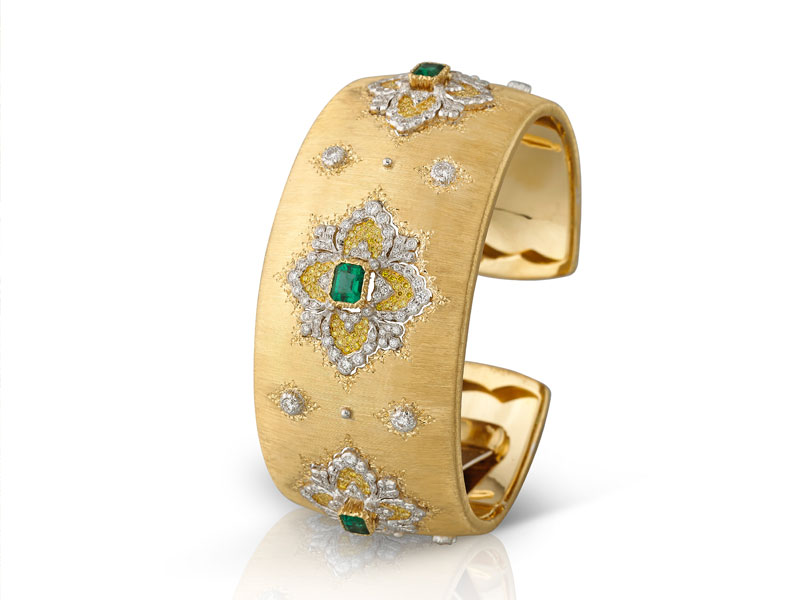 Set into the façade of the iconic Hôtel Costes, four large windows invite you to discover the world of Buccellati. Their wonderful jewels are preciously crafted by the most skilled and experienced artisans in the trade, who know how to bring to light jealously treasured traditions and workmanship techniques, passed over from generation to generation.
Buccellati has focused on the architectonic concept, enhancing the building front with accents of extreme luxury and refinement, where all the Buccellati collections of jewellery, silverware and watches find their ideal location and offer themselves with a renewed splendour.
This Italian Maison prides itself in its use of rare stones, with a strong focus on colour; a characteristic uncommon to many fine jewellery makers. Today, Buccellati jewels are admired worldwide not only for their design and genuine craftsmanship, but also for the house's signature engraving techniques, which date back to the ancient traditions of the goldsmith's ateliers of the Italian Renaissance.