There is a wonderfully vibrant and yet traditional ambiance as you walk into Brown's Hotel. It is a quintessentially British institution that provides a comfort feeling as you walk through the door, knowing that you are in a home away from home. From the greeting by the doorman on Dover Street to Jesús – former head of service at the now defunct Caprice, which is Brown's gain – there is an old-world elegance of service at the place, seemingly without effort, where it appears they know what you want before you do.
The Supper Club is a concept that helps Brown's utilise their elegant Drawing Room – space between the entrance and Donovan's Bar – as well as providing a place where the weary Mayfair travellers might sojourn to rest, recoup, and revive with a libation or two and a selection of small plates of gastronomic fayre to reinvigorate body and soul. The atmosphere is relaxed and informal, a mixture of armchairs and sofas, lower tables, wood panelling and wallpaper printed from William Hogarth's engravings. In the months when evenings are long and the weather outside is something to shelter from, a roaring fire welcomes guests inviting them to chill and unwind, while perusing the menu.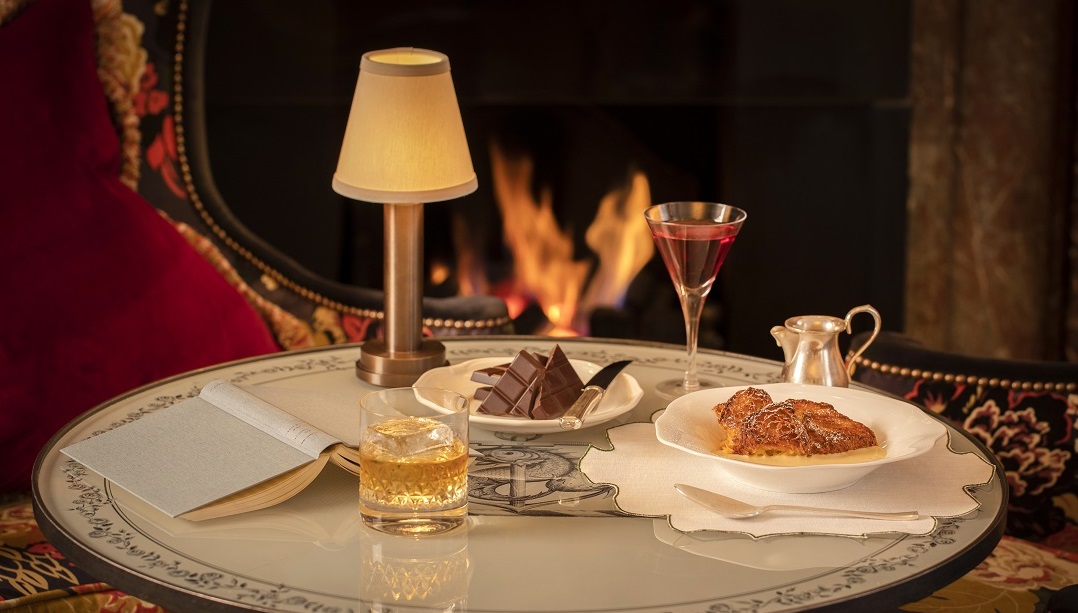 In the colder months, a roaring fire welcomes guests to Brown's Drawing Room.
It is, for all intents and purposes, a London salon. A place where you meet friends and like-minded companions to chat and discuss ideas for the day. London salons (also known as coffee houses back in the 18th century) were an assembly of people held by an inspiring host. During those gatherings, old and newfound guests would amuse one another and increase their knowledge through conversation. Brown's Supper Club is just that: a place where you can while away the time in discussion and sustenance, where the standard of hospitality is the very definition of an inspiring host.
Brown's has a history as a London Salon. Founded in 1837 by James and Sarah Brown, it was originally created out of a set of 11 terraced houses. The architecture of the 11 Georgian townhouses adds character to the establishment, in that each room is distinctly different from another. The hotel is a nexus point in Mayfair thanks to an inside bridge between Dover and Albemarle Street created in 1889, when Brown's was joined to the neighbouring St. George's Hotel.
Brown's past guest list is a veritable who's who of the literary world; where you can imagine Dracula conversing with Sherlock Holmes on the nature of crime, or Captain Hook and Long John Silver comparing notes on piracy. Oscar Wilde, Sir Arthur Conan Doyle, Robert Louis Stevenson, JM Barrie and Bram Stoker were regular visitors in the 19th century. Rudyard Kipling famously wrote The Jungle Book while living at the hotel.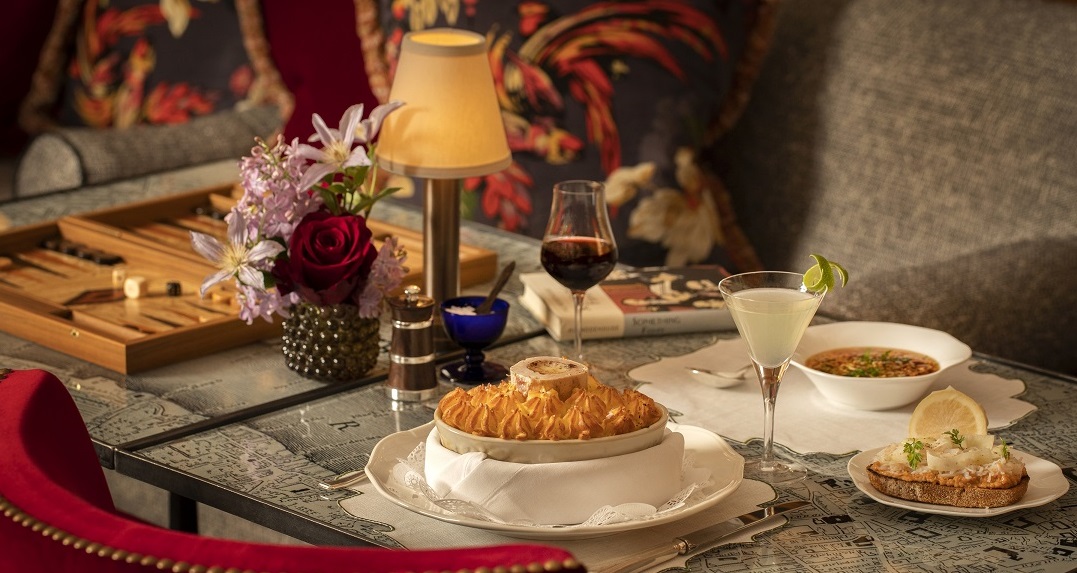 Brown's Supper Club menu celebrates the best of British comfort food adding a touch of invention and flair.
The Supper Club menu – the vision of Michelin starred Chef Adam Byatt – serves up the best of British comfort food, but with an inventive twist. The menu presents home classics, as they are intended to be enjoyed, using only the highest quality local ingredients. My companion for the evening was none other than Stuart Johnson, Brown's Hotel Managing Director, and we set about our dinner with drinks and delicious food, regaling each other with tales of life's triumphs and woes.
Our starter was a selection of small delicacies that were reminiscent of a childhood spent in the warmth of my parent's drawing room for Sunday evening tea. Succulent quail scotch eggs and delectable devils on horseback, accompanied by the necessary gin and tonic, were a throwback to times past, where the drinks arrived in chic glassware via a drinks trolley. Should cocktails be your choice of pre-dinner tipple, Federico Pavan, Director of Mixology, is on hand to create the concoction of your desire.
Our supper followed with a succession of small plates that reminded me of summer and picnics spent in meadows where adventures seemingly never ended. A light, buttery vol-au-vent filled with perfectly cooked vegetables – still crunchy – was complemented with melt-in-the-mouth smoked salmon cakes. Next, we had a fresh and fragrant crab with kohlrabi on sourdough toast, a velvety tomato soup, and a slice of the daily quiche – cheese and asparagus on this occasion. Although a sommelier was there to advise us on the wine to best accompany each dish, my companion (along with myself) decided to keep "working" our way through an excellent, fragrant and buttery bottle of Meursault.
Michelin starred chef Adam Byatt (left) and Stuart Johnson, Brown's Hotel Managing Director (right) in the Supper Club dining room.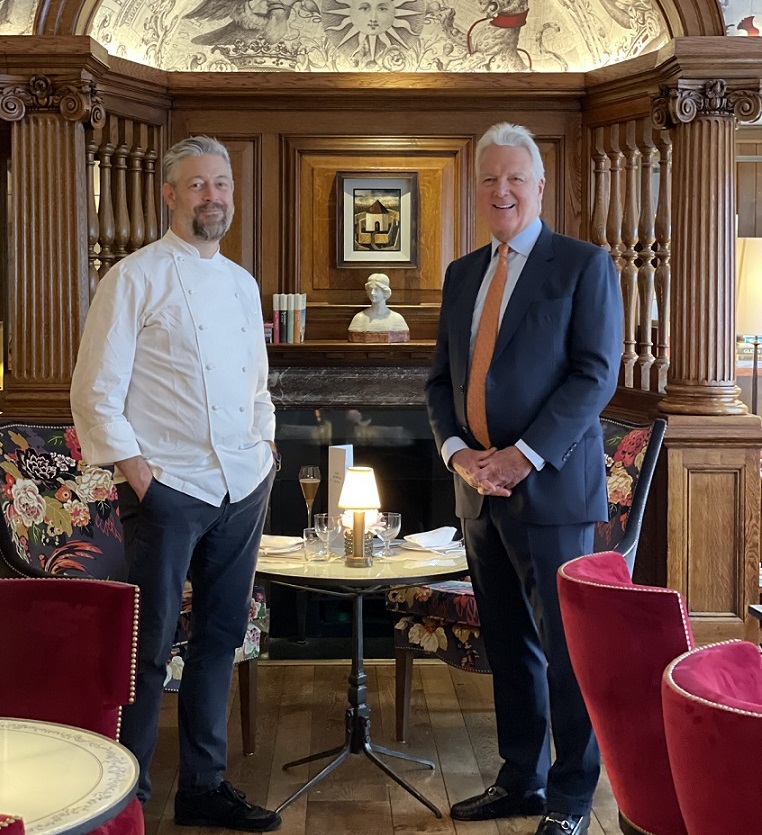 The meal was rounded off with a selection of deserts, each on the same scale as the smaller starter dishes, which means that you can select the morsal of sweetness you desire without the guilt of a "cricket score" calorie count. Like the rest of the menu, sweets are a throwback to the kind of British comfort food my mother would make: soul-imbibing bread and butter pudding, a homesick inspiring slice of date and walnut cake or a lavender shortbread and a "hot toddie". For those of you who are unsure what that is, a hot toddie is a cold defying mix of warmed whisky with honey and lemon; depending on who you talk to, it is guaranteed to help you survive any of the inclement weather the British climate throws at you and may even be a cure for common ailments.
Bidding my dinner companion farewell, feeling considerable warmer and enlivened from the company and fayre, I headed out into the London night. As a frequent traveller to Mayfair and its environs, where the day often wears weary on the body and soul, I feel I will be a regular attendant to Brown's and the comfort of the Supper Club.
Brown's Supper Club is available nightly from 6.30 pm until 10.30 pm in The Drawing Room.
Words: Dr Andrew Hildreth