Aimed at supporting emerging sculptors, the British National Sculpture competition returns for the 11th year with a prize purse tripled to £45,000. In 2009, Rinus and Aniet van de Sande founded the British National Sculpture Prize (NSP) to inspire, motivate and support emerging artists living in the UK. More than a decade on, the prize continues to represent the UK's premier platform for emerging sculptors to showcase their talents by having their work publicly displayed alongside established artists at the Broomhill Sculpture Gardens in North Devon.
Broomhill Sculpture Gardens are part of the Broomhill Estate which lies in a glorious, undulating valley in North Devon, surrounded by hundreds of acres of woodland and bound by its own stream. Considered to be the South-West's most enchanting gardens, the estate features over 200 sculptures, and is divided into two elements: the river meadow which houses the National Sculpture Prize (NSP) and the top gardens which house the permanent collection. Combining stunning art, beautiful plants and abundant wildlife, the garden offers delights at every turn. The estate is also home to a stunning eight-bedroom late Edwardian luxury hotel which is currently under refurbishment and will reopen this summer.
Emerging outdoor artists are invited to submit their work for consideration up until the end of February. From all entries, 10 artists will be selected for the shortlist and awarded £2,500 each to create a sculpture which will be displayed at the Broomhill Estate in Devon for a whole year. The theme for 2021 is Out-thinking the Future. From this list, two winners will be chosen in October 2021. One overall winner chosen by a panel of experts will secure a £15,000 prize. One "People's Choice" winner decided by popular vote will secure a £5,000 cash prize.
The NSP has established itself as a cornerstone of the fine arts ecosystem, supporting and elevating emerging outdoor artists by providing a platform for new talent. Past winners include artists such as Graham Guy Robinson (2012), renown for his "Temporary Fence" series of artworks – ongoing since 2003 and China-born, London-based Tian Zhu (2014), whose work combines light humour with a sharp sense of critique, and she describes as "hiccups – to interrupt and disturb.
"Hiccup" created by Tian Zhu out of her impulse to disrupt, was the winning work in 2014…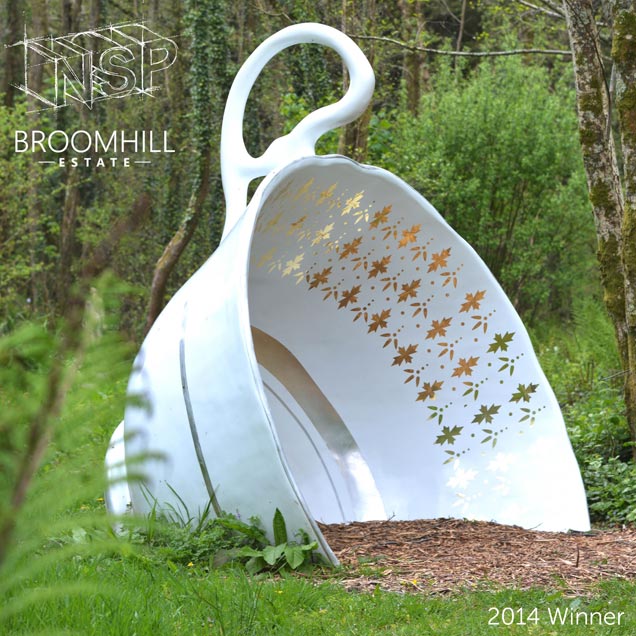 In a change to previous years, it is interesting that the competition is open to all aspiring sculptors and no longer requires applicants to have attended an art college or university. It is a real democratisation of this opportunity.
Now under the ownership of Frictionless Fine Arts Limited, the Broomhill Estate is entering a new chapter and will build on the reputation honed over the past 24 years by continuing and expanding its mission to support the arts. Part of this commitment is the continuation of the this annual competition to encourage and commend new and emerging artists.
London-based artist Jessica Wetherly won in 2019 with her work "The Wild Things Are"
Frictionless founder and CEO Alex F Kleiner III explains: "We have a bold and innovative vision to evolve Broomhill Estate as a preeminent sanctuary for fine arts, broadly defined. The first signal of our commitment to this vision is in affirming our annual sponsorship of the NSP and immediately tripling the purse to a whopping £45,000. It is also our sincere pleasure to name the judge's prize after its creators, Rinus and Aniet van de Sande. The future of fine arts in the UK is frictionless!"

For more info on the National Sculpture Prize and key dates, please visit http://www.broomhill-estate.com/nsp Artists can now register their interest by emailing their contact details and link to social media profile to nsp@broomhill-estate.com and follow #NSP2021 and #NSP.
Opening picture: "Permanently Temporary" by 2012 winner Graham Guy-Robinson.