Eve De Haan is a London based young artist with an incredible appetite for creativity. Having left university with a degree in Theology, Eve has explored many fields of creativity: she has written, illustrated and published a children's book, taken on interior design projects, and produced artwork using acrylics and collage.
Her love of the written word, studied at University, has given her a leaning towards words in her art. She has been influenced by Tracey Emin, David Shrigley, and Martin Creed, amongst others. Her most recent work, a collection of neon artwork for her new brand 'Half a Roast Chicken', reflects her love of the written word.
Eve finds neon, with its brash persona, a perfect medium to accentuate how there are gradients and shades of meaning within a statement. She believes light truly does add shade to the meaning of words. As such, her latest body of work reflects on the imposing nature of technology on youth culture within society today.
Q: Eve, have you always been interested in art?
A: I have always found art interesting. Since I can remember, I have been going to museums; I think that had a huge influence on my taste for art.
Q: What medium did you first experiment with?
A: I started using acrylic on canvas and then I quickly moved onto using acrylic on anything. I dabbled in some illustration, where I used watercolours a lot, and then I moved into neon.
Q: Why did you pick Theology` as a degree?
A: I chose to study Theology at University because I've always had a fascination
with the long answer. I thought studying something that seeks to answer the question "why?" would be interesting, and luckily it was.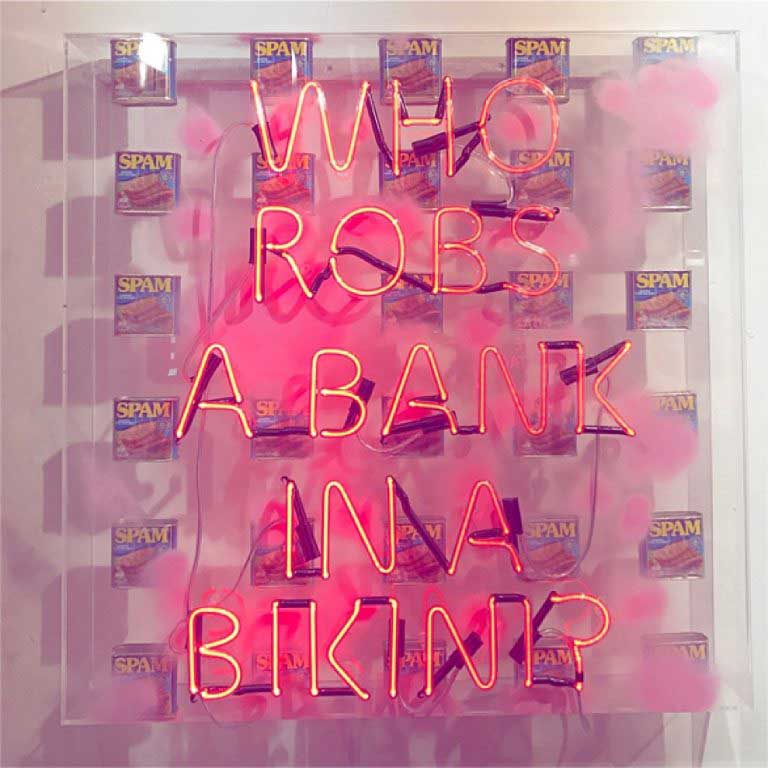 Q: Please explain your art to me in a hundred words or less
A: Most of the time when I make my art, I am solidifying a thought and putting it out there. I like to portray what I consider progressive messages, within my work. Everything has a strong meaning personally, how the viewer decides what it means for them is unknown. My work is usually text-based, – I'm in love with words. I'm fascinated about how, regardless of language, certain words evoke certain emotions; there is a collectiveness within words.
Q: Where do you draw inspiration from?
A: I use inspiration from everyday experiences. The more I look and experience the world, the more things I feel like I have to make. I like using phrases used in conversations or thoughts I have had in most of my work.
Q: Are there other media you are thinking of using for your art?
A: Yes there are so many different types of media I am thinking of using! I really want to get into filming and into making sculptures.
Q: What next for Eve de Haan?
A: I hope to keep making work I love, and to keep evolving in my work as much as possible.

Woodbury House is a contemporary art studio in the heart of Soho which
prides itself on finding new, up-and-coming artists. At its core it wishes
to 'bring art to the masses' through their international distribution model
specialising in blue chip and emerging contemporary art.