Art is in the DNA of Breguet watches. Its founder Abraham-Louis Breguet wasn't just an outstanding scientist, technician and designer, but he is also considered by many the "creator" of the neoclassical style. While the fashion in Paris at the end of the 18th century was baroque, he favoured sobriety and imposed a neoclassical style that was trailblazing for its time. He was also instrumental in developing in watchmaking a refined style with the Breuget apple hands and the introduction of guilloché, which exist to this day.
The art value of Breguet pieces has been recognised internationally, with their watches regularly being part of art exhibitions everywhere from Paris to San Francisco over the past century, with museums as prestigious as the Guggenheim purchasing pieces for their own collections. So nobody was terribly surprised that Breguet would partner up with a big global art fair, but maybe Frieze was not what most would have come up as a first guess. When asked about this three-year partnership, Lionel a Marca, CEO of Breguet answered, "Quite simply because we like the young and avant-garde vision of this event, which stands out by daring to showcase emerging artists alongside established ones. We are therefore delighted with this partnership, which is in line with our vision […] It reflects our values ​​and the boldness that the brand has shown since its inception."
To mark the debut of this association, Frieze and Breguet commissioned artist Pablo Bronstein to produce a series of works, representing his response to the Breguet brand. One of the most influential artists of the last 20 years, Bronstein's work spans prints and drawings to choreography and performance, always with a focus on architecture. His work is held in museum collections including here in London at the British Museum, Tate London and Victoria and Albert Museum; Centre Pompidou, Paris; Brooklyn Museum and Metropolitan Museum of art, both in New York; and the Museum of Fine Arts Houston, Texas.
A Marca said about this decision, "Pablo Bronstein is fascinated with the 18th century, an era which marks the foundations of many inventions. Coincidentally, our brand was founded in 1775 and Abraham-Louis Breguet created many horological innovations that are still used in watchmaking today. It therefore seemed very natural to us to give him carte blanche to express his vision of our brand."
A Breguet Tradition
Quantième Rétrograde
next to an original
"Souscription" pocket
watch, both exhibited
at Frieze New York,
May 2022.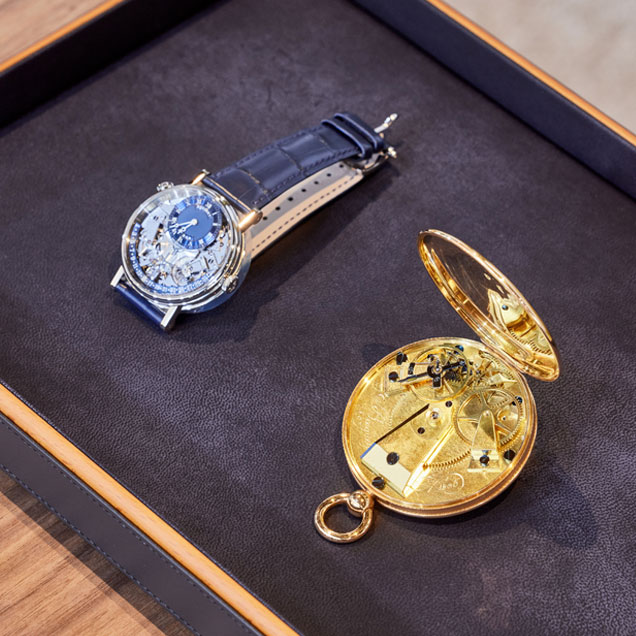 The first artwork in the series Bronstein created for Breguet was presented at Frieze New York in May 2022, followed by Seoul in September, London last October and just a few weeks ago, the last one in Los Angeles. Looking to traditions of both Breguet's watchmaking, and aesthetics of the 18th century, Bronstein created a series of bespoke wallpaper designs. Alongside these wallpapers, Breguet displayed their Tradition collection, paying tribute to the innovation central to Breguet's legacy. In fact, the collection is based on the "souscription watches", which were launched by the brand through an advertising brochure in 1797. These timepieces were sold by Breguet on a subscription basis, and the firm required customers to make a down payment of a quarter of the price when they placed an order. The name came because they were recorded as "souscription" in the sales ledgers. These were reliable and affordable watches, which proved to be a great success. Around 700 were made, with a choice of either a gold or silver case.
As the artist explained to me, "I played on the company's history in watchmaking from the time of its founder Abraham-Louis Breguet. I drew inspiration from scenic block-printed wallpapers such as those made by Zuber in the late 18th and early 19th centuries, influenced by the machines represented in the encyclopedia of Diderot … plus the early 18th century compulsion to decorate everything."
Scenic Wallpaper with Important Machinery of the 18th Century, by Pablo Bronstein, the artist's vision of the time of Abraham-Louis Breguet, exhibited at Frieze New York, 2022.
Although born in Argentina, Pablo Bronstein grew up in Britain, where he came when he was a child and where he still lives. He feels very influenced by Latin culture though, especially Italian architecture and French interiors, things that "are not very English but rather Baroque, very rich and opulent." Hence his fascination with the 18th century, the decorative arts and the interest in knowledge and technology. In the artwork shown at Frieze New York, Bronstein depicted a parade of mechanical innovations performing for each other, decorated by hand and then digitised. From an antique drill and mechanical guillotine to a watch Breguet sold to British monarch George IV and a three-wheel clock conceived during the French Revolution which displays both traditional and Republican calendars, this wallpaper is a synthesis of invention, avant-garde and tradition, placing timekeeping within a wider historical narrative.
"I want to tell stories
that are not necessarily
pleasant, but to do
it in a way that is beautiful."

–

  

Pablo Bronstein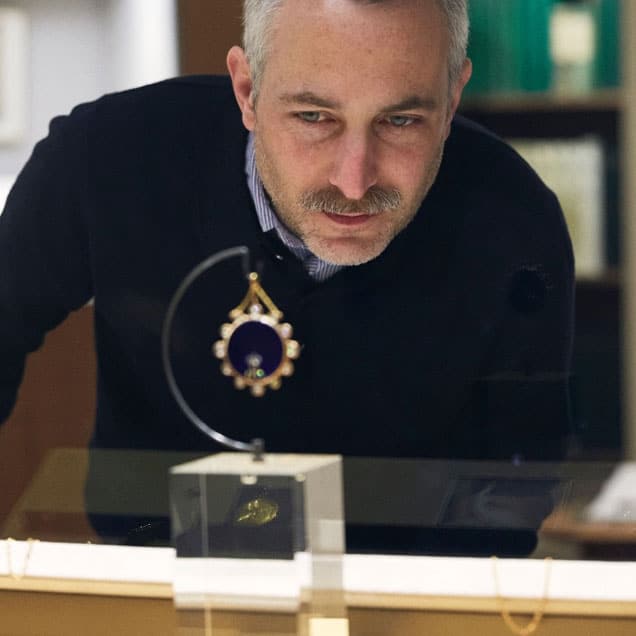 Together with his love for the Age of Enlightment, Bronstein feels a special affinity with post modernism, in particular Italian post modernists, from Gio Ponti – the father of Italian modern design to Aldo Rossi, culminating in his love for 1980s, possibly for the abundance of bright colours, asymmetrical shapes, and playful elements such as broken pediments, classical motifs, and historical references. These preferences manifest in his illustrations of buildings. "I am in the realm of aesthetics. I have no real interest in structure or in how a building stays up. I just love the aesthetic of the building staying up; I love the cranes and the scaffolding and how all of it looks together. I don't really care if they work or not." He explains with a slightly shy smile. "This kind of replay of history and of historical motifs is extremely important in my work."
His interest in timepieces also started from a purely aesthetic point of view. "I've always been fond of clocks and have regularly incorporated them into my work," Bronstein explains. "I like the sculpture around the time device, but now I am quite interested in the inner world of the watch, you know, and that's what the wallpapers I have created for Breguet are about, imagining being inside one of these constructions where everything is a is a machine, a decorative one, but a machine nonetheless."
Pablo Bronstein, Scenic Wallpaper with Important Machinery of the 18th Century: The Golden Age. Presented at Frieze Seoul, 2022.
The advent of the Industrial Revolution meant that measuring time started to have more importance for the working and merchant classes. People had to follow precise schedules and be in places at very specific times. This is how Bronstein connects machines and watches. The connection with wallpaper comes "from the need of people at the time to decorate their houses economically."
I wonder though how he sees time as an artist. He takes a couple of seconds before answering. "I can think of two ways to answer that question. Within the context of contemporary art, we are constantly surrounding by a mixture of objects from different times, a table from the 1980s, a silver frame bought in the 1960s, a chest of drawers found in a flea market from the 1930s… That's what I find amiss in many period films. If they are set in the 1850s for example, everything is from that exact time, while the reality is that in a house from 1852 for example, there would have been furniture and accessories from many decades before." As I look a bit confused, he adds, "What I mean is that from an artistic point of view, I see no conflict between past and present and how they mix together. Now, from a personal point of view, time is the thing I am constantly fighting against. Like right now, because in art fairs, there is never enough of it."
Machines have also been a constant in Bronstein's development as an artist. "One of my first artistic triumphs as a kid was winning at school the 'Car of the Future' competition when I was seven. I had created a weird, blobby yellow car with twisted wires that held a fridge-freezer and a washing machine." He admits being obsessed with the serpentine form, which appears time and again in his work. "The difference is that now I am more aggressive." I mention the giant drill spearing a beautiful watch in his London wallpaper, to which he comments, "Exactly, doesn't that make it more interesting that simply looking at how the watch turns? That is how I feel my work has become more challenging."
Bronstein's panoramic wallpaper at the Breguet exhibit in Frieze London 2022, Scenic Wallpaper with Important Machinery of the 18th Century: Civil War, shows the beginning of the fall of the machines.
His understanding of time and machinery extends to the themes of the different artworks he created for the four Frieze locations, which all together represent the rise and fall of the machines over time. "The first of the wallpapers [New York] depicted beautiful machines of classic proportions." Bronstein explains, "There is a drill, a watch … even a guillotine; and everything is clean, as if preserved in space. The one in Seoul shows the zenith of the machines. They are talking to each other and everything works perfectly.
The wallpaper for Frieze London starts to show the first signs of machine meltdown, mayhem and civil war. By the time we get to Los Angeles, we are in front of a truly post-apocalyptic scene, that indicates the obliteration of the machine era."
The last of Bronstein's works for this Frieze, Scenic Wallpaper with Important Machinery of the 18th Century: Gold Rust, was presented in Los Angeles this last February
This narrative certainly falls in line with Bronstein saying about what he wants to convey with his art, "I want to tell stories that are not necessarily pleasant, but to do it in a way that is beautiful."
I personally found the four panoramic wallpapers spellbinding and full of meaning. They tell a complex story, presented with the most beautiful aesthetics. Exactly like a Breguet watch.