There is an art to producing a skeleton watch. The trick is to remove sufficient material to enhance the aesthetics and completely show the inner workings, while still keeping the movement robust enough to function. Take away too much metal from the bridges, for example, and they could deform and damage the performance of the movement.
The first step, once the components are produced, is to finish them all by hand. They are bevelled and angled in preparation for the next step, the engraving. The art is in the expertise of the artisans, who know just how much material they should remove to achieve the perfect symmetry and shape. Equally, remove too much from the plate and the piece has to be discarded and the process starts over.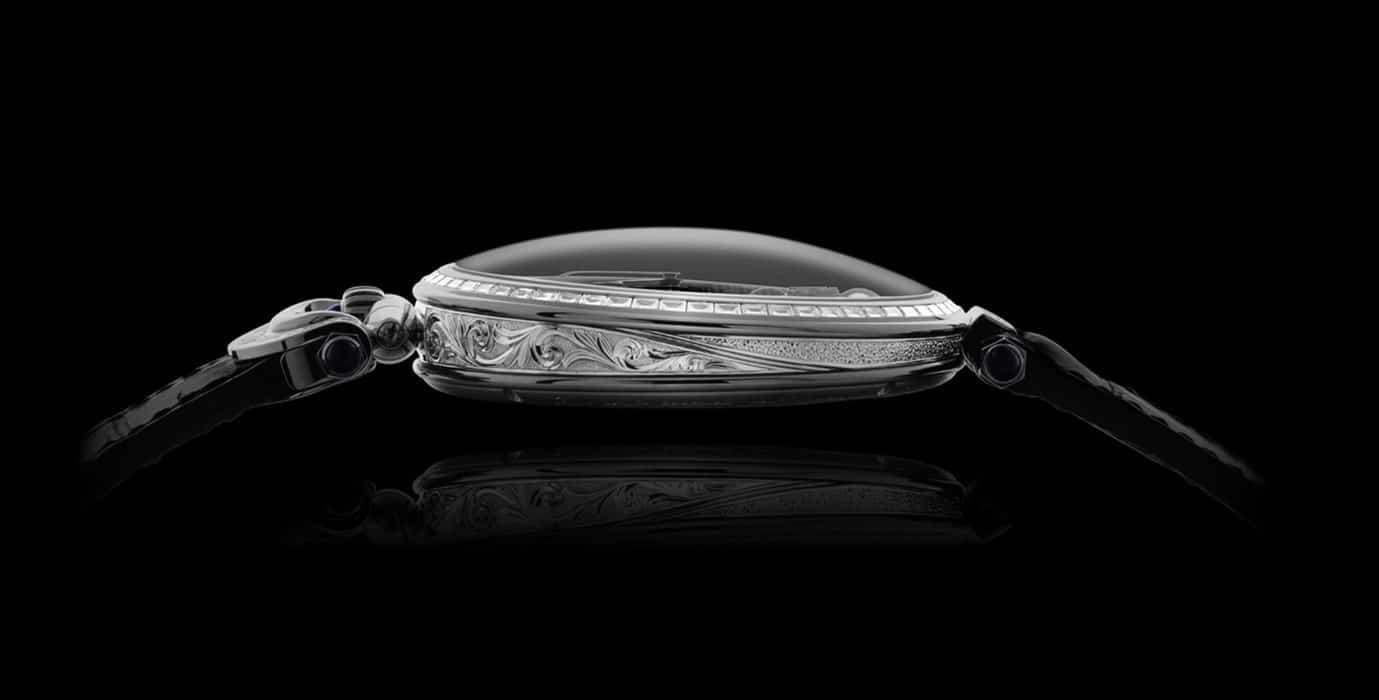 The profile of the Bovet Virtuoso XI is ergonomically design to make it even easier for the wearer to read the time.
As the very first fully skeletonized timepiece by Bovet 1822, the Virtuoso XI flying tourbillon was specifically re-designed to be open worked. The entire movement was conceived as skeletonized. The original gear train was relocated to a more aesthetically pleasing position, and the bridges and plates were made as thin as possible from the beginning, along with using angling and bevelling to add lightness to the visual appearance of the movement.
In the Virtuoso XI, there is enough space between the bridges and plates for them to be engraved and admired.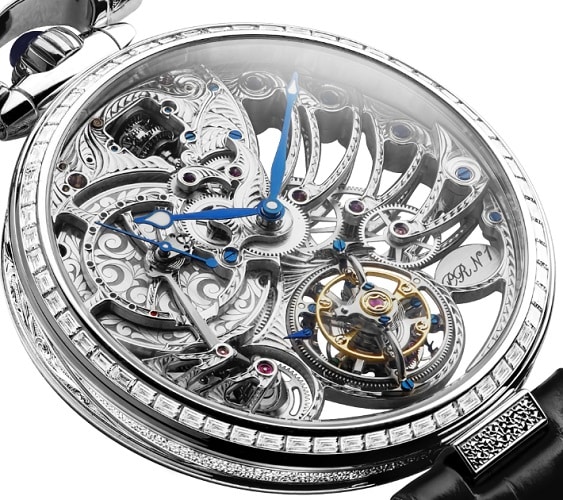 At the insistence of the owner of the company, Mr Raffy, both sides of the calibre's components were engraved. Normally with skeletonized watches, all the parts are often tightly packed, making all that engraving too difficult and also not visible. In the Virtuoso XI, a lot of thought has gone into making enough space between the bridges and plates for them to be engraved and admired.
The movement is made entirely in-house, from the patented double-side flying tourbillon, including the hair spring and other escapement parts, to the single barrel that ensures more than 10 days of power reserve, with its double-patented spherical differential winding system. The system is ingenious as it reduces the number of turns of the crown needed for full winding, without increasing the friction and forces exerted on the gears.
The new Virtuoso XI comes in a 18kt white gold case, with the option for engraved or peerless polished surfaces, and set with brilliant white diamonds or unset.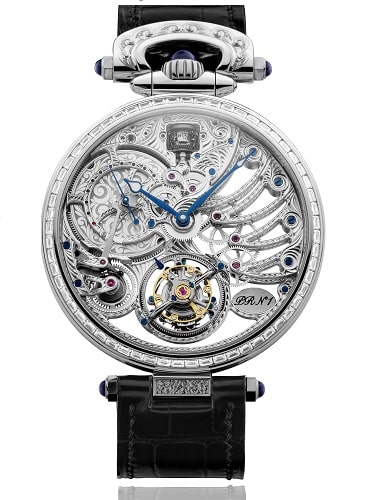 The Virtuoso XI is a triumph of high watchmaking, skeletonization, hand-engraving and hand-decoration. All told, more than 60 pairs of human hands have come together to transform this timepiece into a true work of art. The hand-engraving takes around 60 hours, which is done freehand, leaving no room for error. The production of the Virtuoso XI is severely limited, with the artisans only making one or two a month. POA.
Words: Dr Andrew Hildreth