The iX series represents the pinnacle of the BMW Group electrification strategy. With ranges of up to 380 miles (in ideal conditions) on a single charge, luxurious interior and all the tech you could imagine, these cars are truly changing the experience of electric driving.
I took an iX xDrive50 Sport with the M trim all the way to the Holkham Estate in Norfolk to have ample opportunity to check everything in it, from front headlamps to boot space, driving assistance systems… and of course, its range. I comfortably made it all the way to my destination (150 miles) using around half of the juice (I had started with 95 percent). It was a great relief not having to look for charging points on the way. Despite all the efforts made by car brands to improve the quality of their electric vehicles and the driving experience, the truth is that in Britain, the infrastructure is disappointing (a million different suppliers, all of which require a specific app and all your data, charging points which don't work, those which don't recognise the model you are driving, etc, etc). Aware of these problems, BMW offers for a year subscription-free access to "BP pulse" and "Ionity Plus" with special rates and only one app.
The Holkham Estate is fully committed to sustainability and as such, are installing chargers in public areas.
Range and efficiency are further improved by "adaptive recuperation", which means that the car cleverly recovers energy whenever it cans (i.e., when breaking) or saves it (i.e., letting the car "freewheel" when the driver lifts their foot off the accelerator). I noticed that the iX optimises the temperature of the battery which helps to maximise its range and minimise charging times. Actually, in a fast-charging point, it can go from 10 to 80 percent charge in 35 minutes.
The titan bronze exterior trim combined with the metallic aventurine red added to the avant-garde design aspect of the iX xDrive 50 M Sport I drove.
In terms of aesthetics, the iX seems to me as if BMW had combined the best of the X5, X6 and X7 to create a striking SUV that cries "designed-within-an-inch-of-my-roof". For starters, it has an imposing look accentuated by the almost completely blanked-off BMW kidney grille and its full LED headlights, which are the slimmest units ever in a BMW. I found luxurious details everywhere in my iX, such as flush-fitted door openers, ventilated front seats, soft-close doors, sun protection glass, Sky Lounge panoramic glass sunroof, seats with integrated head restraints and 22″ bi-colour aero alloy wheels.
The feline look of the BMW iX is accentuated by the blanked-off kidney grille and the ultra-slim LED headlights.
I noticed how incredibly silent the cabin is, which, together with its contemporary design, spaciousness, and luxurious feel, it seems to belong in the pages of an "interiors" magazine. If total silent is not your thing, the car comes equipped with BMW Iconic Sounds Electric vehicle sounds composed in collaboration with Hans Zimmer. Or you can just drive to the beat of your favourite playlist, as all iX models come with a Harman Kardon entertainment system as standard, but if desired, can be upgraded to a Bowers & Wilkins Diamond Surround Sound System. This system features speakers integrated out of sight in the head restraints and a 4D Audio function using bass shakers in the front seats… think of the sound at a concert hall and that is pretty much what you get.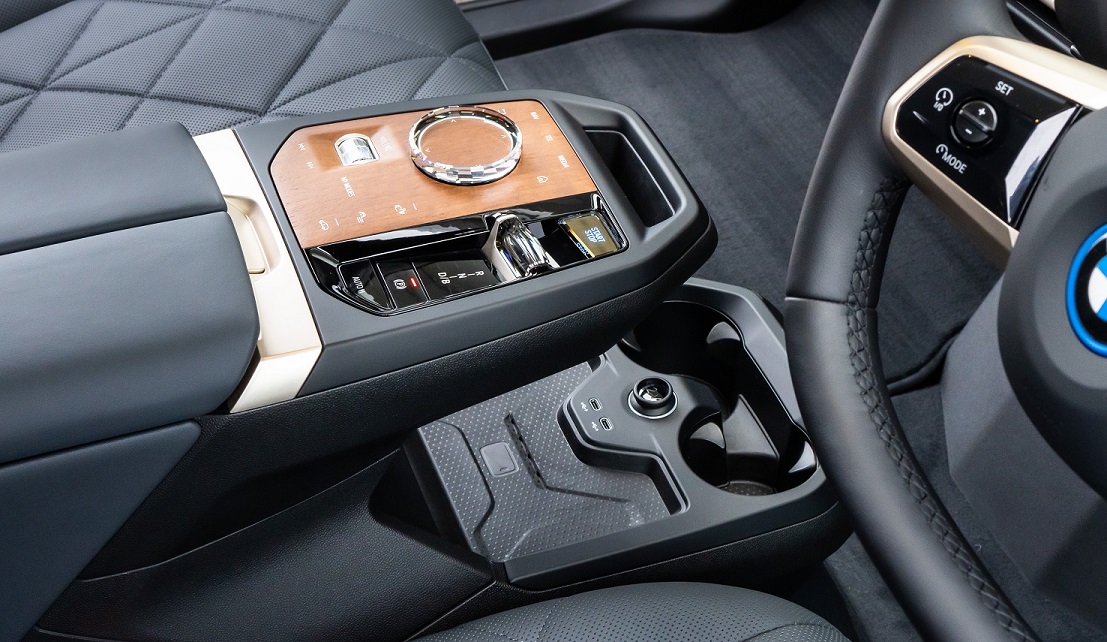 The absence of a centre tunnel creates extra legroom and space for storage.
Driving wise, in Sport mode it really feels like a sport car (the air suspension has a lot to do with that) and thanks to its intelligent all-wheel-drive system, moves effortlessly in both motorways and country lanes, even those more often frequented by agricultural machinery than by passenger vehicles. Five adults can comfortably travel in its spacious cabin and, although the boot is not enormous, it is enough for everybody to fit their luggage and a few extras. The power transmission ranges from highly efficient pure rear-wheel drive through to an all-wheel-drive set-up that maximises traction. Performance is not an issue either. With 523hp and a peak torque of 765Nm, the iX xDrive50 has true fire in its belly and will go from zero to 62mph in just over four and a half seconds.
Special attention has been paid to materials. Aluminium and carbon fibre-reinforced plastic (CFRP) make the car be more rigid and lighter at the same time, which helps bring the car's drag coefficient down to just 0.25, with a positive impact on efficiency and range. A high proportion of secondary aluminium and reused plastic also contribute to the resource-efficient production of the BMW iX. Its interior uses FSC-certified wood, leather tanned with olive leaf extracts and other natural materials. Recycled fishing nets are among the raw materials used for the floor coverings and mats.
Materials have been carefully chosen to be as sustainable as possible and at the same time, look and feel luxurious.
All the tech onboard is intuitive and easy to read thanks to the new BMW Operating System 8, with many functions automatized in case you are not in the mood to take any decisions. But if you are, there are endless possibilities to how you can dialogue with the car and tailor all functions to suit your needs and preferences. They've even angled the screens towards the driver to make them easier to read and use. The Navigation system uses BMW Maps and Augmented Reality Video so it is almost impossible to take the wrong road… as it is to hit anything! There are five cameras, five radar sensors and 12 ultrasonic sensors to monitor the vehicle's surroundings together with all kinds of warnings: front collision, lane and exit control for the sake of cyclists and pedestrians alike, parking, reversing…
All iX models are equipped with Driving Assistant Professional, Parking Assistant, BMW Live Cockpit Professional, climate comfort windscreen, four-zone air conditioning, heated front seats and wireless phone charging together with a vast array of options organised in different packages. Tech lovers will squeal with pleasure at the features that come with BMW Digital Key Plus which allows the car to unlock itself and start the vehicle without you having to take your iPhone out of your pocket. Up to five other users can share on of these digital keys, so no worries about having to lend your phone to anyone. Don't worry, data is not shared between drivers. You only have access to your own.
BMW iX xDrive50 M Sport. OTR from £94,905.
Learn more HERE.