By Victoria Macmillan Bell
The cabin interior on the 750i is a beautifully crafted, classy place and I go back to the aviation link – the detailing, finish and ambiance is strikingly similar to an executive aircraft – no coincidence that Designworks, a BMW Group company and Pilatus have been working together for over 10 years.
And it's the same power unit in this 7 series that we have in the M850i with the piquant exhaust notes but a dynamically different car given that this is in a saloon weighing in at just shy of 2 tonnes.
Extraordinary to think this will propel you from 0 – 62mph in just 4 seconds and that it does so with such refinement is impressive.
Let's look at the list of innovations BMW have added to this consummate professional of luxury limousines. Firstly, a button on the standard key will guide your car in and out of your garage and parking spaces without you being on board. The autonomous 7 Series is surely just round the corner. Can we dispatch it to meet the shareholders do you think?
A few simple hand gestures directed at the multimedia screen will allow you to dial contacts, forward messages and control volume – is this the beginning of the removal of buttons and the introduction of hand signals – a new language?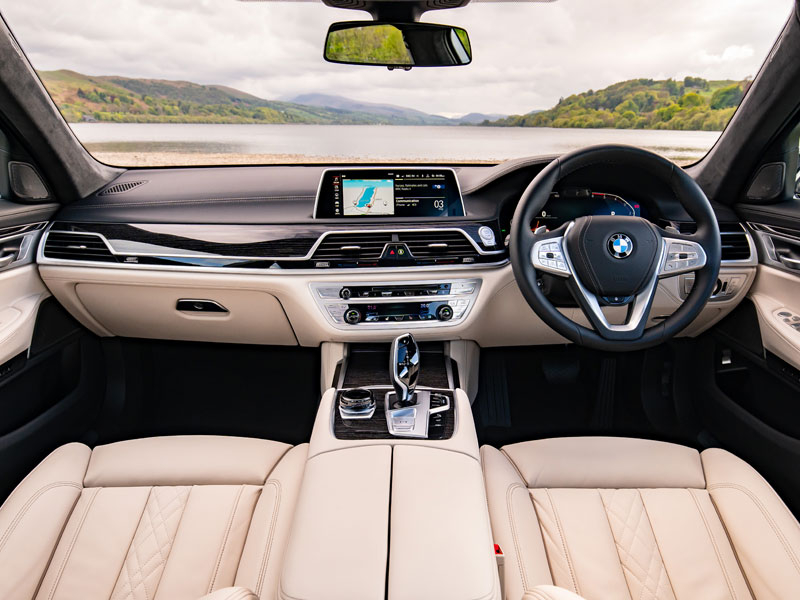 Voice recognition – BMWs answer to Siri and Alexa, also allows you to talk to your car.
Passengers in the rear can make use of the integrated pull-out table and Touch Command tablet computer to control just about everything in and around the car from massage seats to destination guides – in total 24 different commands at your disposal.
Along with the 10.3" Infotainment touch screen up front, there are dual 10" screens on the seat backs with Blu-ray connectivity.
You're now in the 'Executive Lounge' and can enjoy a full leg stretch if there's no one in the seat in front.
Here you can adjust the ambient light via the Sky Lounge, ambient mood via the Air Package fragrance selection – the list is endless, I could go on.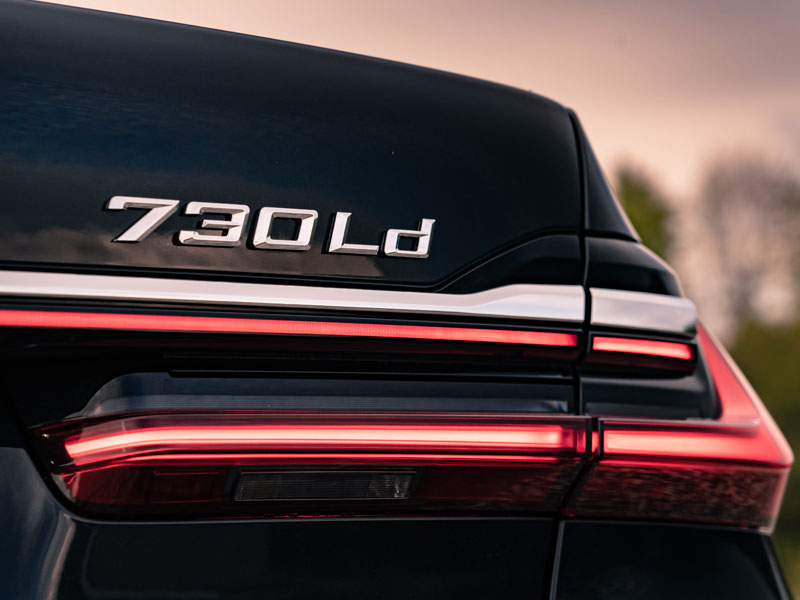 But we need to mention the front-end redesign. A feature you can't miss is the sizeable chrome grill behind which lie vents that open and close to cool the engine. Given that this is BMW's luxury flagship and the shared DNA with Rolls-Royce, it may take a bit of getting used to but somehow it doesn't look amiss.
BMW 7 Series Saloon priced from £69,595.
www.bmw.co.uk