Standing proud on the rugged Northern Irish coast, we find The Old Bushmills Distillery, home to the oldest single malt Irish whiskey. Surprisingly for some, this ancient distillery was the first one to name a woman Master Blender, Helen Mullholland.
Helen is the current custodian of traditions that have been passed down from generation to generation over the distillery's 400- year history. In 2018, Helen was the first woman inducted into the Whisky Magazine Hall of Fame. I was lucky enough to interview her over a tasting of the Bushmills range of award-winning Irish Single Malts and learned lots about whiskey, the arresting beauty of the north of Ireland, and why not to do this ever again before noon.
Helen's story at Bushmills began in 1993 in the small laboratory at their distillery after graduating with a master's degree in science. Rumour has it that her initial impression of the place was "magical." She explains it with clear love in her voice, "It is an area of outstanding natural beauty on the very North Coast of Ireland, just a few miles from the Giant's causeway, blessed with a unique microclimate. As you step through the gates, you turn a corner and immediately see the whitewashed buildings and stone warehouses with the beautiful reservoir in the background. You feel as if you have stepped back in time. At Bushmills is all about the people, the pride, and the heritage, so working there you feel as if you are part of history."
Over her nearly 30 years career, Helen has developed a nose that allows her to understand the characters that shape the final Single Malts. Working in harmony with nature, she cares for the spirits to develop intricate notes, aromas, and flavours and famously introduced an acacia finish to one of Bushmills' Single Malts back in 2018. "One of the real joys of my job is to pick the woods," she shares, "I always had a passion for acacia because it gives spice and warmth. That whiskey turned out exceptionally well. It is all about working with the spirit, picking the exact cask, and getting the very best out of the flavour. We're never in any hurry at Bushmills, our whiskey remains in the cask until it's perfect."
The whole "from grain to glass" process as they call it, is completely natural. "We distill, we mature, and we bottle," states Helen, "every drop of our whiskeys is triple distilled from 100% Irish Malted Barley in copper pot stills to create our signature smooth velvety taste. I love that I have the freedom and the budget to choose any casks I want. I normally use bourbon and sherry casks as my building blocks. The bourbon casks come from America and the sherry casks are built with oak picked by us. We then lend them out to mature sherry for two and a half years and then bring them back to use for our whiskeys. We also use Port casks for our 16 years old and Madeira for our 21-year-old." It seems that wood is really crucial as it can give up to 80% of the flavour to the spirit that eventually becomes whiskey. However, the results can be unpredictable. As Helen explains, "Sometimes you get two identical casks filled with exactly the same spirit which should taste exactly the same but they don't. This is part of the beauty of working with a living, breathing thing."
Helen actually sees herself a bit like the guardian of the thousands of stories that the casks at the Old Bushmills Distillery keep in their bellies. She sees it as both an honour and a responsibility, "You don't want to be the blender that got it wrong." Heritage and craftsmanship are everything to the distillery. After almost 30 years, Helen still sees herself as a newcomer. "People here live and breathe the distillery. My work is much easier thanks to their experience which helps me with my job and to ensure I leave a worthy legacy behind in the various casks, finishes, and brands that I bring out; a legacy that will help future blenders."
This sense of heritage and belonging that any good blender develops means that job opportunities are few and far in between. When Helen started in her position, there were only three blenders in Ireland. "We tend to stay in role," explains Helen, "once you get to a position like this, chances are you'll keep it for all your career, probably 30 or 40 years."
Bushmills have the largest stock of aged malt in Ireland and the largest number of casks finishes available, hundreds of thousands sourced from all over the world in which to age their whiskeys. Helen's aim is "to provide a whiskey for everybody."
Time to sample the Irish Single Malts that so carefully Helen looks after or as she calls it, "awake the sleeping spirits". She describes the process of sampling and choosing whiskeys as a sensory journey of sight, smell, and taste.
First, we tried Bushmills 10-Year-Old Single Malt, (RRP £35) which made me think of my grandmother's kitchen, where there was always something baking in the oven. I could easily notice the sweetness of honey and vanilla and even a touch of apple. On the palate, it felt gentle and smooth and at the very end, a bit like melted chocolate. Helen explained that this golden coloured whiskey is aged in bourbon and sherry casks –the latter giving it its ripe fruit tones. This is the liquid she uses as the building block for all the other whiskeys she blends. She recommended I added a drop of water to break the tension of the liquid and release its aromas. If like me you are a whiskey beginner, this is the one for you.
Bushmills 16-Year-Old Single Malt (RRP £80) feels very different, from the red colouring to the dark chocolate notes on the nose. Sultry and spicy in flavour, this whiskey spends 16 years in bourbon and sherry casks before being finished in port casks (which gives it the red tint) for a period between nine months and a year. When you smell it, you feel the warmth of the port straight away with notes of vanilla and spice. The taste is robust and complex, with almond and a bit of chocolate, caramelised fruits and, according to Helen, even a bit of leather. She recommends you add an ice cube to open up the flavours.
The jewel in the crown, Bushmills 21-Year-Old Single Malt.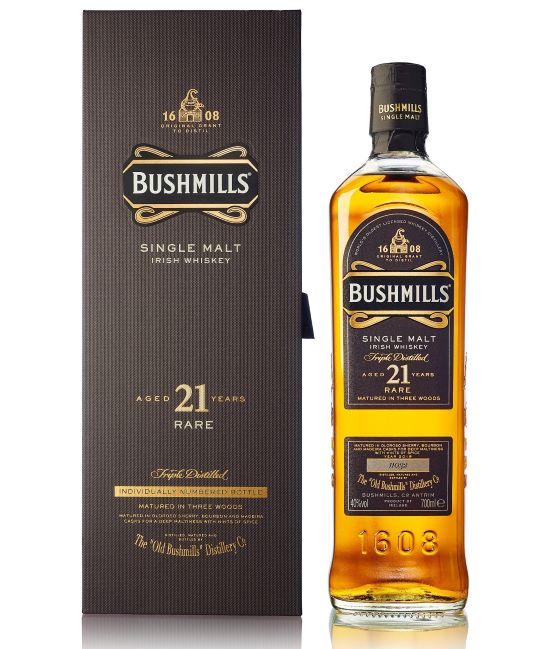 Finally, the whiskey for real experts and very special occasions: Bushmills 21-Year-Old Single Malt (RRP £160), an amazingly rich whiskey with an elegant golden colour and a terrific nose. Matured for 19 years in former Oloroso Sherry and bourbon-seasoned barrels, the whiskey is then finished in Madeira casks for a further two years. The result is a liquid with a huge depth of flavour, a dramatic combination reminiscent of Christmas cake, dried fruits, and spices with a touch of toasted wood and mint-like finish at the very end. In Helen's opinion, "this is the most luxurious tasting whiskey you'll ever come across. It has a beautiful smoothness and a lovely mouthfeel. When you taste it, it is all about the almonds, the raisins, the toffee coming through with a touch of vanilla and a strong lingering finish that brings the wood back." Her recommendation is that we just drink it neat.
The Bushmills Irish Whiskey collection is available from specialist whiskey retailers, including Master Of Malt, The Whiskey Exchange, The Whiskey Shop, and Hedonism.