Few books have had more impact on society than George Orwell's 1984. Published in June, 1949, Orwell's portrait of a dystopian future quickly become an iconic read, often included in the syllabus of schools and colleges, maybe because although the book describes a theoretically made-up world, a lot of it feels creepily familiar.
Publishers of limited facsimile editions of literary manuscripts SP Books have produced a limited edition of Orwell's 1984 manuscript, which has been held at the John Hay Library (Brown University, Providence) since 1992. After Orwell's death, his widow Sonia visited his last home on the Hebridean island of Jura, where she found the 1984 manuscript. She donated it to a charity auction in London in June 1952. The manuscript was purchased by Scribner's of New York, then sold to bookseller and rare book collector Daniel G. Siegel in June 1969 (the June thing spooks me too). In 1992, Mr. Siegel gave the manuscript to the Brown University Library (Providence, USA). It is the only substantial Orwell manuscript that survives.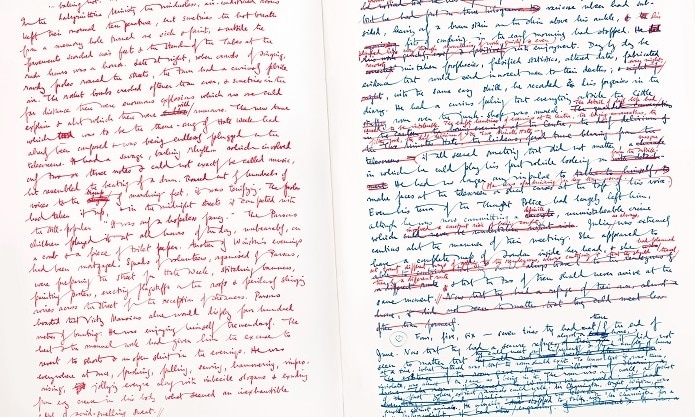 The manuscript reflects Orwell's creative process during World War II and its aftermath, as well as five years of health struggles, the loss of his wife, and his doubts while writing.
Unfortunately, only about 44 percent of the final text survives and according to Orwell's biographer D.J. Taylor, "What remains derives from four different sources. (…) The manuscript of Nineteen Eighty-Four is a very curious piece of work: incomplete, chaotic and oddly provisional. As such, it reflects the highly unusual conditions in which it was written". Several pages in the manuscript were cast aside by Orwell, such as a scene in which Winston and Julia come across each other after leaving the flat (p. 66); or the lynching of a black woman in the propaganda movie watched by Winston. Other passages reveal Orwell's self-censorship "on grounds of possible racial prejudice or taste." (pp. 17-18)
Of the 197 remaining pages of Orwell's manuscript, 183 are hand-written and 14 are typewritten, with unedited passages.
The story of how 1984 came to be is quite tortuous. Due to many crises in his personal life, including the sudden and devastating loss of his first wife, Eileen, and his increasingly fragile health, it took Orwell more than five years to create his final masterpiece. Although he conceived the basic plan for 1984 late in 1943, it was not published by Secker & Warburg until five years later. Many of the essays Orwell wrote during this period, such as "You and the Atom Bomb" (1945), "Freedom and Happiness" and "Politics and the English Language" (both 1946), were crucial to the novel's development as it was the effect of World War II and its aftermath in the author's creative process.
I read 1984 when I was 16, a time during which I was a teenage literary sponge. I had read other dystopian novels before, such as Fahrenheit 451 by Ray Bradbury and A Brave New World by Aldous Huxley, both of which I loved, but there was something about 1984 that made it particularly spine-chilling.

The novel's all-seeing leader, known as "Big Brother", is a universal symbol for intrusive government and oppressive bureaucracy. The society it describes is one where the so-called Ministry of Truth kind of rewrites history books, press articles or whichever it needs in order to obliterate independent thinking. Big Brother watches everyone. Propaganda sinks into people's minds as they are fully distracted by their small lives and the rubbish they see in media, which is all about sport, scandal, astrology, sex… and which hits them from all angles, so nobody really has the time or the appetite to care much about politics, science or history. Facts and dates become blurry and the Party is praised for the efforts is undertaking to make Oceania (the name of the country) great again. Sounds familiar?
Hand-numbered from 1 to 1,000, SP Books' deluxe edition of 1984 in Oxford blue is presented in a large format handmade slipcase and priced at just £170.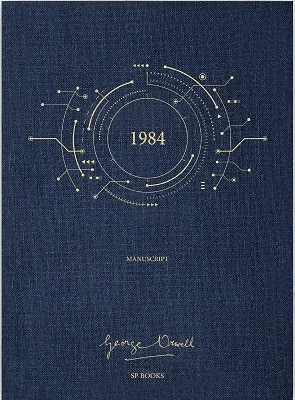 This deluxe edition by SP Books with foreword by D.J. Taylor is an absolute delight, a book that I promise you'll cherish for the rest of your life. I have a copy and it has become one of my most precious possessions. Numbered from 1 to 1,000, this Oxford blue edition is presented in a large format (25.4 x 35.56cm), with a handmade slipcase. Printed with vegetal ink on eco-friendly paper, each book is bound and sewn using only the finest materials. At just £170, this is an unforgettable gift to yourself or to anyone who loves the written word. Get your copy HERE.