Beth Cullen-Kerridge is warm and sunny, like a mid-summer day. Confident and humble at the same time, caring and terribly down to earth, Beth is one of those people that you simply cannot not love. Artist, mother, wife, Beth goes through life leading with her heart. And it shows.
I went to see Beth in Marlow, where she lives with her husband Tom and her son Acey. All energy, her eyes crinkling with the corners of a smile that is never far from her face. We started talking about family.
"I am very family orientated, I have a very close and artistic family", Beth shares, "my brother makes beautiful things out of wood and other materials, my sister paints –among other things-, and my father is a painter. But back in his day, when he was at art school you had to learn all the art trades: ceramics, life drawing… he was taken out of school early and went to art school at 11, what was unheard of so he was a bit of a legend. He became a potter in Stoke-on-Trent. He has amazing skills. We go together to Italy and carve together. It feels incredible. We are on the same wave length when it comes to art.
As a teenager I tried to deny my calling and go any way but into art. Eventually I realised art was meant to happen and went to John Moores Art College in Liverpool. I started in painting and all my work involved textures and materials that made them come out of the wall so my teacher thought I was in the wrong department and moved me to sculpture, where I thrived. I couldn't stop working. At 5 they'd turn off all the electrics for health & safety and I would run cables all throughout the college to be able to carry on. I had the longest extension cable in the country!"
Watching Beth talk about her work clearly shows how passionate she is about it. As an sculptor, she has worked with many different materials, and I wonder in she had a favourite from the beginning.
"In Liverpool I did a lot of wood" she explains, "because it was cheap and I could make big stuff really fast. John Moores University was fantastic. There was not a house style so they encouraged us to be ourselves so I could focus on sculpture. I moved on to do a two years course on bronze casting at the Royal College, which was really hard as you basically work as a founder. It was a great place, Paolozzi came in every month, and a Giacometti sculpture came in too… I didn't feel as if I was being taught there, I felt I was set free. I gained my skill there. I wasn't skilled until then really. At the time I felt a bit like a fraud. I had done a bit of wood, a bit of bronze… For the end of college exhibition, I combined both and kept all my work secret and only discovered it at the very end. It was really well received. I sold out. It was incredible. Even the editor of Harpers & Queen bought something! I was on fire. Bronze casting is seen as old school but everybody was loving it. I had a sculpture in Holland Park, Battersea Park… and they were arguing over which pieces to have. I still can't believe it.
From there I went to Anthony Caro, who used to work with Henry Moore. He was my mentor. He saw us as bringing a young vibrancy to him and his work. We were his young helpers who could move things around – he was in his late 70s at the time -. I learnt so much with him! Partly because he didn't make sculpture, he made better sculpture because he didn't make it anymore. He demanded more from the materials than any of us and we had to fit it together. For instance he'd get a big heavy lump and balance it on a pin. We, the young helpers, had to work out how to do that. He pushed the boundaries of the mechanics of sculpture. It was a wonderful time in my life.
Beth is married to Michelin starred chef Tom Kerridge. I can't but wonder how these two met.
Beth smiles: "I met Tom when I was 27, still working with Caro. We were engaged after only 7 weeks. Up until then I had not been bothered with the idea of marriage. With Tom it felt different. It was such a relief to find somebody that was as ambitious as I was. We could support and understand each other."
When asked about the time they spent in Norfolk, she explains: "We moved to Norfolk because Tom couldn't get at Head Chef position in the London area at the time. We only stayed 18 months at Adlards in Norwich but kept a Michelin star while we were there. I had time so I did a lot of work in the house, from tiling to installing windows. It felt as if I was doing a kind of sculpture, like you have interior design, this felt as interior sculpture.
Actually at the moment I have a few projects of that kind going on. I think that if I hadn't succeeded in sculpture or if we had not been so successful with the pub, I would have chosen home development as my job. I love it and I think I am good at it."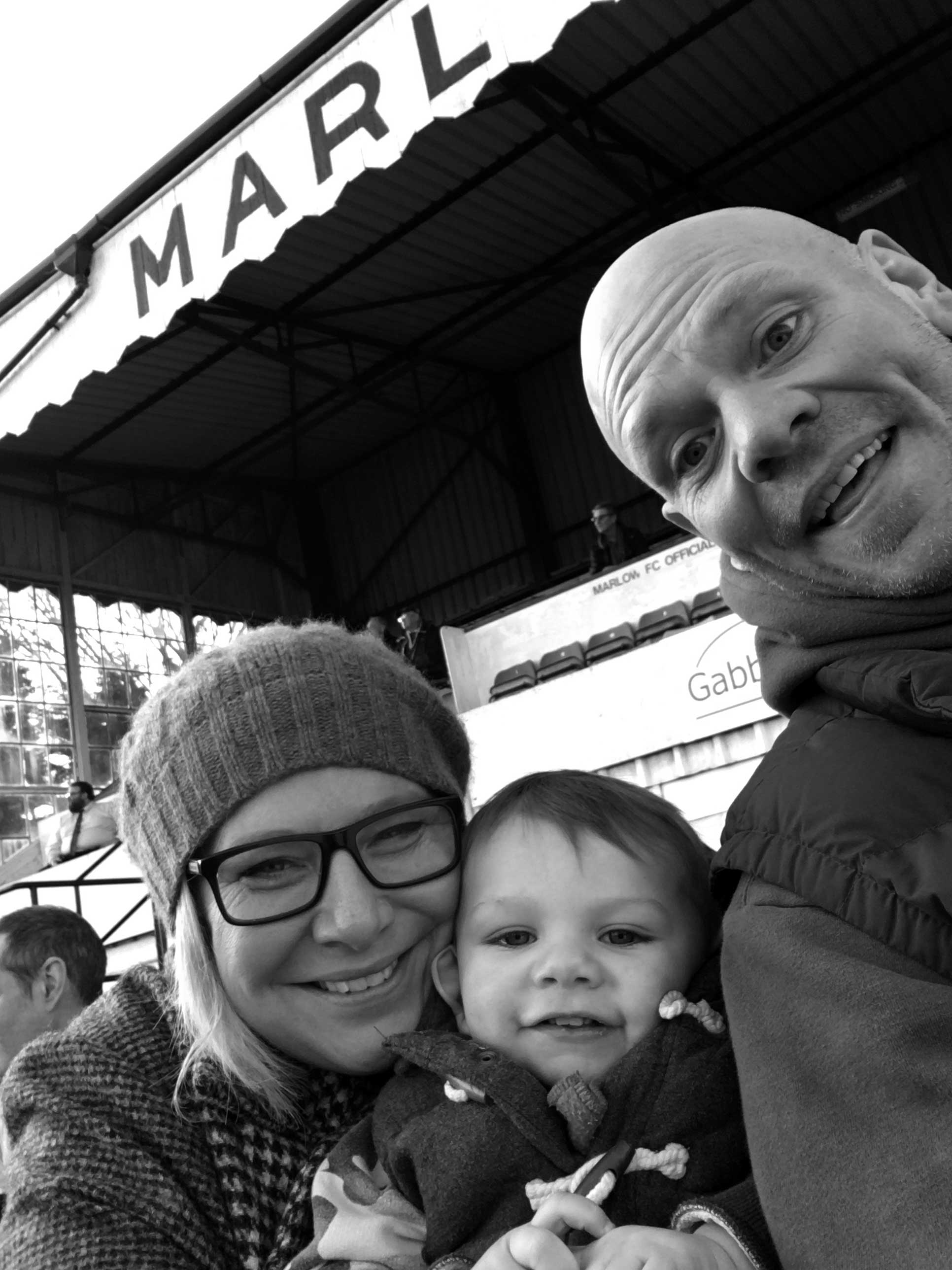 I am curious about why they left Norwich after such a short time and Beth explains that there is not great mystery to it: "Well, Tom was a bit lost. He didn't know what to do after keeping that Michelin star at such a young age. For me it is different, as an artist I can't imagine myself retiring or getting to a point that I don't know where to go next. Sculpting is part of me. I will never stop. I will just make smaller sculptures [laughter]. So at that time, I told Tom I thought it was time for us to open our own place. I offered him 3 years of my time without sculpting to fully get involved in the pub. I was the accountant, the maintenance man, the floor manager, the PA… I wanted that Tom could concentrate fully in his cooking and nothing else. In any case, there weren't many of us at the time so we all have to do several jobs at the same time. I had actually managed a restaurant before, one summer in Greece, when I was 21. So I was confident I could do it for us.
The Hand & Flowers is a beautiful pub in postcard pretty Marlow. When asked about how they found it, Beth smiles and says: "Oufh! It took me over a year. I think I saw around 30 places. There was always something that wasn't right. One day we went for dinner at a pub in Gloucester with a Michelin star –up till then I didn't know a pub could get a Michelin star- and thought that was what we should do, because with the support of the brewery we wouldn't need such a big investment, there would be a bit less pressure. 2 years later we had our first Michelin star; after just 10 months of being open! From that point I tried to pull back and get less involved. Now I just do development and stay in the background in case I am needed.
As I started to free more time for myself, I started to do man-size pieces in our back yard. They stood there in wax for over 2 years because I couldn't afford to get them done. What I like of that time is that my working was reacting to the business world in which I was also working. At that point I was a businesswoman more than anything else. Then in 2012 we got our second Michelin star. However we were still struggling. Can you believe it?"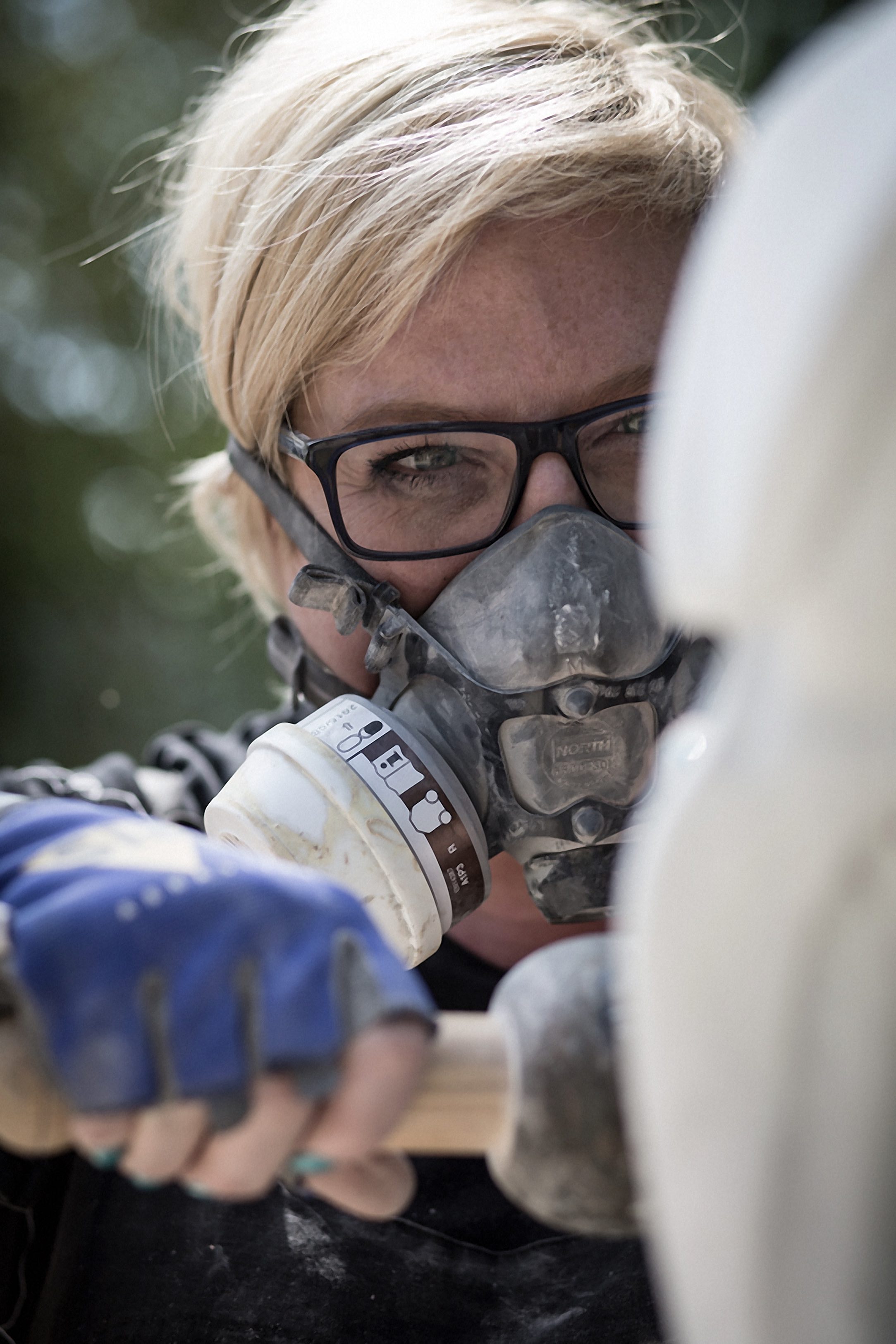 I can only imagine how little time she must have had for sculpting, with so much on. However, she seems to see it as a very positive experience: "Well, that experience actually gave me something to say as a sculptor. I can make anything look beautiful." She looks pensive and adds, "Actually, once, Tom challenged me by giving me a bunch of bits and pieces from the kitchen and challenging me to make something beautiful out of it as a present for some friends who were going back to Australia. I made a small beautiful sculpture called Dancing Pans. I think our friends liked it… they named their restaurant in Australia Dancing Pans. [big smile] However there has to be a reason to make something beautiful, otherwise it feels vacuous.
At present I am working with Liam for two of his clients and they've got a green wall and they want something on the wall that "is not scary at night" and sent me a picture of a girl and said they wanted it like this and that, and wanted it mounted on the wall… so I said "you don't need an artist for that. I can't do that" I felt they needed a handy man. It bothered me for a couple of months. I thought about the clients, their lives, who they are… so I started working on something called Wing Wave; which is a marble ray wing. I am going to carve that in marble. It has the sting, the power, the rhythm. I know it will work. I know I can make that look beautiful. But you see? It has a reason.
When we were in Norfolk, I had a little bit of money so I could have done some work; but I didn't have anything to say. I was still thinking of Anthony Caro, because I had given him so much of myself. So I was making crap versions of his work. I needed The Hands & Flowers to give me a voice, to give me something to say."
As we go through Beth's studio, I can feel Beth's personality and warmth on every corner, every sculpture, every piece of stone. You can breathe Beth in the air. I ask her about breaking into the London scene. With a big smile she cheerfully answers: "In 2012, I rented an arch in Shoreditch, all by myself, and made a show. It was brilliant! I packed it with beautiful things and invited everybody. We had a great party and a celebration of doing stuff. Liam came to that show and although we didn't kick off immediately, he became eventually my lynchpin.
There was a guy from the 60s called Kasmin, whom Caro had told me about, who was a bit of al livewire and was the guy who launched Tony Caro, Peter Blake, and other artists of that era. Liam reminded me of him. He has a similar aura. And that's why I went with him. He creates a party wherever he goes. And he always knows somebody that knows somebody… He is incredible."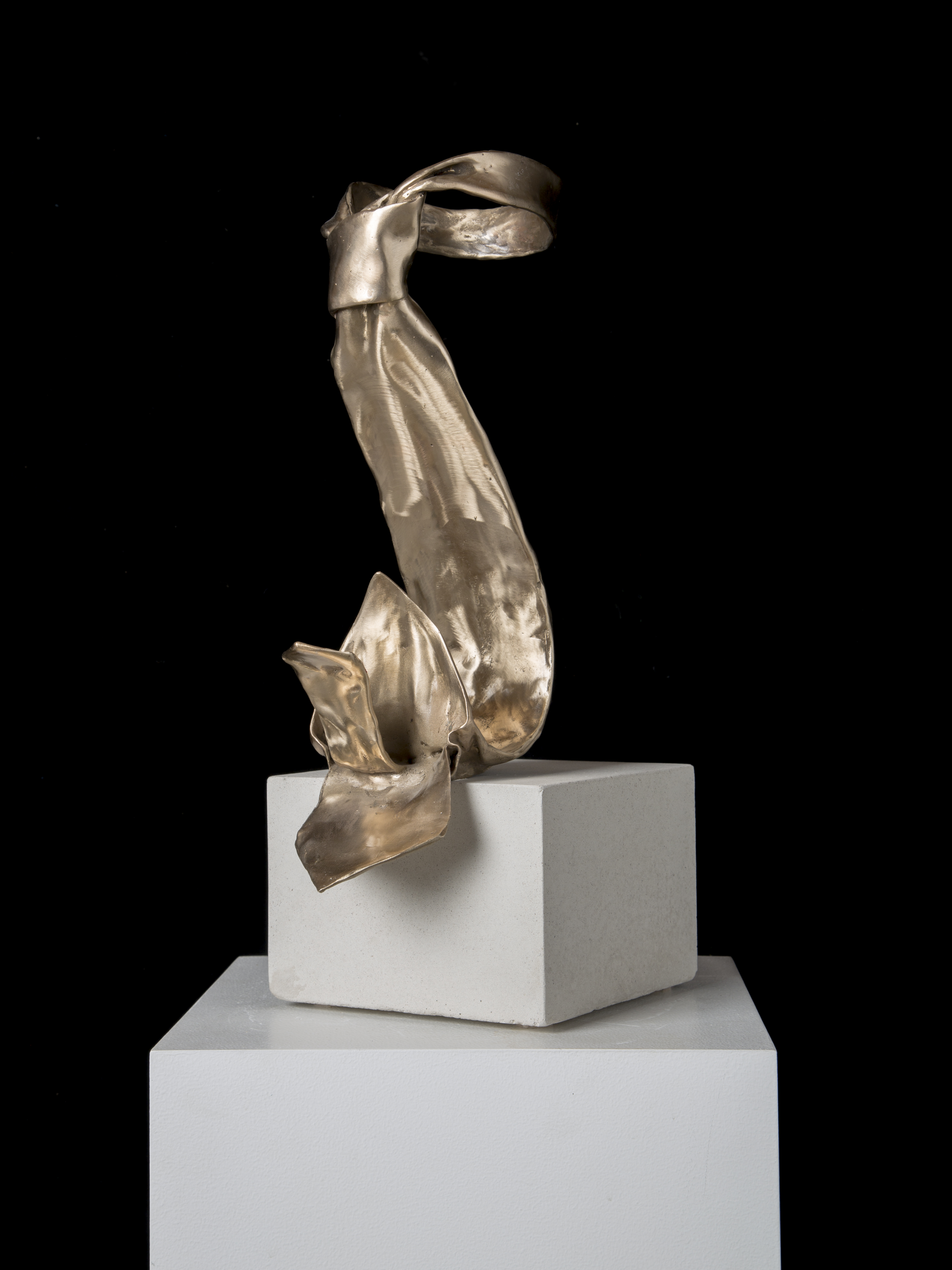 Beth is terribly dynamic; someone that I can't imagine will ever feel 'I'm done'. She confirms my suspicions: "I don't think there will ever be a moment for me to think that. What I do now is look at my garden and think "what an amazing place I have to work". As much as you love showing in an exhibition, to me that is old work. I am always on the next thing. It is an incredible feeling when I finish a piece. I can only compare it with having a baby. And then, I move on to the next project. It is incredible to be in the moment between you and the stone, or the wax, or the bronze, and there is that tiny moment when you get things to look exactly the way you want, without really thinking of your creative process. This is something what came out of working with Caro. I can work now without thinking of my creative process. I just do it. It is creatively amazing and very liberating. I just think of form and structure and why I am doing it without worrying about how to get there anymore."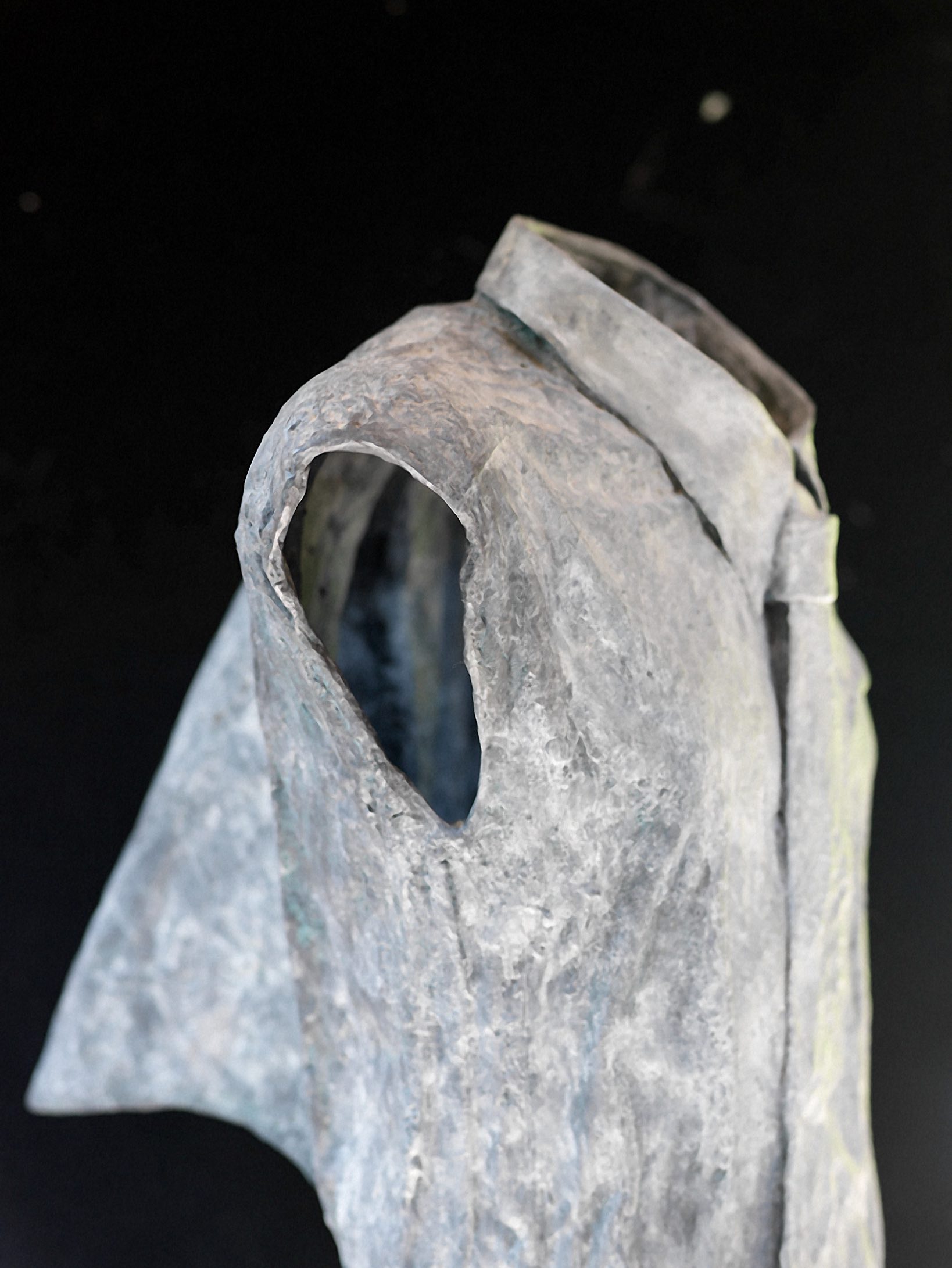 The diversity of Beth's work is astounding. It is difficult to guess influences so I ask her if she follows other artists' work: "I have to be in the right frame of mind to go to a gallery" she comments, "they trend to put me off because for a start, I always think everybody is better than me and start wondering if I should be doing what they are doing [laughter].
Beth's success as an artist comes after years of supporting Tom, and I guess it must feel really good to have her talent finally recognised. "I need to work on things until I feel they are tidy. Tom was one of my untidy things" she says smiling, "I needed him to be happy doing his stuff but the thing is that he keeps creating more challenges and I realise that he is never going to be tidy. But now we don't have the same pressure."
Looking back at the journey Tom and Beth have taken together so far, it must feel like they have climbed up mountains and beaten giants. "Yes it does" laughs Beth, "I think that the first time we took a day off was not until a year after we had opened the pub. We went to see Jools Holland in Henley and I was so tired that I said I wouldn't go unless I could seat down. So I sent Tom to buy me a blow up chair. I was the envy of all the attendees! Anyway, you know what they say, 'the harder you work, the luckier you are'."
Beth has been kind enough to not only show me her studio, but also their new home. It seems to me that behind everything she does, there is a great deal of love and care. "My sister Eve, who is an interior designer" explains Beth, "says when we go doing checks around the rooms: "You have to feel the love." And that is what it is. One of my mantras when I was running the floor at The Hand was that I wanted people to leave feeling as if they had had a hug. I feel the same way about my art. I want people to feel that they can hug my sculpture."
Last week Beth won the Global Art Award for Sculpture, with her piece The Dubai Dhow Sail, an enormous marble sculpture which I find absolutely breathtaking. I needed to know how long it took to bring it to life. "Actually not much", answers Beth, "From the moment we got the stone, it only took 4 months. It took longer for them to say 'yes' and get the design right. The initial design would have meant 90 tons of sculpture… I didn't do the maths when I was designing it, you see? I just wanted it to be beautiful. So the final one, once all the pieces were put together weighed 11 tons. We started with a block that fitted exactly in a shipping container. It is the hardest carving I've ever done because I was very restricted. All their guidelines had to do with the sea, to feature the history of Dubai, and the fact that it started as a fishing village. So I did a sail half way between a western and an eastern sail. This is a beautiful piece, definitely one you want to hug. I also made it so you can sit on it. Part of the brief was that it would give shade, and I made it so not only it gives shade but it is also a seat. When Acey saw it, aged just 1, it was a sunny day and the stone was so warm that he kept hugging it and climbing all over it. Everything is so instinctive with children. Picasso actually said that he had spent his youth trying to paint like a Master and his adult life trying to draw like a child."
To read similar articles and reserve your copy email us at subscribe@i-m-magazine.com