18th – 23rd March
Studio 54- 54 The Gallery
54, Shepherd Market. London W1 7QX
West Contemporary and Tom Kerridge add yet another chapter to their art-meets-food saga, by way of a limited edition hand-finished giclee print, 'My Generation – Best of Britsh' by West Contemporary artist, Robi Walters. The original artwork, now on the wall at Kerridge's Bar & Grill, was put together by both Tom and Robi, and is made of petals cut from British menus amongst other recycled paper petals, which were sent in by Tom's social media followers. Of the project Tom Kerridge said, "It has been great to work with the public and food lovers from around the world on this project! I was overwhelmed with all the personal stories sent in, along with a wide variety of restaurant menus."
During his time working with Tom Kerridge to curate the artworks in his new restaurant, Kerridge's Bar & Grill in Knightsbridge (which also features the work of Tom's wife and West Contemporary artist, Beth Cullen Kerridge) West Contemporary art dealer, Liam West introduced Robi to Tom. Robi, whose work is inspired by sacred geometry, was thrilled to be part of the project, commenting, "The amount of care, craftsmanship and love that goes into Tom's food echoes the process of my art making. My work is all about transforming energy and materials into new and powerful configurations. So when Tom and Liam asked me to create pieces using people's keepsake menus for Kerridge's Bar & Grill, I was inspired and excited!"
Each limited edition is hand finished by Robi with diamond dust. As well as the reference to the collaboration between the British chef, British artist and British public, the title of the artwork, the title of a song by The Who, also references Tom's love of British music.
View and buy the print: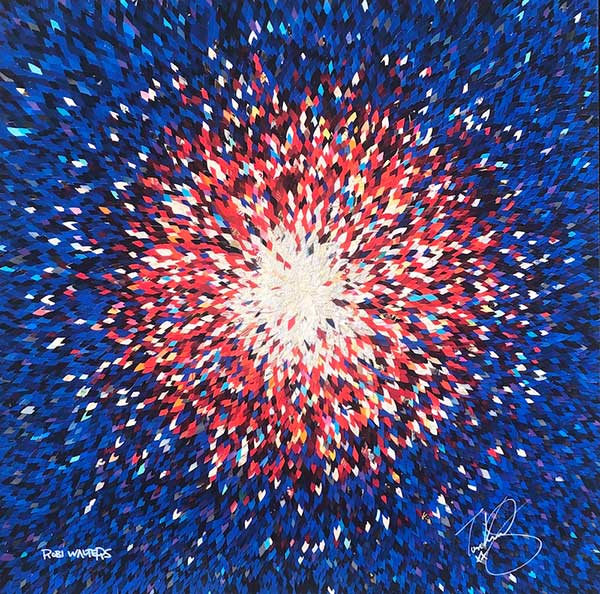 The print is available to buy online at

www.west-contemporary.com

.

'My Generation – Best of British' by Robi Walters is a limited edition giclee print on 310gsm Hahnemuhle Photo Rag paper, 80 x 80cm, £750 each. Each is signed and numbered by Robi Walters and Tom Kerridge.
Please contact
info@west-contemporary.com

for more information.
Or to see the original artwork, you can book a table at

www.kerridgesbarandgrill.co.uk/