Olfactory journeys to spectacular landscapes
by Lavinia Dickson-Robinson
A couple of weeks ago, I had the pleasure of attending the launch of Bentley Beyond's first exclusive collection of precious fragrances.Three new fragrances make up the collection. Voyages have been part of 'Bentley Motors' identity since its founder, Owen Bentley, at the tender age of 14, cycled an astounding 130 miles from London to Norfolk in a single day.
He would later describe the joy of independent travel as "one of man's fundamental longings." The Collection explores extraordinary landscapes and an infinite spectrum of colours as each fragrance turns into a thought-provoking emotional adventure and a different journey. The precious aromatic ingredients chosen, vividly conjure up exotic destinations. Each fragrance of Bentley Beyond translates a voyage into a scent.
These fragrances have been composed by three rising young master perfumers: Mathilde Bijaoui, Julie Masse and Sidonie Lancesseur
The first fragrance, Exotic Musk, will transport you to the millionaires' playground of Acapulco. This legendary Mexican resort brings memories of Hollywood glamour. Exotic Musk is a silky haze with notes of amber wood and Tonka bean. It surrounds you with the promise of sensual passion on a dark Acapulco night. Mathilde Bijaoui has used the seed of the Cumaru tree, one of the new world's most treasured additions to the perfumer's pallet, and with this fragrance, rich in almond scent, has created a fragrance which is like being wrapped in velvet and as soft as a balmy tropical breeze.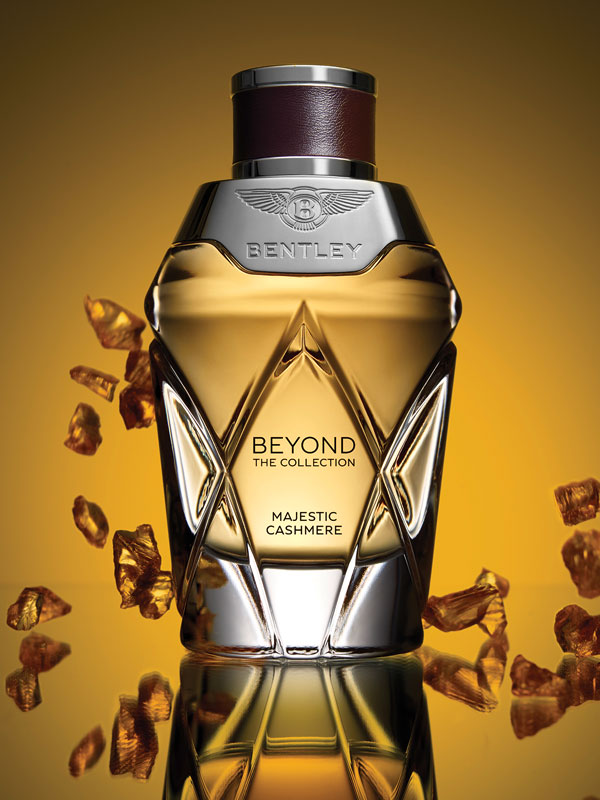 The second, Majestic Cashmere, transports you to Goa, on the edge of the Indian Ocean. It's as if you are being carried by magic carpet to the island's lush, tropical beaches. Goa has long been the haven for the Bohemian chic. Julie Masse has woven precious ingredients from all over the world into a timeless Indian treasure, as rich and beautiful as the country itself. Julie embroiders together the powdery orris absolute and ambrette, a musk drawn from hibiscus seeds, which offsets the main note of Cashmere wood. With patchouli, resinous incense and smoky vetiver Bourbon it bolsters the deep woody accord, softened with Tonka Bean. This fragrance is so lush and warm it feels like being enveloped by the softest and finest cashmere.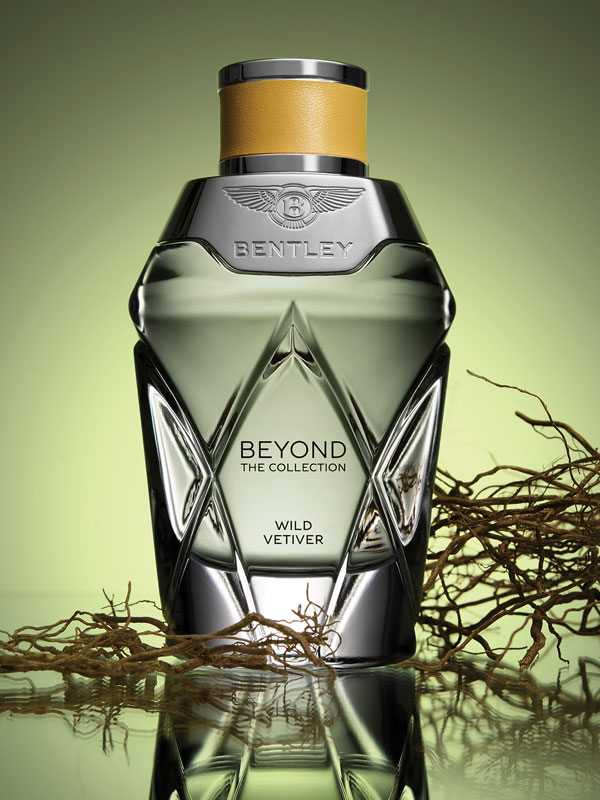 The last, but by no means the least, is Wild Vetiver, created by Sidonie Lancesseur. Again, we are transported to a faraway land, this time, Java. Vetiver essence is rich, a perfume in itself. Wild Vetiver has citrusy facets and is enhanced with top notes of bergamot and pepper, while verbena adds its green anise-based sweetness to the mix. Vetiver's smoky mineral notes blend with a subtle accord of birch amber wood, bringing the scent to a stunning elegance, as deep and dark as the volcanic earth of Java.
If the fragrances themselves were not masterpieces in their own right, Bentley has designed three majestic flacons; each one reflecting the luxury codes of the marque. Drawing on the expertise of Bentley Motors design studio, the designers have created a majestic faceted flacon, inspired by the signature cut-crystal glass headlights of the Continental GT. Each 400-gramme bottle is engraved with the legendary 'Flying B' logo and finished with a handstitched leather cap that reprises the interior of a Bentley car.