by Dr Andrew Hildreth
Except for the "B" in the handle, the neurocentre of BWD (Bamford Watch Department) hides behind an unassuming door at 80, South Audley street. Known as "The Hive", it is where clients go to see their chosen watch creation come to life, thanks to George Bamford. Despite the "Englishness" of his background, George was never going to conform easily. Time in English schooling was then succeeded by a scholarship place at the premier New York Art School: Parsons. Although the family business beckoned, George took a different route. Using his art and design background he started off with some small projects, some requests from friends, and that then morphed into the bespoke watch design company that he presides over today: BWD.
The joy of owning something bespoke is that it is made just for you as you want it. The word "bespoke" derives from the old English verb "bespeak" meaning to "speak for something". It makes sense: you order something that speaks to you. Equally, the adjective "bespoken" means "ordered, commissioned, arranged for". Mayfair always was a place of bespoke services and craftsmen. A century ago, you could order almost anything bespoke, from your choice of car design (coachworks) to a pair of gloves. If you ever wondered where the coachworks names for luxury cars come from, the answer lays in the area between Bond Street and Park Lane. Fittingly, George started his design and bespoke service in that same part of the world, as a personalisation service.
Whatever individual touch you wanted to give to your existing watch, George would make it happen; and so that timepiece would become truly unique and truly yours. Years on, what started as a service outside of the mainstream watch industry has become integrated into the two largest luxury groups on the planet, Kering and LVMH. One of the problems with customising timepieces is that some manufacturers then no longer wish to honour the warranties. Official recognition from watch brands means that buying your watch through the BWD with the customisation is the same as buying the watch from a recognised brand dealer.
BWD's current co-branding arrangement is with Girard Perregaux, a Swiss watch Manufacture more than 200 years old, now part of the PPR (Kering) group. The model benefiting from the magic of the Bamford Watch Department is its ladies' model: Cat's Eye. The brief was to form a set of designs that would provide bespoke choices for their clients. Using his background from art school, George went about forming new colours and understanding what combinations would work. He consulted with potential customers, namely his wife, about what shades and combinations appealed to her. The end result has been the development of a new palette for the Cat's Eye range that customers can access via the website or by appointment at "The Hive".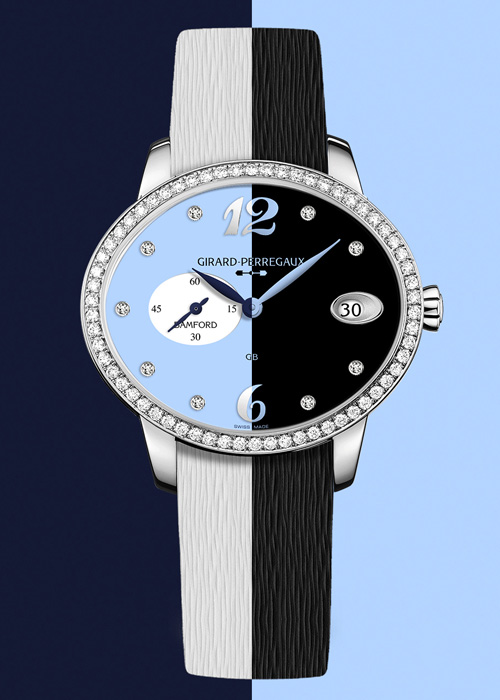 Combining colours is not necessarily obvious or easy. Different combinations will work in different ways. Colour theory, first postulated by the likes of Goethe and Newton, has been around since the 18th century and posits that different colours, contrasts or blends have perceptual and psychological effects: warm colours are said to advance or appear more active; cool ones tend to recede, calm and relax. Equally, colour combinations that appear to be harmonious are quite complex. Responses to colour are emotional and depend on individual judgment. As the old adage goes, "beauty is in the eye of the beholder." These responses are affected by a variety of factors, including characteristics such as age, gender, personal preference and affective state, as well as cultural, sub-cultural and socially based differences which give rise to conditioning and learned responses. In short, colour combinations are as myriad and as diverse as human nature. Finding those which will work within a set number of shades and tones is the key to that ability to create something bespoke and individual.
In the case of the Girard Perregaux Cat's Eye timepiece, George Bamford is on hand to arrange the colours that most appeal to you in a way that will make the watch forever yours.