I think it is safe to say that London has one of the widest offers of drinking establishments in the world. Whatever type of watering hole is your favourite, from a local pub to the most exclusive champagne bar, you'll certainly find it in the British capital.
When I thought I could not find anything new, I discovered the Baccarat Bar on the Lower Ground Floor of Harrods (separate entrance on Hans Crescent).
Created by Fabled Studio, the bar has been designed around the idea of being a room within Maison Baccarat in Paris, paying homage to the form and pattern of some of the brand's most celebrated pieces. Faceted walls and motifs are mixed with tactile leather and velvet upholstery in Baccarat's signature red, obtained by the gradual fusion of clear crystal with 24-kt-gold powder, as well as midnight-blue. The bar is adorned in crystal lighting and features monochrome marble flooring.
Artist Alexandre Benjamin Navet was commissioned to add his original illustrations to the space, which give a note of vibrancy and avant-garde to the space. His frescoes on the stairs and tabletops, inspired by the typical moldings of French interiors, create a wonderfully theatrical setting.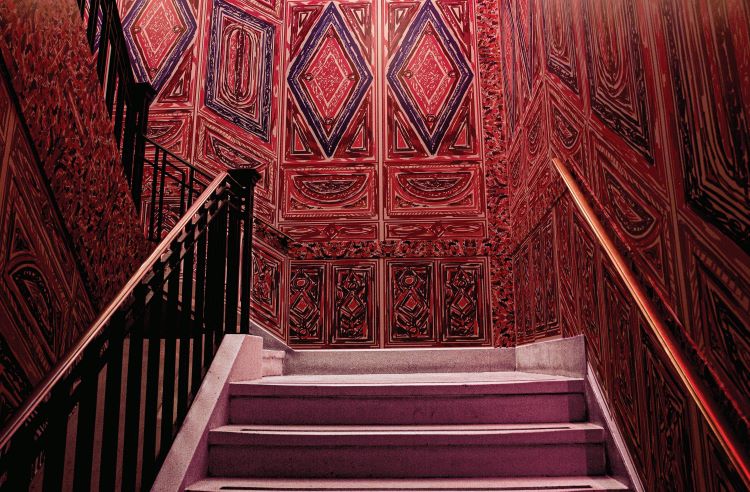 Behind the bar, charming manager Cameron Attfield and his team, responsible for the success of places like Dandelyan, Scout and Eau De Vie, have developed a drinks menu packed with specialist ingredients, many of which you'd never expect to find in a cocktail (for example, goat's cheese). The concept behind is to blend innovative mixology with good old chemistry. And I mean proper blending: from a sparkling wine made with peas to using a rotary evaporator to isolate liquid alcohols by density and anything in between. The imagination of Cameron's team knows no boundaries. In fact, they have just won a prestigious IMBIBE Award for Best Themed Cocktail Menu UK, 2020.
Cameron Attfield was voted one of the top eight World Class Bartenders of the Year in 2019.
Their current menu, "Refraction and Emotion" focuses on light's interaction with Baccarat crystal to produce rainbow refraction. As such, it is divided into eight sections – each with two cocktails representing the seven colours that blend to create light plus one for white. Each beverage has been paired to a Baccarat glass that reflects its core flavour, profile and colour spectrum indicated on the menu. A series of young artists were commissioned to illustrate each of the sections in the menu and different kinds of paper are used to enhance the guest's sensorial experience. Furthermore, each segment pairs its two cocktails with an emotion. For example, "White" links to the emotions of purity and cleansing and showcases drinks that equally associate to those qualities; one of them, The Arrival, gin-based with sugar snap distillate, fermented pea and rice oil and carbonated water and the other, Glass Case, is built around pisco and is served in a perfectly transparent Baccarat flute.
Associated with the purity of white, the Glass Case is free from corruption and guilt.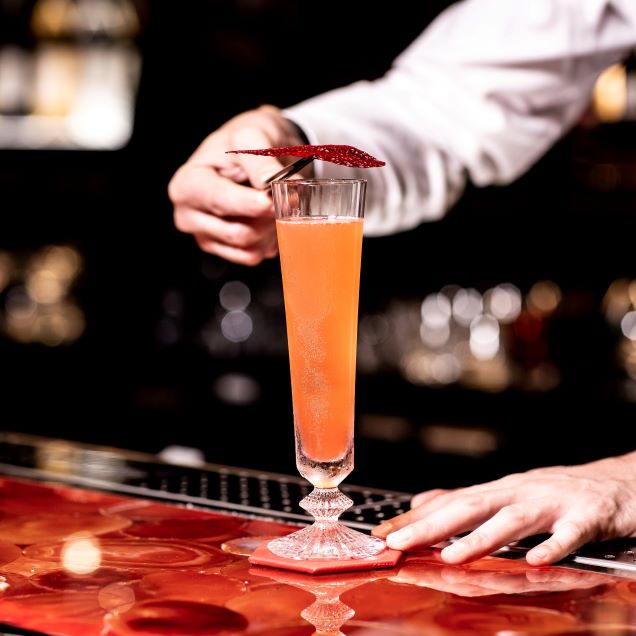 On the other extreme of the spectrum, you find purple, associated with mystery and imagination, brought to life with a rum-based cocktail, Night Thoughts, with notes of coconut, carrot caramel, and cardamom and the surprising Hat-Trick put together with Mezcal, banana wine, cinchona bark, and compact caramelised dairy.
All the cocktails we tried were delicious. I can only imagine all the hard work and experimenting that goes on at Cameron's chemistry lab to end up with these fascinating drinks.
Many of the cocktails are available alcohol-free and if you are not feeling all that adventurous, they also offer a wide range of wines, beers, champagnes, and spirits.
Food is not to be missed. The bar menu is exquisite. From Baccarat foi-gras burgers to Faroe Islands smoked salmon (apparently one of the leanest salmons in the world) and the unforgettable beef-cheek beignets with aged Comte cheese and mustard cress.
The Baccarat bar is currently opened Monday – Wednesday 4pm – 10pm and Thursday – Sunday 12noon -10pm.