Blessed with a cool climate and a fertile limestone and chalk soil similar to the Champagne region of France, Sussex has become the top sparkling wine-producing county in the UK. Award-winning East and West Sussex vineyards, many family-owned, are picking up international awards for their skilful blending of Chardonnay, Pinot Meunier and Pinot Noir grapes. Most offer overnight accommodation alongside tours and tastings.
Gina Baksa takes a look at seven of the best Sussex vineyards to visit as soon as the Covid restrictions allow us to do so. I can't think of a better idea for my first Staycation of the season.
Family-owned Ridgeview Estate was founded in 1995 and lies at the foot of the cool, chalky South Downs in East Sussex. It focuses on the cultivation of sparkling wines using Chardonnay, Pinot Noir and Pinot Meunier grape varieties. Enjoyed by Her Majesty the Queen, Ridgeview's attention to detail and mastery of viticulture has garnered them many international awards. Each grape on the 16-acre estate is picked by hand, with minimal intervention during the growing process. The result is a stable of fine sparkling wines with the perfect blend of ripeness, sugar and acidity. Ridgeview has an active wine club and shop. Wines can be bought online, at selected retailers and even in person from the main office. Tours and tastings will begin once allowed.
Address: Fragbarrow Lane, Ditchling Common, East Sussex, BN6 8TP
Tel: +44 (0) 1444 242 040
Email: info@ridgeview.co.uk
The Goring family have owned and managed the 6000-acre Wiston Estate since 1743, but it wasn't until 1972 that Harry Goring's South African wife Pip declared her vision of creating a premium vineyard on their chalky South Down slopes. Fast forward to today and Wiston has won Winery of the Year (2020) and is producing a superb selection of sparkling, award-winning wines. Choose from the Rosé, Blanc de Blancs or Estate Cuvée. Plans are apace for a brand new tasting room, retail shop and restaurant at the winery, alongside tours and tastings when allowable between April to June. Their live virtual tastings have proved popular on Instagram, hosted by estate winemaker Dermot Sugrue. All Wiston Estate wines can be bought online via the company website, including cases and single bottles.
Address: North Farm, Washington, Pulborough, West Sussex, RH20 4BB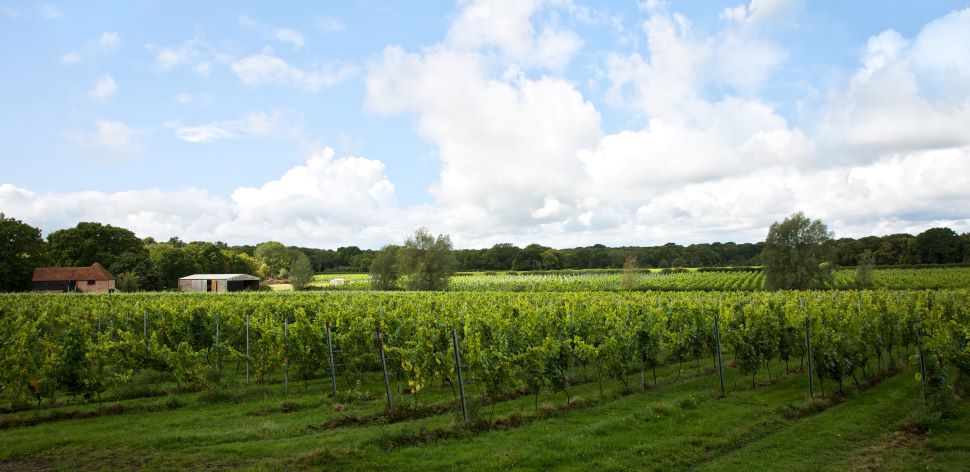 Located in the village of Beckley, East Sussex, just north of Rye, Oxney Organic Estate comprises 57,000 vines of quality Pinot Noir, Pinot Meunier, Chardonnay and Seyval Blanc over 14 hectares of land. The award-winning vineyard is the result of owners Kristin Syltevik and Paul Dobson's vision of modern farming that's environmentally sustainable, with a low-intervention approach. Oxney now produces around 20% of all organic grapes grown in the UK. The range includes a top-end sparkling "Classic" with a traditional blend, a Pinot Noir rosé, a Pinot Meunier and soon to follow, a Chardonnay. The Oxney cellar also includes a still rosé and Chardonnay, and a still red to be launched later this year. The much-loved sparkling Classic Pinot Meunier 2017 is the latest addition to their Classic series. Guided tours, tastings and overnight stays will begin as soon as allowed.
Address: Hobbs Lane, Beckley, Rye, East Sussex, TN31 6TU
Tel: +44 (0) 1797 260 137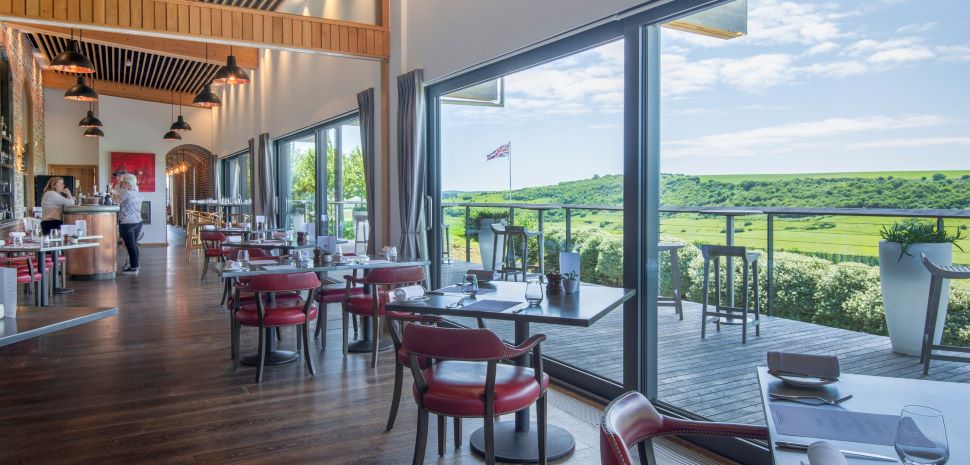 Farmed since the Middle Ages, the chalky south-facing slopes just three miles from the sea near Cuckmere Haven in Sussex are home to the award-winning Rathfinny Wine Estate. Producers of quality English sparkling wine since 2012, husband-and-wife team Mark and Sarah Driver took a working arable farm and transformed it into one of the UK's premier wine-growing estates. There are currently 230 acres under vine of Pinot Noir, Chardonnay and Pinot Meunier, and a small amount of Pinot Gris. The hand-harvested grapes are transformed into four vintage sparkling wines: Blanc de Noirs, Blanc de Blancs, Rosé and Classic Cuvée. Rathfinny offers overnight stays in the beautifully renovated Flint Barns, tours and tastings (when permitted) and shopping experiences at their Cellar Door and online shop. Guests can also book a table at the vineyard's Michelin Plate Tasting Room, run by Estate Head Chef Chris Bailey, which specialises in modern, British cuisine.
Address: Alfriston, East Sussex, BN26 5TU
Email: info@rathfinnyestate.com
The green sand and chalky soils around the Sussex village of West Chiltington have been home to the Nyetimber vineyard estate since 1998, when the Chardonnay, Pinot Noir and Pinot Meunier vines were first planted. Blessed with south-facing sunny slopes, Nyetimber continues to lead the way in quality sparkling wine production. Under the careful custodianship of owner Eric Heerema and head winemaker Cherie Spriggs, the brand has achieved worldwide recognition and many awards.
Nyetimber's Sparkling Rosé is a favourite for celebrations.
In 2020 the vineyard harvested 640 acres while exports grew more than 90%, alongside record online sales. From the signature Classic Cuvee to the 1086 Prestige Cuvée, the climate at Nyetimber's vineyards ensures optimum levels of ripeness and acidity, as well as complexity and finesse in each of its wines. Mixed cases and single bottles are available to buy online where virtual tastings led by an expert brand ambassador can also be organised.
Address: Gay Street, West Chiltington, West Sussex, RH20 2HH
Tel: +44 (0) 1798 813 989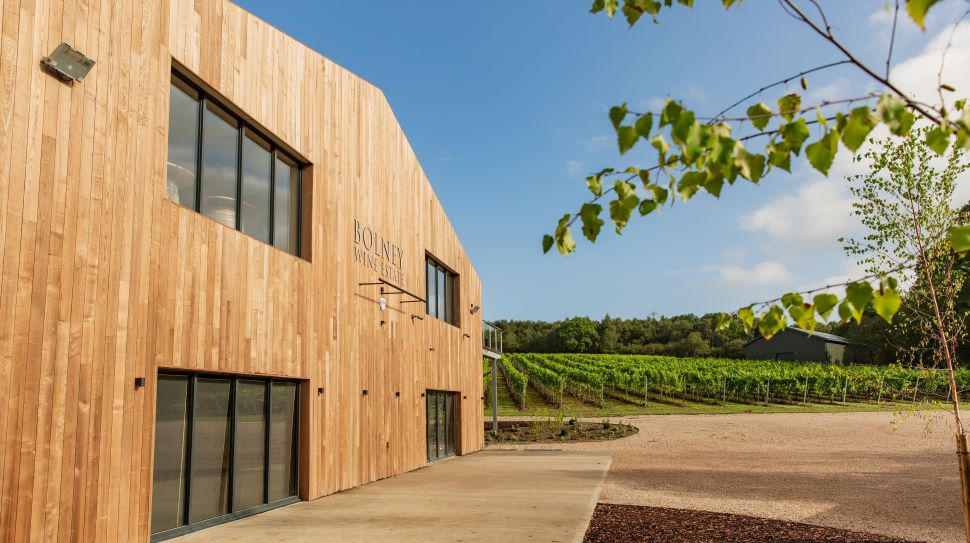 A true pioneer of quality English wine-making, the Linter family began producing their award-winning varieties at the 39-acre Bolney Wine Estate in 1972. Today, three generations work together to produce their white, red, rose and sparkling English wines. Using traditional methods to enhance and capture bold flavours, the wine is aged on the lees in bottle, sometimes for several years. There are regular tours and tastings (when permitted), an on-site café and a restaurant serving food from local producers together with a selection of their wines. The Estate will soon be the first Sussex vineyard to have electric car charging points fitted as part of the Brighton Energy Co-initiative; a forward-thinking plan that fits with the vineyard's ethos of producing quality award-winning wines with minimum impact on the planet.
Address: Foxhole Lane, Bolney, Haywards Heath, West Sussex, RH17 5NB
Email: info@bolneywineestate.com
Bluebell Vineyard Estates
As its name suggests, Bluebell Vineyard Estates enjoys a stunning location among bluebell woods and trails near Ashdown Forest. Formerly a pig farm, the family-owned 100-acre estate is renowned for its award-winning Hindleap vintage sparkling wines. The vines have matured well since their 2005 plantings and consist of premium Chardonnay, Pinot Meunier and Pinot Noir grapes, alongside some Chasselas, Merlot, Ortega and Bacchus. Eschewing malolactic fermentation in favour of traditional production methods has resulted in a more authentic balance of acidity and fruit flavours for the five Hindleap cuvees. This year will see the release of a limited edition Classic Cuvee 2011, with 100 months on lees. If you visit, I recommend you join a tour of the vineyard followed by a tutored tasting.
Address: Glenmore Farm, Slider's Lane, Furner's Green, Uckfield, East Sussex, TN22 3RU
Tel: +44 (0) 1825 791 561
Email: wineinfo@bluebellvineyard.co.uk
Note: At the time of writing all vineyards mentioned are awaiting confirmation as to when they can open for tours and tastings. Please contact them directly for the latest information.
Opening picture: Bolney Wine Estate Vineyard Summer 2018. Photo by Chris Orange