The first six months of this year saw a 27.6% growth in demand for used hybrid, plug-in hybrid and pure electric cars as 65,765 changed hands. According to the Britain Under the Bonnet report, two in five drivers are considering an electric vehicle as their next purchase, an increase of 7.5m drivers in the past two years.
We have been meaning for a while to properly test top of the range electric cars in the market, now that many claim to have hundreds of miles of autonomy and be as easy to charge as your mobile phone. So, we started with the Audi e-tron 55 quattro, which launched earlier this year, part of the company's efforts to have a broader BEV and PHEV portfolio comprising at least 30 models by 2025.
The e-tron 55 quattro is everything you´d expect from an Audi, beautifully designed, comfortable, and it goes like a dream, even in tough terrain, where you can really enjoy the 4X4 capabilities of the vehicle. On the road, the car feels fast, responsive and gloriously silent.
21" contrasting alloy wheels, virtual door mirrors (it takes a while to get used to them), Audi Matrix LED head and rear lights and dynamic indicators (call me a child, but I love these) contribute to the outside glam of the car. Inside, the e-tron boasts premium grade Valcona hide, seat heating and ventilation and window heating, all of which can be activated in advance through myAudi smartphone app. I very much like the elevated positions of the seats (I am not even 5'6") and how spacious it feels. The boot is also remarkably large, so much so that we managed to fit two adults and a dog.
Technology wise, Audi has gone all the way and equipped the e-tron with MMI touch response, voice control and an arrangement of fully digital instruments that are standard in the Audi Virtual Cockpit. Smartphone Interface, Audi Phonebox wireless handset charging, MMI navigation plus and internet-based Audi connect infotainment services are of course included, as are assistance systems like the Audi Parking System Plus with 360-degree display and rear-view camera and Lane Departure Warning.
Its power comes from two electric motors, one per axle, fed by a pack of 95kWh batteries. The total power is 360CV, but thanks to its ´Boost´ function, it can reach 408CV and it goes from 0-60mph in just 5.7 seconds, with a top speed of 124mph. The charging points are located on each of its front wings, and are operated at the touch of a button. In theory, it has a combined range of up to 237 miles, but reality is much more complex than that.
For our trip, we went from West London to the country side in Essex, a 60 miles journey. On our way there, we went through town, and we hardly saw the charge needle change, since we drove snail-like most of the way, and every time you touch the breaks, some powers goes back into the battery.
I must confess we didn't do our homework so went on with what I had heard about charging from domestic plugs, that it just takes a bit longer than from purpose-designed charging points. Well, this is not true. After 4 hours charging in our friend's house's mains, we had gained 12% charge.
In a bit of panic we used the function in the Sat Nav that identifies the closest fast charging points and went to one. Unfortunately, there was nothing there, just a council estate. Ups! We went to the second one and thankfully this time, there they were, 2 fast charging points outside a leisure centre.
After half an hour, the battery had charged 12% (12 seems to be the magic number). In total, we have 65% battery charge so we made our way back to West London, this time through motorways. Dear me! The battery charge went down at the speed of light, so when we were down to 45% after just 20 miles, we pulled out in a big service station off the M25, in which, to our dismay, found a grand total of 3 charging points, one of them broken and 6 electric cars queuing to charge. Feeling bad about the other drivers, we used it for 20 minutes and gained… you guess! 12% charge and drove to the junction with the M1 where we stopped again, found only two charging points and charged another 12%. Furthermore, in order to use these chargers you have to open accounts with each of the different companies that operate them.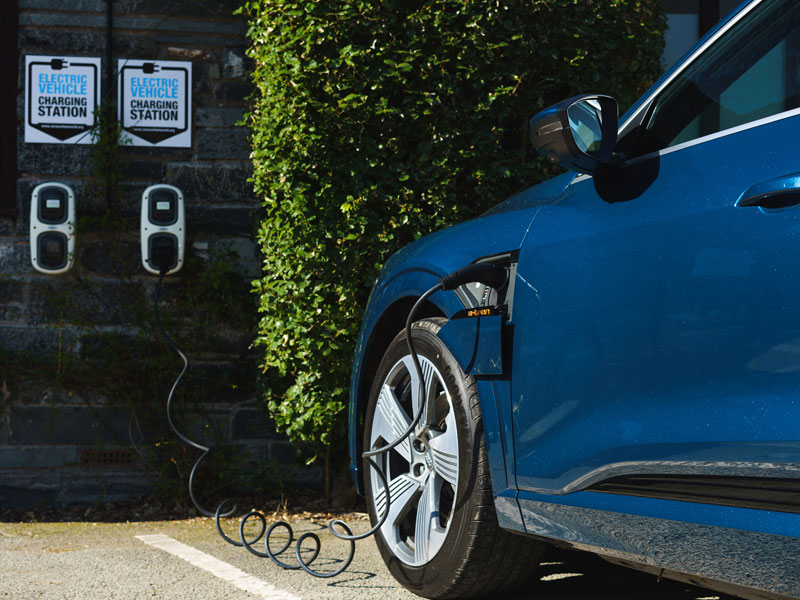 By the time we got home, a journey that should have taken 90 minutes, had taken three and a half hours. I am a big advocate of vehicle electrification, and I realize I didn't prepare as much as I should for this first test, but it seems to me that infrastructure is very far behind the efforts that car manufacturers are making to supply the market with zero emissions vehicles. You'll hear from us very soon, when we test another electric SUV, the Jaguar I-Pace, trying a different route to see if we are luckier with the charging points.
Audi e-tron 55 quattro from £71,520OTR.
SMMT Data – total plug in and hybrid registrations YTD July 2019