Last year saw the launch of the first SUV in the 107-year history of the iconic British brand. Sceptics may have to eat humble pie because the Aston Martin DBX has sold like doughnuts at a school gate… worldwide.
At 5,039 mm L x 1,998 mm W x 1,680 mm H, this is certainly a big vehicle but it will delight you to learn that it has the soul of a sports car and drives as such, combining performance, style and usability in equal measure.
Utilising bonded aluminium, the body structure is both very light and incredibly stiff, assisting in the delivery of an overall kerb-weight of 2,245kg. Right from its conception, it was designed to allow maximum room and so it certainly does. Honestly, you could fit a small pony on the back cabin and probably another one in the boot, not to mention golf bags or ski equipment as the rear seats fold.
Meanwhile, the stiffness in the design of the new platform enables DBX to achieve exceptional dynamics both on and off-road. Adaptive triple volume air suspension has been combined with the latest 48v electric anti-roll control system (eARC) and electronic adaptive dampers to provide the car with a huge breadth of ability. We took it to the beach, drove it through water, even made our way through almost a mile of unforgiving mud and DBX managed it all as if it was cruising through the streets of Mayfair. All of the above help it keep its cool, as it does the fact that you can raise the ride height by 45mm or lower it by 50mm.
DBX surprised us with its smooth ability on all kind of terrains.
Powered by a new version of the 4-litre, twin-turbocharged V8 engine found in DB11 and Vantage, DBX features an impressive output of 550PS and 700NM of torque. With the immediately recognisable sound of the marque, the active exhaust system ensures all passers-by realise you are driving an Aston Martin if you are that way inclined. The versatility of the engine isn't restricted to its vocals: the turbocharged V8 has cylinder deactivation to enhance fuel economy, yet it can also propel DBX from 0 to 62mph in 4.5 seconds and reach a top speed of 181mph. The car is surprisingly quiet, thanks to a ton of aerodynamics research conducted by the engineers at Aston Martin.
Complimenting the incredibly high standard specification of DBX, which includes all available active safety systems known to mankind, there are many optional accessory packages on offer according to your needs and hobbies. For example, the Pet package includes, amongst other things, a portable washer to help attend to the needs of a muddy dog after a walk. Alternatively, the Snow package delivers boot warmers. How cool is that?
The interior is all you'd expect in an Aston Martin, luxuriously handcrafted within an inch of its door handles. I absolutely loved the full-length glass panoramic roof and frameless door glass. Other small but fab touches include separate central armrests and the ergonomic positioning of the car's key control systems. The seats are trimmed in sumptuous, full grain Bridge of Weir leather and both the headlining and electric roof blind are available in Alcantara finish. Throughout the cabin, DBX presents an elegant balance of materials, with judicious use of metal, glass and wood throughout.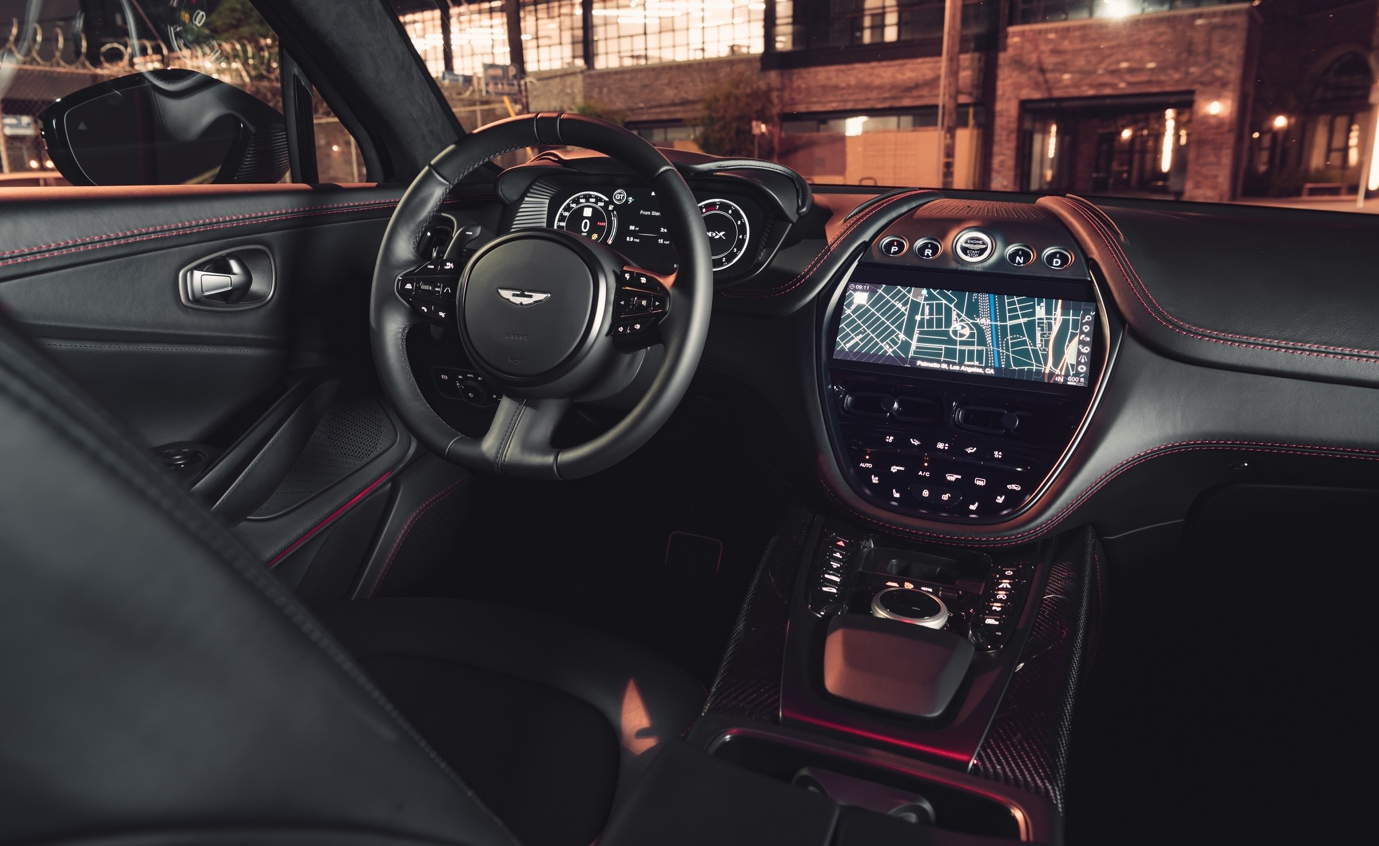 DBX is equipped with a massive 12.3" TFT screen that provides a wealth of information to the driver.
Another design highlight is the bridge centre console with ample space to carry all kind of stuff, in my case, hand-cream and lipstick. No review of an Aston Martin could be complete without making a reference to "Q", in this case, the brand's personalisation service, which offers optional features of the centre console.
Tech lovers will be delighted with the DBX's 10.25" TFT in the centre console, while a huge 12.3" TFT screen provides a wealth of information to the driver. Apple CarPlay comes as standard, as does a 360-degree camera system and ambient lighting with 64 different colours!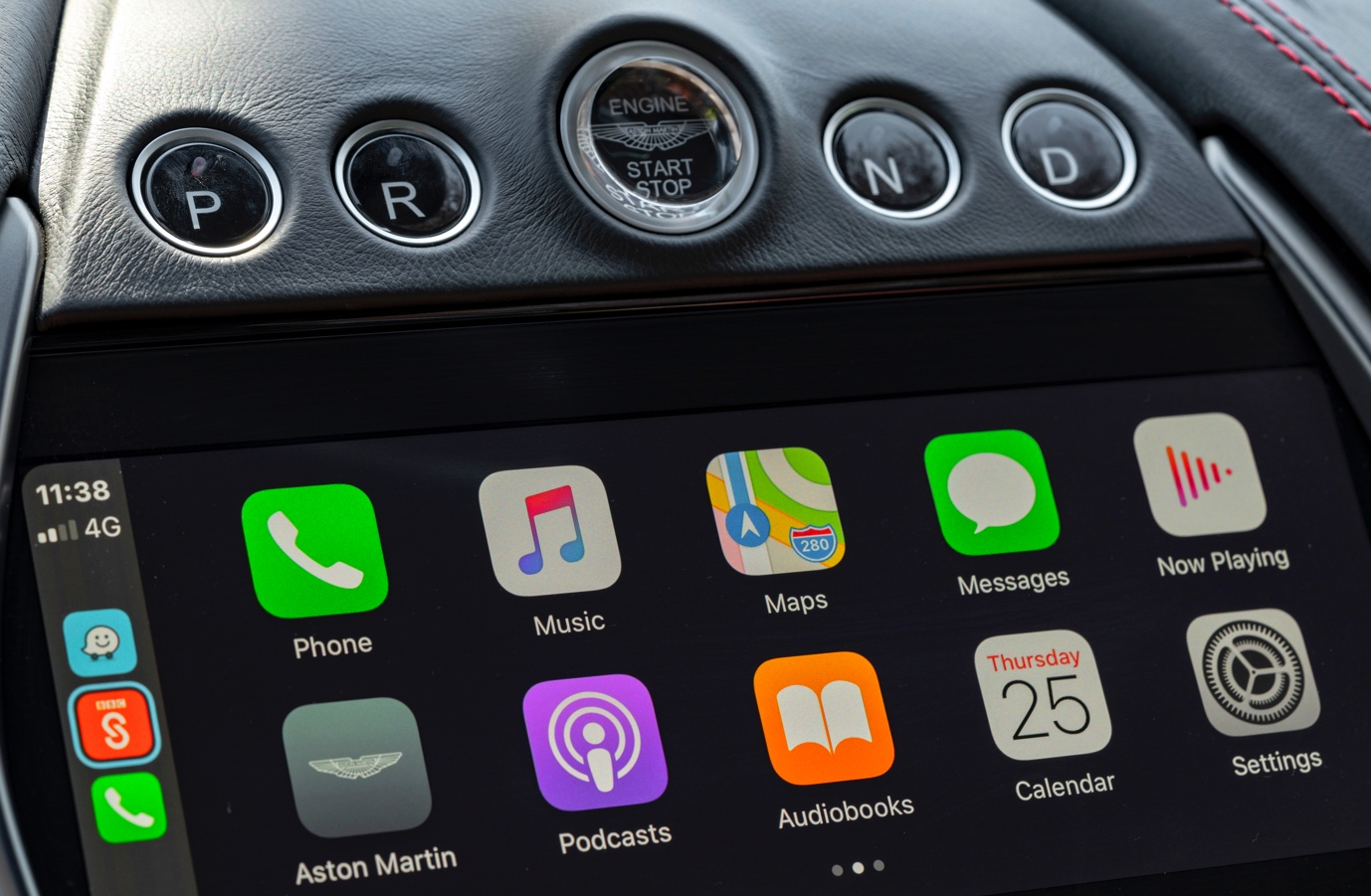 Apple CarPlay comes as standard in all DBX models.
DBX's exterior is elegant and sleek, but with a powerful stance. From the signature "DB" grille at the front, through the sculptured sides and design feature line, to the tailgate with a flip that draws inspiration from Vantage, this is an Aston Martin from head to toe. Cutaway sills reduce the risk of ruining your dress on arrival to a party.
OTR from £158,000. This model £182,995.