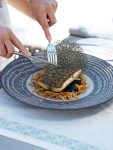 Portals Nous is quickly becoming the 'it' place in the beautiful island of Mallorca. Just 10km west of Palma, the hilly settlement of Portals Nous is very popular among discerning travellers and second home owners due to its beautiful beaches and the swanky marina of Puerto Portals.
On the sea front at Portals Nous Cove, Iberostar has opened an adults only five-star luxury hotel, Grand Portal Nous, designed by Marcel Wanders, and with a restaurant that is definitely worth a visit. Totally committed to sustainability and local produce, Astir is the perfect place to discover the flavours of the Balearic islands. The menu caters for the different meals of the day, from healthy breakfast to sumptuous dinners on its beach club style terrace, overlooking the beach.
I was introduced to Astir by a dear friend of mine who has lived in Mallorca for decades. She was very excited to show me her latest discovery and rightly so. I was mesmerised by the view, enchanted by the menu and made feel at home by Astir's friendly team. For starters, we shared a scallops salad with apple and almond crust and an avocado and a poached egg with salmon and salmon eggs, covered in silky hollandaise sauce on a bed of local black carrots (the scallops and salmon MSC certified). Both dishes were delightfully fresh and delicate in flavour, with Mediterranean notes that stayed in my palate memory for days.
For main course I had locally sourced sea bass, roasted on coals, with white sweet potato and Mallorca julienne. This dish was so good I wanted to go to the kitchen and kiss the chef. I was surprised by the chef's ability to balance flavours and not overpower the fish with the sweetness of the side ingredients. My friend chose the lamb from Pollença, roasted on a bed of coals with a 'digestive' based sauce and accompanied by purple baby carrots. Judging for how quiet she suddenly went, it is safe to say she enjoyed every mouthful of it. It surely smelled delicious and the lamb was a perfect shade of pink. I regret not having asked her to try it.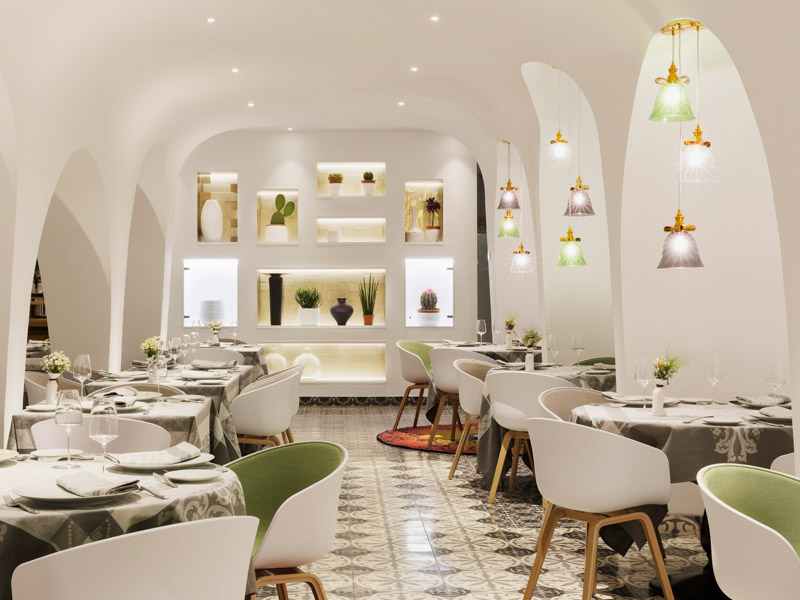 As with their ingredients, Astir tries to work not only with internationally renown winemakers but also with small local vineyards, as they believe that not only is important to support local business but that these wines enhance the flavour of local produce. On that basis, we decided to share a bottle of Mandia Vell Cuvee blanc de blanc, fresh and crispy, a heavenly match for our food. Although we didn't have much space left for dessert, we made an effort and shared a Mallorca crème brûlée, with apricots from nearby Porreres. I've tried many crème brûlées in my life, and have no problem saying that so far, this has been the best: silky and delicately flavoured, with hints of fruit and vanilla, and a little kick from the burnt crust.
For those of you with food allergies of intolerances, fear not, Astir's menu includes a code that specifies which dishes may have allergenic ingredients, from diary to gluten, sulphates to shellfish. Since we had not much to do that afternoon, we moved from the table to the Champagne bar, where designer Wanders has created one of his iconic "trees of life", to harmonise the flow of openness that runs through the entire hotel, and had a glass of cava enjoying the view of the turquoise blue waters of the beach below us.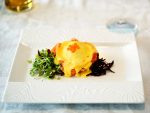 Restaurante ASTIR (Iberostar Grand Portals Nous)
Calle Falconer 19, Portals Nous, Calvià, Mallorca
Tel. 871 77 46 42
www.restauranteastir.com