Tate Modern. London
12th March – 6th Sepember 2020
My journey towards loving Andy Warhol's work started serendipitously, through a 1984 retrospective article in The Sunday Times about Edie Minturn Sedgwick, titled "A girl on Fire." I painstakingly cut out parts of the article to make a collage for my bedroom door. It read, "This room belongs to a girl on fire who wants to be a superstar. She will stop at nothing to get what she wants. If you think you can learn to understand her, then come in…" I wish I still had that collage.
In 1989, The Cult immortalised Edie in their song, Edie (Ciao baby). "I was that girl on fire… always said you were a youthquaker… a stormy little world shaker… Oh, Warhol's little queen… an angel with a broken wing… Edith Minturn Sedgwick was an American socialite, actress and fashion model, who become one of Andy Warhol's superstars. Edie became known as "The Girl of the Year" in 1965 after starring in several of Warhol's short films in the 1960s. She was considered an "It Girl", while Vogue magazine also named her a "Youthquaker".
In a way, Edie made me understand Andy Warhol, as I was mesmerised by the creature he had created in Edie Sedgwick and horrified by how easily he could discard them. Warhol was the flame and Edie and his other muses were the moths that got too close at their peril. Warhol was an underground art star and probably one of America's most famous 20th century artists. His work continues to fascinate the public nowadays and is constantly reinterpreted anew. He maybe well known for his Coca-Cola Bottles, Soup cans and Marilyn Monroe, what maybe thought as superficial, but what Warhol was doing was holding a mirror to American culture.
He was almost an unfathomable enigma: charming, ruthless and cruel at the same time. He was a genius as he played the world of celebrity like a Stradivarius … anyone who was anyone wanted to be photographed with him at The Factory or at Studio 54. At the time, you hadn't earn your 15 minutes of fame unless you were either one of his pieces of art or you had your photograph taken next to him in Studio 54. The Tate Modern have put together an outstanding exhibition with a selection of works by the iconic artist based in a concept that has never been displayed before, that is, how the artist's own experiences help shaped his view of 20th century culture, providing visitors with a much deeper understanding of how Warhol's mind worked. In the case of Edie, Truman Capote said that
Andy Warhol would like to have been Edie Sedgwick. He would like to have been a charming, well-born debutant from Boston. He would like to have been anybody except Andy Warhol.
No wonder. Born Andrew Warhola, he grew up in Pittsburgh to Carpatho-Rusyn parents who emigrated from a small village in the north-east of the former Czechoslovak Republic. Her mum was deeply religious, which affected Warhol's sexuality, an important theme in this exhibition, showed in his early line drawings of male portraits and nudes from the 1950s.
The show is both bold and brave, beautifully curated. It shows key works from the Pop period, such as Marilyn Diptych 1962, Elvis I and II 1963/1964 and Race Riot 1964, which are examined in relation to contemporary issues around American culture and politics, while drive and limited ambition to push traditional boundaries of media are represented via his famous Screen tests 1964-4 and a recreation of the psychedelic multimedia environment of Exploding Plastic Inevitable 1966, originally produced for the Velvet Underground rock shows.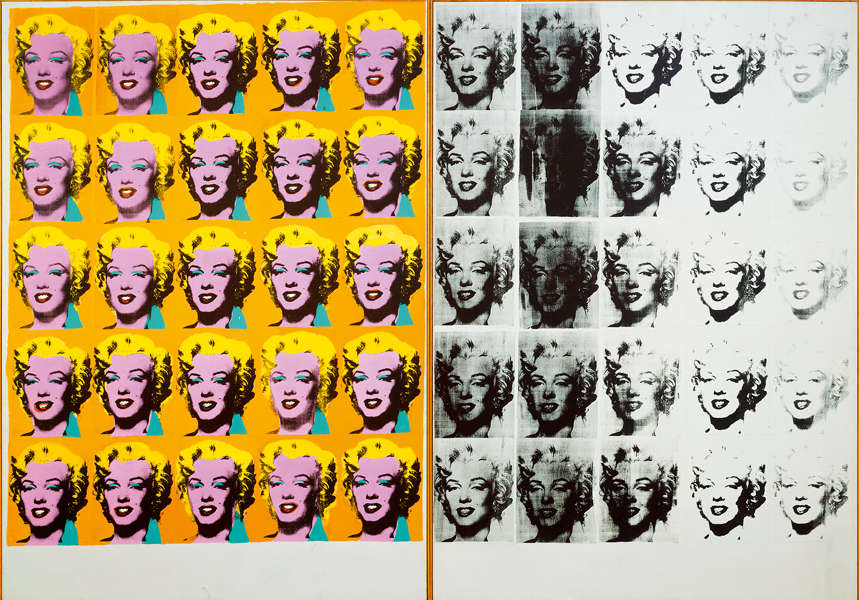 One of the rooms in the show is devoted to the largest grouping of his fascinating 1975 series Ladies and Gentlemen. Warhol created over 250 brightly-coloured portraits of New York's African-American and Latinx drag queens and trans women. A private collection has lent 25 of these works for the first time in three decades, making it the largest and most significant presentation of the series ever shown in the UK. This incredible series was originally commissioned by Italian Art dealer Luciano Anselmino in 1974, at a time where the public were becoming more and more interested in gender fluidity following the untimely death of super star Candy Darling.
If this was not enough, this exhibition shows one of the most impressive pieces by Warhol, the huge 10-meter-wide canvas Sixty Last Suppers. The work was created in 1986 a few months before Warhol's death, depicting six rows of ten silkscreen reproductions from Leonardo da Vinci's The Last Supper. This work illustrates how the themes of faith and mortality recur throughout the artist's work. This is a once in a lifetime chance to see the work of one of the most fascinating artists of the 20th century under a completely new light.