The renowned tuning specialists ABT have once again taken an Audi and increased its already remarkable performance, in this case, the A6 Allroad, boosting hp and improving torque along with new wheels for premium handling and in general, a drivers' delight.
The Audi A6 Allroad has been around for over twenty years. Hence, its pedigree is sound, with subtle off-road looks that belie its outstanding four-wheel-drive handling and performance. The self-locking centre differential along with height-adjustable air suspension provides a premium ride away from the tarmac too. The standard A6 Allroad 55 TFSi develops a healthy 340hp, which for most drivers is sufficient, but if you want that extra boost, ABT system will give you 408hp, a 20⁒ increase. The diesel 55 TDi in standard form produces 349hp, but with ABT working on it, they can get 384hp.
A boost to 330hp from 286hp is available for the 50 TDi, and ABT can make them sound better with their own exhaust system available to order. Definitely not a car to lug shopping home. ABT also offers an upgrade to the A6 Allro's wheels, allowing owners even more individuality. Classy alloys are available in FR 20 and 21-inch sizes, and the GR in 20-inch. The GRs have a striking concave rim well with glossy black painted wheel carcasses. The Diamond-machined finish on all the wheel designs makes them eye-catching.
if you want that extra boost, ABT system will give you 408hp, a 20⁒ increase…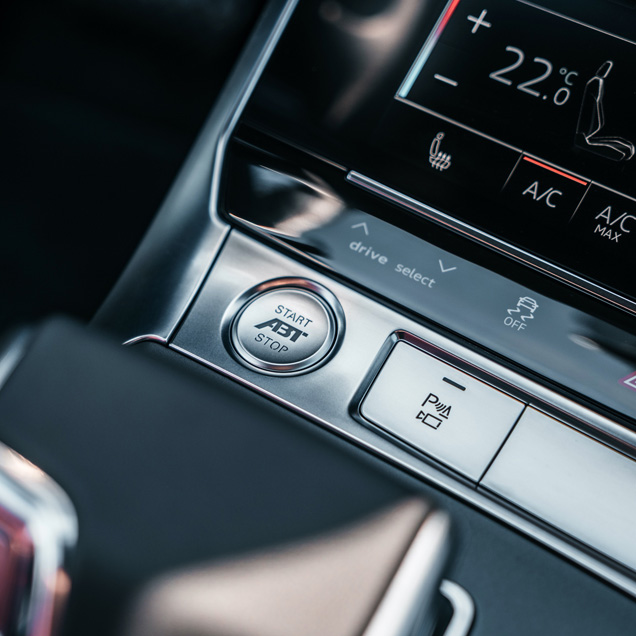 Audi offers the Allroad line as an option for the interior and ABT provides interesting customisation details, such as the start-stop-switch-cap and ABT shift knob cover in carbon. Also available are ABT integrated entrance lights, which casually project the ABT logo onto the ground when entering or exiting the vehicle. Speaking to Craig at ABT UK, he explained,"We offer ABT 'AEC' (ABT Engine Controller), an additional engine control module, which works in conjunction with the original VW/Audi unit.
It is linked using a bespoke harness which allows two-way communication; for example, the tuning is not applied until up to operational temperature. The system also retains full diagnostic and engine protection features. The huge advantage of this is that there is no modification to the vehicle, all of the tuning data is contained within the ABT AEC."
You will be assured of excellent work from ABT, the largest tuning provider of Volkswagen and Audi Group vehicles in the world. The firm also undertakes many Audi motorsports activities, with a long history competing together. ABT can call on over 120 years of experience and the company is very proud of its roots. It is still run by the same family who are passionate motorsports enthusiasts, regularly participating.
In terms of the cost, the upgrades are linked to each individual model, so for the Audi A6 (4K00) 3,0 ltr. TFSI from 250 kW (340 HP), 500 Nm to approx. 300 kW (408 HP), 550 Nm, it will cost £2828 plus vat. If you have the Audi A6 (4K00) 3,0 ltr. TDI from 210 kW (286 HP), 620 Nm to approx. 243 kW (330HP), 670 Nm £1635 plus vat.